U.S. Senator Bob Casey addressed the Class of 2017 at the University's 141st Commencement Exercises. (Gary Wayne Gilbert)

Boston College has a distinguished history of service to others, U.S. Senator Bob Casey Jr. (D-Pa.) told the Class of 2017 at Commencement May 22, of people who use their gifts and talents with compassion and concern for others.

"I'm not asking you to commit to a lifetime of service, or to the most difficult kind of service," said Casey, who was presented with an honorary Doctor of Laws degree by University President William P. Leahy, S.J., at the event. "But with only one of three adults in the U.S. earning college degrees, the nation needs your service. Continue the work that you've done here, whether it be in the military or the ministry, in the public or private sector, or through volunteering in the community.

"Make a commitment and remember that your labor will give hope to those who need it, and bring the light of compassion to the darkness."

Cool, cloudy weather pervaded the University's 141st Commencement Exercises, and intermittent drizzle forced the Alumni Stadium audience to huddle under umbrellas and rain gear. Many graduates on the stadium floor went off to procure ponchos provided by BC for themselves and their classmates.

Some 4,155 Boston College students received their undergraduate and graduate degrees at separate ceremonies held around campus after the main Commencement event.
In addition to Casey, the University presented honorary degrees to: longtime Boston area community activist Amy Guen MSW '52; Tiffany Gueye '00, PhD'07, CEO of non-profit organization BELL (Building Educated Leaders for Life); film and television star Chris O'Donnell '92; and Fr. Leo B. Shea, MM '60, missioner for Maryknoll Fathers and Brothers. (Read the honorary degree citations here.)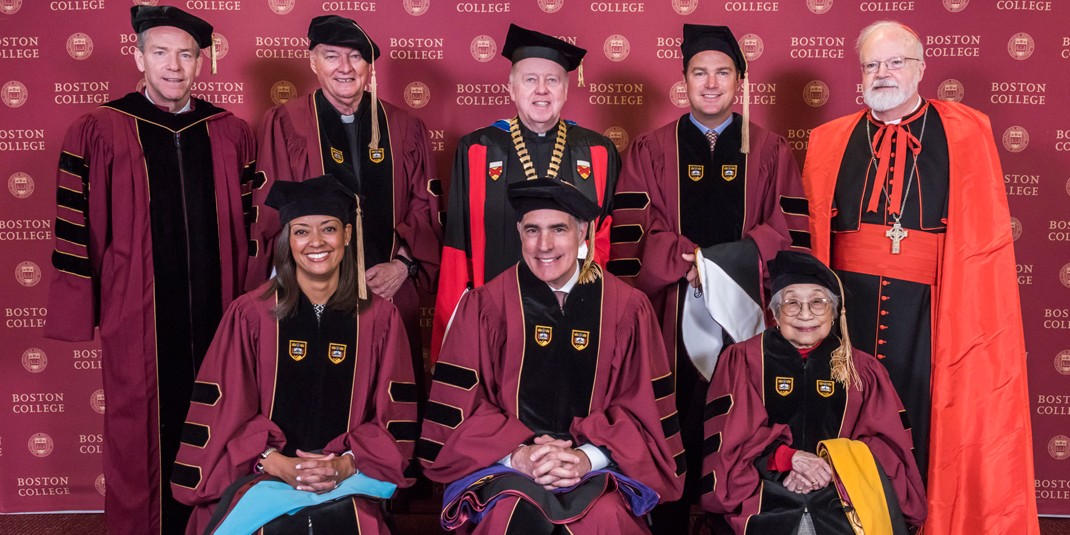 Welcoming graduates and their families and friends to Commencement, Fr. Leahy also congratulated the Class of 2017 for their commitment to service, as well as their accomplishments at BC through intellectual and personal talents, and "abundant energy and creativity."  

Fr. Leahy – who asked family and friends of graduates to stand and be recognized for their "steadfast support, encouragement and guidance" – expressed appreciation for the contributions made by faculty, administrators, alumni and friends of the University that enabled this year's class to fulfill its potential.

As one of the world's pre-eminent universities, invigorated by its core values, strength and confidence, BC stands ready to assist contemporary society and the Catholic Church in responding to opportunities and challenges, said Fr. Leahy.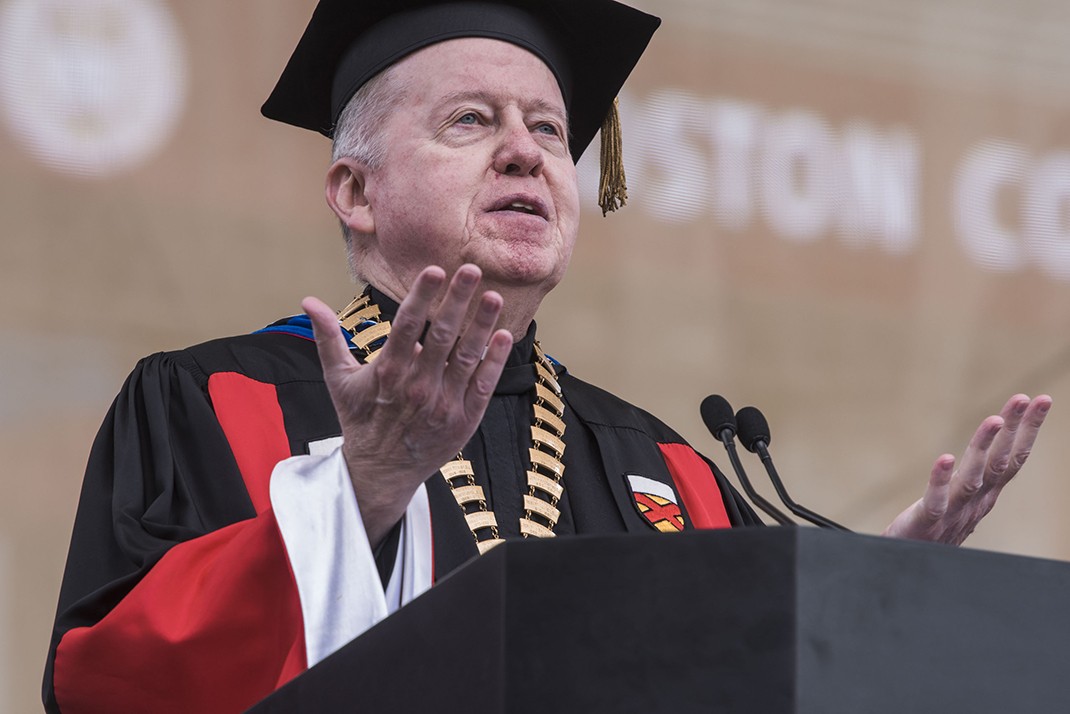 "We live in a world that desperately needs people who are willing and able to engage and help resolve difficult situations. It is simply unacceptable that so many people around the globe live amidst violence, war, poverty, and illiteracy; that religious faith is threatened by intolerance and apathy, especially in the Middle East; that racial tensions continue to exist; and that government at the state and national level struggles to overcome partisanship and address urgent matters concerning immigration, the environment, education, and housing."
Jesuit education has sought to prepare students to be "a leaven for good in society," Fr. Leahy said, and encouraged this year's graduates to use their education and gifts in the service of society, "give to others from the abundance that you have received, and put into practice the principles, values, and beliefs of Jesuit education that continue to shape Boston College and that challenge its graduates."
Casey, noting his many familial connections to BC – including current undergraduates – cited examples of the University's devotion to service: more than half the Class of 2017 was involved in service activities, while BC undergraduates give some 440,000 hours of community service during the academic year.
He then offered a personal reminiscence to illustrate a compelling portrait of service. While working for the Jesuit Volunteer Corps in a Philadelphia school, he had met a young girl with a radiant smile and great promise. Many years later, during his senatorial campaign, Casey encountered her again: She was now 33, and had endured "difficult days," but nonetheless worked a second job as a foster parent for severely abused children.
"I asked her how she did it, working with children who were so hurt, so broken," he said, "and she told me, 'Our burdens can become our blessings.' She taught me so much about what it truly means to serve."

Her example, he said, should be in the hearts and minds of the gathered BC community – itself an impressive illustration of how Catholic, Jesuit beliefs find expression through service.

"Your conscience will move you to count your blessings, and to use your blessings to lift many burdens."

Commencement also included presentation of the Edward H. Finnegan, S.J., Award to Lauren Wedell as the graduating senior exemplifying Boston College's motto "Ever to Excel", and the benediction by Boston Archbishop Cardinal Seán O'Malley, OFM., Cap.
—Sean Smith | University Communications