At this year's Commencement Exercises, University President William P. Leahy, S.J, presented the inaugural Saint Robert Bellarmine, S.J., Award to Thomas F. Rattigan Professor of English and Director of the Institute for the Liberal Arts Mary Crane.

The award, named for Saint Robert Bellarmine, S.J., a cardinal and influential Jesuit professor, will be given each year at Commencement to honor a distinguished faculty member whose significant contributions have consistently and purposefully advanced the mission of Boston College.
"It's wonderful that Boston College has instituted the Saint Robert Bellarmine, S.J., Award to recognize a faculty member during the Commencement ceremony each year," said Crane. "Both the ILA and Core Renewal have succeeded only because of the dedication of countless BC faculty to research, teaching, and the university mission, so it's great that faculty effort and initiative will now be recognized annually. I was honored to be the first to receive the award."
Crane, an English Department faculty member since 1986 and former chair of the department, is an eminently respected teacher and Shakespearean scholar who is dedicated to her students, her scholarly field of English Renaissance literature and culture, and the Boston College community. The author of three books and numerous scholarly articles, she is internationally recognized for her pioneering work spanning intellectual history, the history of science and technology, and cognitive literary theory.

---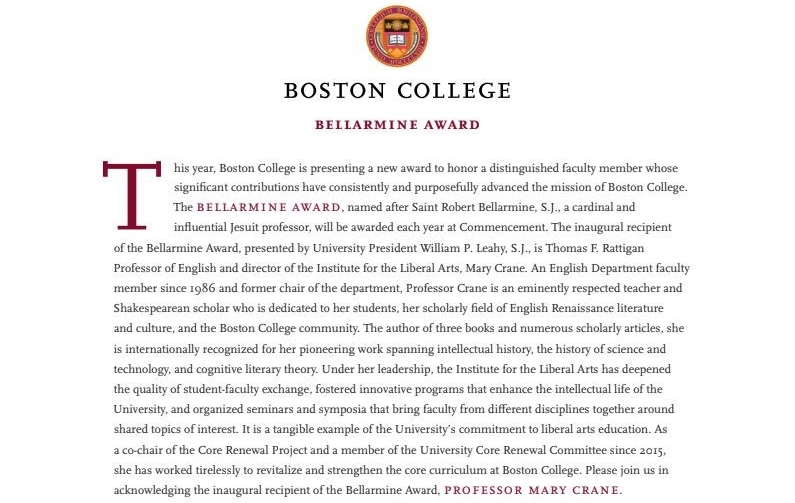 ---
Under her leadership, the Institute for the Liberal Arts has deepened the quality of student-faculty exchange, fostered innovative programs that enhance the intellectual life of the University, and organized seminars and symposia that bring together faculty from different disciplines around shared topics of interest. It is a tangible example of the University's commitment to liberal arts education.

As a co-chair of the Core Renewal Project and a member of the University Core Renewal Committee since 2015, she has worked tirelessly to revitalize and strengthen the core curriculum at Boston College.

–Kathleen Sullivan | University Communications | May 21, 2018