U.S. Senator Bob Casey (D-Pa.), a respected advocate for children and families and one of America's most prominent Catholic politicians, will address the graduates at Boston College's 141st Commencement Exercises on May 22.

University President William P. Leahy, S.J., will present Casey with an honorary Doctor of Laws degree at the ceremony.

In addition, the University will present honorary degrees to: longtime Boston area community activist Amy Guen M.S.W.'52; Tiffany Gueye '00, Ph.D.'07, CEO of non-profit organization BELL (Building Educated Leaders for Life); film and television star Chris O'Donnell '92; and Fr. Leo B. Shea, M.M. '60, missioner for Maryknoll Fathers and Brothers.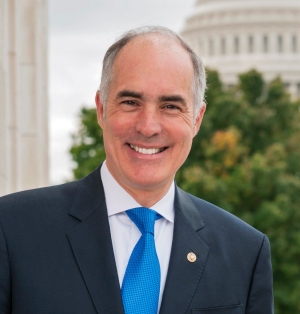 U.S. Senator Bob Casey
Bob Casey

First elected to office in 2006, Bob Casey is the senior U.S. senator from Pennsylvania, and son of the state's former governor, Robert P. Casey. In 2012, the Scranton native became the first Democrat in 50 years to be elected to a full term and to win re-election to the Senate from the Keystone State.

A highlight of Casey's 10 years on Capitol Hill was his serving as the prime Senate sponsor of the Stephen Beck Jr. Achieving a Better Life Experience Act, which will allow millions of families across the United States to save for the long-term care of their loved ones with disabilities in a tax-advantaged savings account. Casey also has been active on the legislative front in areas such as cracking down on terrorists' financing, making it easier for small businesses to expand, and addressing the problem of campus sexual assault.

A nationally recognized advocate for children, Casey recently guided into law a bill to make early learning a part of a continuum of learning, working in concert with the K-12 system.

Jesuit and Catholic education was a strong component of Casey's intellectual and spiritual development: After graduating from Scranton Preparatory School, he went on to earn degrees from the College of the Holy Cross and the Columbus School of Law at The Catholic University of America. Prior to enrolling at the Columbus School, he served in the Jesuit Volunteer Corps, spending a year as a teacher and basketball coach in inner-city Philadelphia.

In 2008, Casey served on the National Catholic Advisory Committee for Barack Obama's presidential campaign along with BC faculty members Lisa Sowle Cahill and M. Shawn Copeland (Vincent Rougeau, Richard Gaillardetz and Cathleen Kaveny, all of whom later joined the University, also were committee members).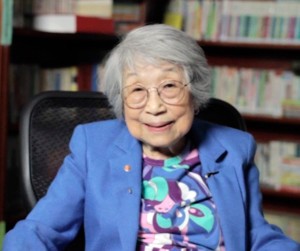 Amy Guen
Amy Chin Guen

Amy Chin Guen, still going strong at age 93, will attend her 65th BC alumni reunion this spring. In addition to a long and accomplished career as a social worker, she has worked tirelessly as a community activist and leader in Boston's Chinatown – her childhood home – to oppose displacement of the neighborhood by urban renewal.

The first American-born daughter of a Chinese domicile merchant family, Guen was sent to China as a young girl to continue her education following her mother's death, returning to Chinatown after World War II. After earning degrees from Regis College and BC's Graduate School of Social Work – and wedding chemist and community leader Edward J. Guen (who passed away in 2011) – Guen went on to become director of social case work at the Holy Ghost Hospital (now Spaulding Hospital) in Cambridge.

During her career, she trained many young professionals and served on the state's first social work licensing board, advocating for hospice care, which did not exist at the time. With her multi-lingual education and understanding of cultural needs, Guen facilitated funding for nonprofit service agencies to assist underserved immigrants, including the Asian American Civic Association, the Golden Age Center, South Cove Manor Nursing Facilities Foundation, and the South Cove Community Health Center, which continue to thrive.

Guen was honored last fall with the Chinese Historical Society of New England's (CHSNE) Sojourner Award. At the event, "Auntie Amy" — as she is known in the Chinatown community — pledged to continue to work as her health permits.  

She will receive an honorary Doctor of Social Science degree.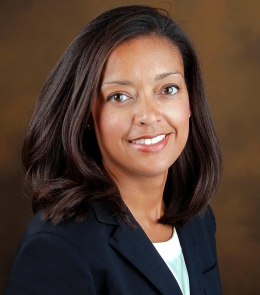 Tiffany Cooper Gueye
Tiffany Cooper Gueye

Tiffany Cooper Gueye is the chief executive officer of BELL (Building Educated Leaders for Life), one of the nation's leading nonprofit providers of quality expanded learning programs for children in grades pre-K-8. Its mission is to transform the academic achievement, self-confidence and life trajectories of children living in under-resourced communities. Founded in Boston, BELL currently serves nearly 15,000 students in public schools across the country through its summer and after-school programs and partnerships.

Gueye joined BELL in 1998 and rose through a series of positions of increasing responsibility to become the CEO in 2008. She has overseen a dramatic expansion of BELL's programs, including development of a partnership model with organizations such as the YMCA to significantly expand the availability of summer learning programs.

Under her leadership, BELL's models and evaluation methods have been nationally recognized as best practices in expanded learning programs and have proven to boost students' academic skills as well as parental engagement. Considered an expert on out-of-school-time learning, measurement, and evaluation, Gueye has presented at several conferences and has testified before Congress for nationwide educational improvements.

She is a member of the board of the Center for Effective Philanthropy, the knowledge advisory board for The Bridgespan Group, the Board of Overseers for the YMCA of Greater Boston and the advisory board for Results for America.

Boston College will award Gueye an honorary Doctor of Science in Education degree.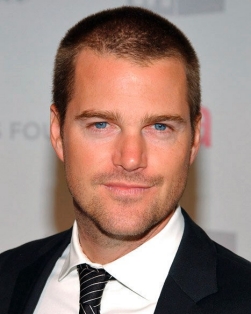 Chris O'Donnell
Chris O'Donnell

Chris O'Donnell was a student at the Carroll School of Management when he appeared in his first film, playing Jessica Lange's son in "Men Don't Leave." That critically acclaimed performance launched an acting career that spans more than 25 years, including a star-making turn opposite Al Pacino in "Scent of a Woman," which earned the Winnetka, Ill., native a Chicago Film Critics Award and a Golden Globe nomination; a Broadway run as the lead in Arthur Miller's "The Man Who Had All the Luck"; and, for the past eight seasons, a starring role in the hit CBS series "NCIS: Los Angeles."

Though his celebrity has earned him a star on the Hollywood Walk of Fame, O'Donnell is also widely known for his devotion to family – he has five children with his wife of 20 years, Caroline Fentress O'Donnell, the sister of his BC roommate – and to charitable causes. He serves on the board of REDF, an organization that creates employment opportunities for people who have been homeless, in prison, or have mental health issues, and has supported efforts to address hunger in the U.S. and promote jobs for veterans. In 2009, he received the Caritas Award for his many contributions to Saint John's Health Center in California.

O'Donnell also has established a student scholarship fund at Boston College, in addition to participating in various University activities, such as the 2013 Sesquicentennial concert at Boston's Symphony Hall, the 2010 Chambers Lecture Series at the Carroll School, and the Agape Latte 10th season kickoff in Robsham Theater last fall.

O'Donnell will receive an honorary Doctor of Humane Letters degree.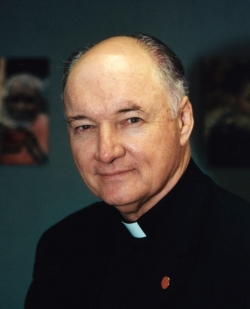 Fr. Leo B. Shea, M.M.
Fr. Leo B. Shea, M.M.

In more than half a century with the Maryknoll Fathers and Brothers, Fr. Leo B. Shea, M.M., has taken his ministry to the slums of Jamaica, the barrios of Caracas, Venezuela, and the reaches of northern China.

A Massachusetts native, Fr. Shea first gained awareness of foreign mission from a grammar school teacher who had worked in Nigeria; he also encountered several teachers in his preparatory school who had had similar experiences. After earning his degree in English from Boston College, Fr. Shea joined the BC Jesuit Lay Mission program and went to Jamaica, where he taught at St. George's College, a Jesuit high school, and St. Anne's Parish in the impoverished Hanna Town neighborhood.

He later undertook a 16-year assignment for the Maryknoll mission in Venezuela, living much of that period in a makeshift shack in the Caracas slum of Nueva Tacuagua, where he led efforts to serve 25,000 displaced people. Later, he journeyed to northern China, where he taught English to university students and worked with Catholics in the public church, as it exists in China, and the "underground" church. In 2007, he returned to Jamaica to support the Blessed Assurance Orphanage and the deaconate program of the Diocese of Montego Bay.

Fr. Shea also served in a number of Maryknoll executive leadership positions. A program he created 25 years ago has since brought approximately 150 Chinese priests and women religious to study in the U.S., including at Boston College. Fr. Shea retired from administrative duties in 2012, though he maintains close affiliations with missions around the world.

Boston College will award Fr. Shea an honorary Doctor of Humane Letters degree.
—University Communications