Photograph by Rose Lincoln

It was a record-breaking night for a favorite BC tradition on September 30 as the Pops on the Heights Barbara and Jim Cleary Scholarship Gala, now in its 24th year, raised $9 million for student scholarships.
Prior to Friday's event, the Pops gala had raised more than $35 million in support of student financial aid for 1,500 Pops Scholars at BC. This year's sold-out event, chaired by Maureen and David O'Connor '86, P'16, P'18, and Kim Gassett-Schiller and Philip Schiller '82, will provide financial aid for 325 undergraduate students.
The Boston Pops Esplanade Orchestra headlined the event under the direction of Keith Lockhart, who, in his 21st season with Pops is the second longest-tenured conductor since the orchestra's founding in 1885. His wife, Emiley Zalesky Lockhart, is a graduate of the Morrissey College of Arts and Sciences, a fact Lockhart referenced during the evening.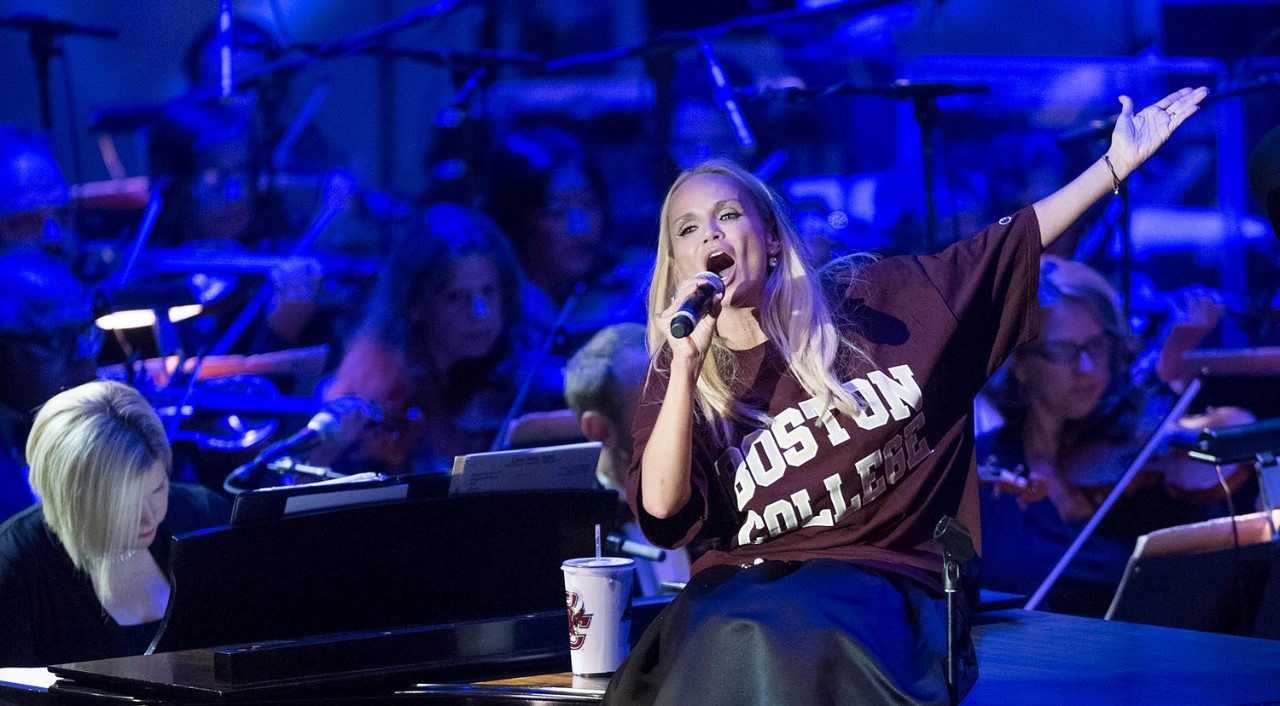 Kristin Chenoweth charmed the audience with her performance—and her wardrobe. (Gretchen Ertl)
The Pops were joined this year by award-winning stage and screen performer Kristin Chenoweth as special guest artist.
The evening began with performances by student musical groups; when the Pops took the stage, accompanied by the University Chorale and the BC Marching Band, the orchestra performed their signature blend of classical pieces and popular favorites, including a "Star Wars" medley.
Chenoweth, a Tony and Emmy Award-winning performer who is perhaps best known for originating the role of the Glinda the Good Witch in the Broadway hit musical "Wicked," won the audience's heart from the start by strolling onstage clad in a Boston College shirt. She continued to wow the crowd with numbers such as "I Was Here," sung with the University Chorale, as well as "Popular" (from  "Wicked"), "Somewhere Over the Rainbow," "I Could Have Danced All Night," "Moon River," and her take on "Smile," which is featured on "The Art of Elegance," her new album of American songbook classics. (Boston Globe: Chenoweth belts it out for Boston College.)

The singer, tweeted her excitement about the performance before the event, and continued to tweet with fans after the show. (See more highlights from social media posts throughout the weekend in the Storify below.)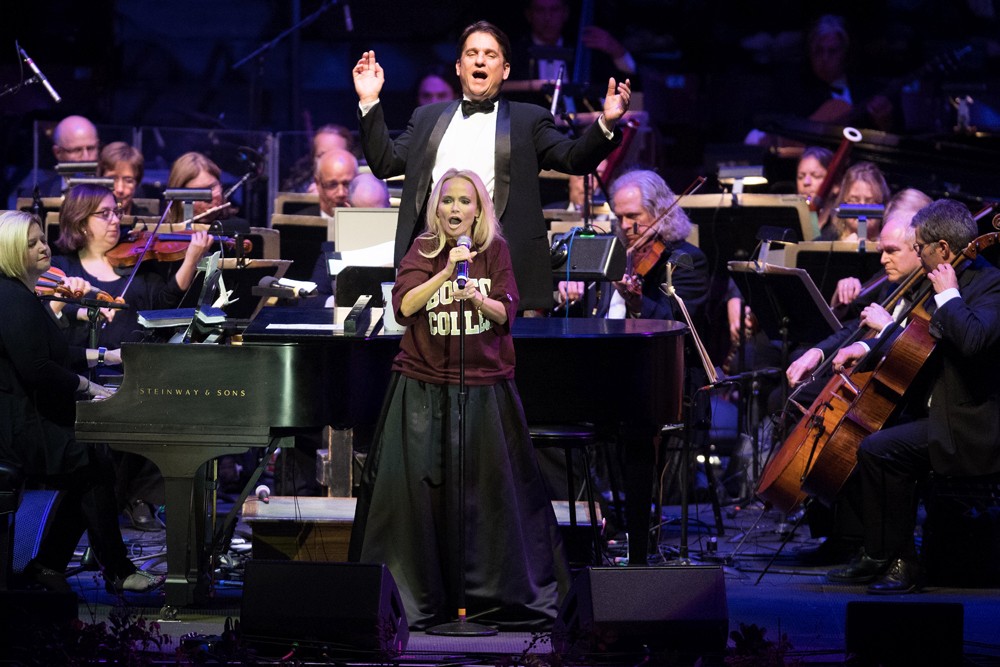 Keith Lockhart and the Boston Pops, with special guest Kristin Chenoweth. (Gretchen Ertl)
Student talent showcased during Pops on the Heights included Chris Vu '17 on piano for Debussy's "Clair De Lune"—reprising his soundtrack for the BC video "Night," which was released earlier this year and which accompanied Vu's performance—and Christy Coco '17, who is currently in an off-Broadway revival of the musical "Fiorello" and who sang "On My Way," from "Violet," at Pops.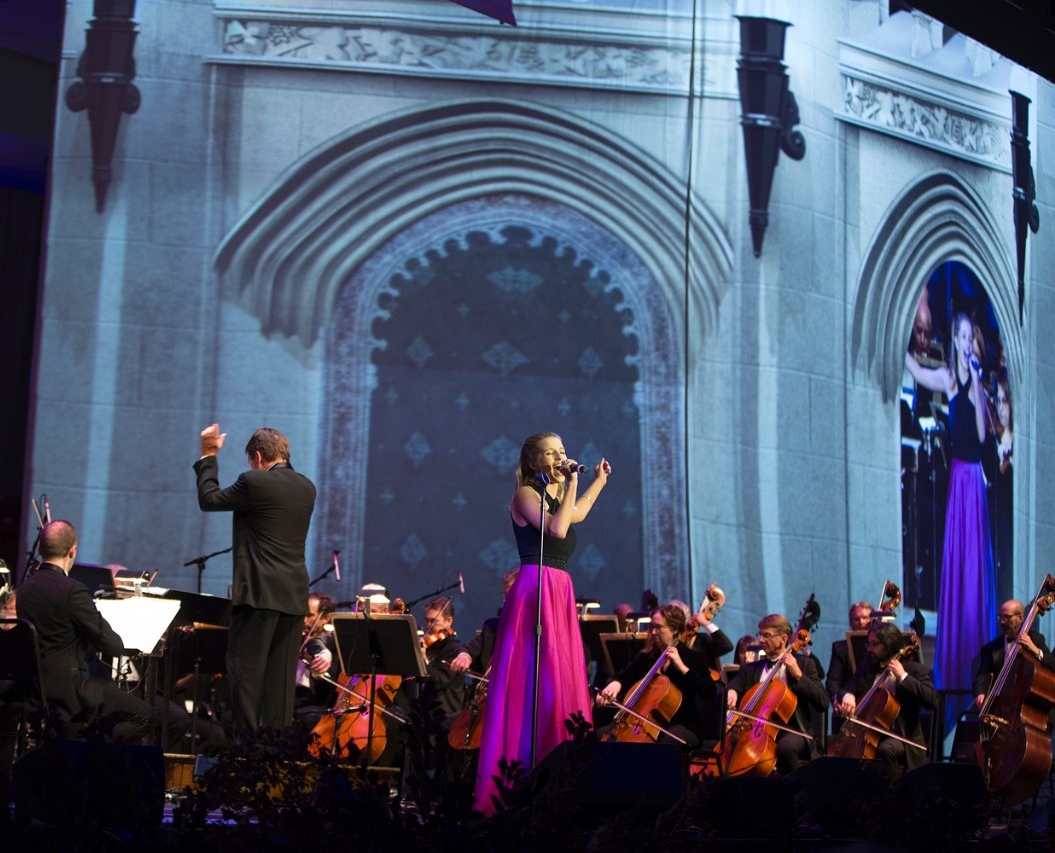 Christy Coco '17 (Rose Lincoln)
Pops on the Heights is a highlight of BC Parents' Weekend, which annually welcomes family members of current students to campus for a range of informational and recreational activities.
Earlier on September 30, parents had the opportunity to connect with other BC families, sit in on classes with their students, and visit open houses hosted by deans. They also could participate in sessions on academic advising, student affairs, teaching, and student life, and attend an address by University President William P. Leahy, S.J., in Robsham Theater.
Saturday's activities centered on BC-Buffalo, with a pregame barbecue at the Flynn Recreation Complex followed by a 35-3 Eagles victory in Alumni Stadium. Parents' Weekend concluded Sunday with a family liturgy open to all faiths in Conte Forum.
—News & Public Affairs
---