The Boston College Men's Rugby Sevens team will play in the Penn Mutual Collegiate Rugby Championship June 4 and 5 in Philadelphia, seeking its first national championship since the sport's founding at BC in 1968.

The team, which competes in the Division I East Coast Rugby Conference, enjoyed a successful sevens season before winning its first ACC Championship in April.

It will participate in the two-day invitation-only tournament at Talen Energy Stadium in a four-team bracket that includes rugby sevens powerhouses Notre Dame, University of Indiana and Kutztown University. The games on Saturday will begin with BC playing Indiana at 10:20 am; Kutztown at 1 pm and Notre Dame at 3 pm.   

The games will be televised on NBC.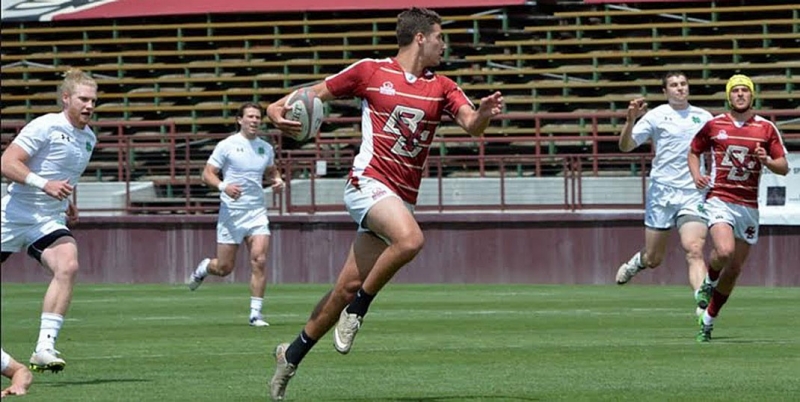 Team manager Ben Nathan '16, a history and Perspectives program major in the Morrissey College of Arts and Sciences, said that the team is eager for the opportunity to play in a national  championship for the exposure it will bring to the club sport that has long been overshadowed by BC's 31 varsity sports.   

"Being a part of the BC rugby team has been one of the highlights of my BC experience," said Nathan, who is from Peabody, Mass. "Playing a sport that I love with a great bunch of guys has been a dream. Playing in the national championship is the perfect capstone to four great years at Boston College."

Added team captain Dan Schatzman '17, a Carroll School of Management finance and accounting major from San Jose, California, "The team is excited to represent Boston College on a national stage against the best rugby teams in the country. We have worked hard all year for this opportunity, and we promise no one will be disappointed by our effort."  

Upon the completion of the Collegiate Rugby Championship, Nathan says he will begin studies for a master's degree in the Lynch School of Education, before pursuing a career teaching high school history and coaching rugby. Schatzman will work this summer in Boston as an intern in an investment banking firm.

"Win or lose, this year has been an unforgettable experience," said Nathan.  "We hope we can end the season on a high note on behalf of all the student-athletes who have played rugby at BC and all of our many supporters who have helped us to raise the money to make this opportunity possible."
For more information, visit the Penn Mutual Collegiate Championship website.

—Jack Dunn | News & Public Affairs