"Without the slightest bit of exaggeration, every single Irish person I have spoken with has been nothing but welcoming, overwhelmingly friendly, and genuine...Although the country is absolutely beautiful and there are so many incredible things to do here, the people truly make Ireland a unique place."—Justin Cwieka '17, who studied at University College Dublin last semester.
With a little more than five months to go until the Sept. 3 Boston College-Georgia Tech football game kicks off in Ireland, Boston College has co-organized a number of associated events and activities—including a talk by former U.S. Senate Majority Leader George Mitchell—to make the trip to the Emerald Isle a memorable one.

March 30 is the last day to buy tickets for the Aer Lingus College Football Classic, to be played at Dublin's Aviva Stadium, before they go on sale in Europe; they can be purchased through Ticketmaster.
Boston College is partnering with Anthony Travel to offer numerous travel packages for Eagles fans. Options range from a four-day, three-night visit to Dublin to a nine-day, eight-night tour of three different Irish cities. There is also a special package for GOLD (Graduates Of the Last Decade) alumni.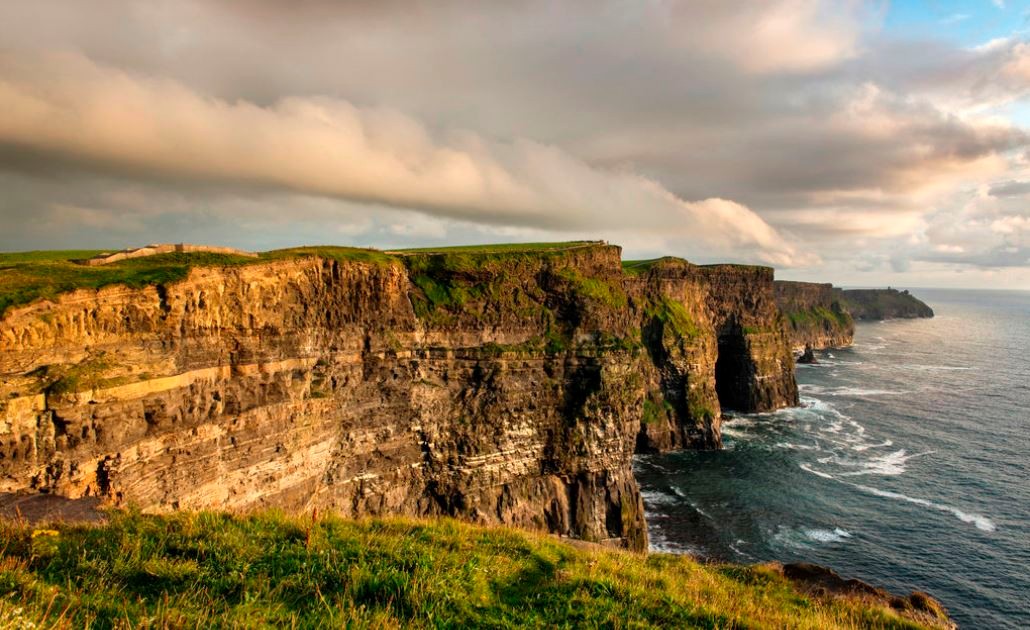 A website has been created, BC2Ireland.com, to provide a one-stop source for information and reservations (it also includes a link for game tickets) related to the game and travel packages, as well as airfare and places to visit in Ireland.
Dublin's Trinity College will serve as the "Welcome Village"—featuring an information center and game merchandise store—and locus of activity prior to and during the weekend of the game, Aug. 31-Sept. 3.
Among the special events will be an alumni luncheon on Aug. 31 with retired Senator Mitchell as guest speaker, hosted by BC's Irish Institute. Mitchell was the U.S. special envoy to Northern Ireland and took a leading role in negotiations that led to the 1998 Good Friday Agreement. He was awarded the Presidential Medal of Freedom and the Liberty Medal for his efforts in the peace process.
Other events will include a public law symposium on Aug. 31; a joint BC-Georgia Tech faculty symposium, "University and the Innovation Economy," on Sept. 1; and, on Sept. 2, an Ireland-USA business breakfast sponsored by IDA Ireland, a morning Mass in St. Mary's Pro-Cathedral, and a mid-afternoon Boston College pep rally.
"I really like the atmosphere and the people. Everyone is proud to be Irish, yet so accepting and welcoming."—Jillian McCord '16, who interned at The Little Museum of Dublin last summer.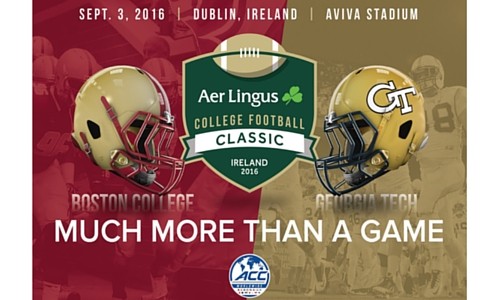 Also on the schedule will be various receptions and tailgating events as well as local social outreach and service projects.
More than 25,000 fans are expected to travel from the U.S. and Europe to see the game, which is being organized by Irish American Events Limited, a joint venture between Corporate.ie and Anthony Travel.
See the BC2Ireland.com website for additional details and updates.
Read more about the Aer Lingus College Football Classic in the Boston Irish Reporter.
—News & Public Affairs