On Saturday, September 3, the Boston College football team will begin its 2016 season clear across the Atlantic Ocean, almost 3,000 miles from home – and yet the Eagles will be among plenty of friends and supporters.

BC will take on Atlantic Coast Conference rival Georgia Tech at Dublin's Aviva Stadium in the Aer Lingus College Football Classic, which will be televised on ESPN2. Some 6,000 tickets have been sold to BC football fans, making it one of the largest away-game turnouts in BC history. This will be the second time a BC football game has been played in Ireland; in 1988, BC defeated Army in the Emerald Isle Classic, held at Lansdowne Road Stadium in Dublin.  

The game will be the climax of several days of special events and activities held to mark the occasion, including a talk by former U.S. Senate Majority Leader George Mitchell, a Mass to be concelebrated by University President William P. Leahy, S.J., and a Joint Faculty Symposium. It also caps months of transatlantic planning and preparation involving administrators, staff and faculty from across the University and representatives from the Irish and American academic and business communities – especially Irish American Events Limited, a joint venture between Corporate.ie and Anthony Travel, both of which have been involved in the recent college football games in Ireland.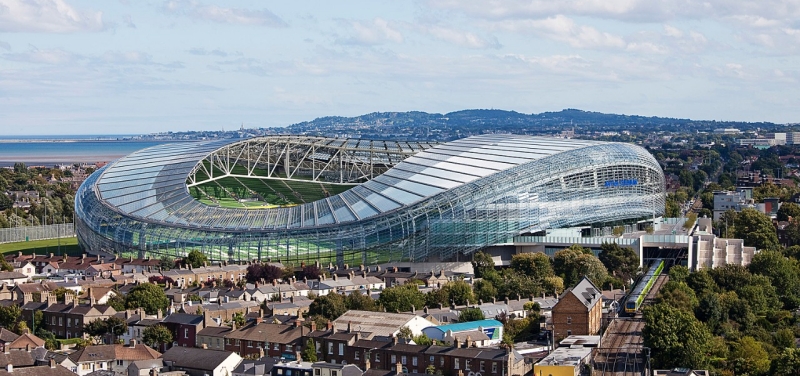 BC takes on Georgia Tech at the Aer Lingus College Football Classic at Aviva Stadium in Dublin September 3.
BC's involvement has been driven by a collaboration between Athletics, University Advancement, the Alumni Association, Office of the Provost, the Global Leadership Institute, the Church in the 21st Century Center, the Carroll School of Management's Chief Executives Club of Boston and BC-Ireland.

"It's been a long process, and a lot of work. We are grateful and thrilled that so many of our alumni, parents and fans are traveling to Dublin to show their loyal support for Boston College," said Associate Vice President for Alumni Relations Joy Moore. "Our Dublin partners have gone above and beyond to create a memorable experience for all at the Aer Lingus College Football Classic."

Moore and other organizers are quick to cite the phrase "more than a game" that has appeared in promotional material for the venture. While full of festivities – including a parade, a "Marching Band Classic" and pep rallies – they explained, the Aer Lingus College Football Classic also is a venue for BC, and Boston, to affirm its Irish roots, explore opportunities for new partnerships and initiatives, and examine economic, social, educational and other matters of shared interest.

"Boston College was founded in 1863 to provide a Jesuit education to Irish immigrants by John McElroy of the Society of Jesus, who was born in Northern Ireland," said Director of Athletics Brad Bates. "From our very origins, our relationship with Ireland as a university and as a city is extensive. This game is a once-in-a-generation experience for faculty, staff, students, administrators, alums, fans and the entire Boston community."

The Irish Institute Alumni Luncheon on August 31, for example, was highlighted by the appearance by Mitchell, a key architect of the 1998 Good Friday Agreement that helped end the Northern Irish conflict.

The Joint Faculty Symposium on September 1, "International Collaborations in Education, Research and Innovation," includes talks from Fr. Leahy, Georgia Tech President G.P. "Bud" Peterson and Patrick Prendergast, provost and president of Trinity College Dublin, which is hosting the event. Among those also speaking will be BC Vice Provost for Research Thomas Chiles and Ferris Professor of Physics and Physics Chairman Michael Naughton, Boston College students Michael Gordon, Christian Nicholson and Anders Bill, as well as faculty and students from Georgia Tech and Trinity College Dublin.

The inaugural Boston College Chief Executives Club Global Forum on September 2 will feature Coca-Cola Company Chairman and CEO Muhtar Kent as keynote speaker, an event organized by BC Chief Executives Club Executive Director Warren Zola, State Street Corp. Chairman and CEO Joseph L. Hooley III '79 – a BC trustee – and Neil Naughton, deputy chairman of the Dublin-based Glen Dimplex Group and chair of the Irish Steering Committee for the Aer Lingus Football Classic.

"Both Boston College and the city of Boston have deep roots in Ireland," said Zola. "Given the history and tradition, it seems only natural to re-engage these two communities, and to do so by strengthening those business communities."

For information on the Aer Lingus Football Classic, visit the bc2ireland website
—Sean Smith | News & Public Affairs