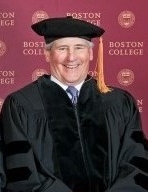 William V. Campbell
William (Bill) V. Campbell H'12, a former football assistant coach and longtime BC Athletics benefactor, died April 18 in Palo Alto, Calif. He was 75.

Campbell was an assistant football coach at Boston College for six seasons.
He went on to launch a successful business career that landed him at the top of the technology world. He held executive positions at firms such as Apple, Claris Corporation, and Intuit, Inc.

Campbell was awarded an honorary Doctor of Business Administration degree from BC in 2012.

Boston College's William V. Campbell Director of Athletics Brad Bates issued the following statement:

"Many are mourning the loss of William V. Campbell yesterday, including those of us at Boston College where Bill received an honorary degree in 2012. But it is a particularly sad day for those of us in BC Athletics, because Bill was one of our own.

"Bill joined the BC coaching staff in the late 1960s, yet it is his journey following Boston College that illustrates the lifelong impact intercollegiate athletics can have on individuals. After serving as head coach at his alma mater Columbia from 1974-79, Bill found his true calling in the fields of business and technology. But at his core, Bill was always a coach and became known-and depended upon-as the 'Coach of Silicon Valley.'

"Like any great coach, Bill's heart was outsized. Whatever his playing field-the gridiron, the boardroom, or a school campus, Bill always found a way to make individuals and teams stronger as they strived to reach their potential. Though I did not meet Bill until my arrival at BC, it did not take long for me to recognize his impact on those around him and to appreciate, in a personal way, his generosity and leadership.

"During my early meetings with Bill, he spoke most about his affection and admiration for BC's Bill Flynn, the lessons he learned from Bill and the lifelong friendships that emerged from his time at Boston College. He told me that his decision to endow the Director of Athletics position was motivated by his desire to honor those who shaped his experience at BC, and to support an institution and a program that meant so much to him. I am both humbled and privileged to serve as the William V. Campbell Director of Athletics.

"The incredible generosity of a long ago assistant football coach might have surprised some, but Bill felt a strong kinship to BC and his roots here ran deep. Bill never forgot his roots and Boston College will never forget Bill Campbell: a great coach and a true man for others."

Read an obituary for Mr. Campbell in The New York Times.