Associate Professor of Theatre Stuart J. Hecht has been selected as a member by the College of Fellows of the American Theatre—one of the highest honors given to American theater community educators and professionals.
Since its founding in 1965, the nonprofit College of Fellows has recognized distinguished service and notable accomplishment by individuals of recognized national stature.

"It means a lot to me to be nominated and elected by my peers and to receive this honor," said Hecht, who will be formally inducted into the college at its annual meeting and investiture of new members, held each April under the auspices of the Education Department of the John F. Kennedy Center for the Performing Arts.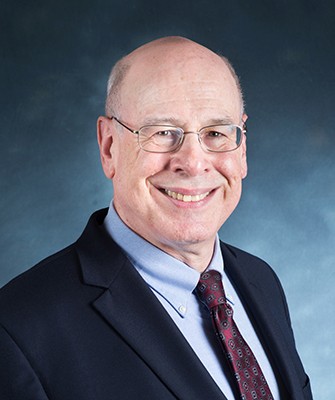 As an American theater historian, Hecht has focused extensively on Chicago theater history.

Most recently, he served co-editor, with Megan E. Geigner of Northwestern University and Jasmine Jamillah Mahmoud of Seattle University, of Makeshift Chicago Stages: A Century of Theater and Performance (Northwestern University Press, 2021), which brings together leading historians to share the history of theater and performance in Chicago. By putting space at the center of the city's theater history, the essays in Makeshift Chicago Stages spotlight the roles of neighborhoods, racial dynamics, atypical venues, and borders as integral to understanding the work and aesthetics of Chicago's artists, ensembles, and repertoires, which have influenced theater practices worldwide. Featuring rich archival work and oral histories, the anthology is a resource for theater historians, as well as those interested in Chicago's cultural heritage.
On the artistic staff of the Goodman Theatre and as resident dramaturg for the Wisdom Bridge Theatre, both in Chicago, he has worked with a range of prominent theatre artists, included Bob Falls, Gregory Mosher, David Mamet, Wole Soyinka, Frank Galati, and Del Close, to name a few.

The long-standing editor-in-chief of New England Theatre Journal, as well as an editorial board member for both Theatre Annual and the Journal of American Drama and Theatre, Hecht's articles have appeared in Theatre Journal, The Journal of American Theatre and Drama, Theatre History Studies, Chicago History, The Sondheim Review, American Theatre, The Journal of Dramatic Theory and Criticism, Theatre Survey, and The Journal of Popular Culture, among others.
He serves on the board of the New England Theatre Conference, is an officer of the American Theatre and Drama Society, and was an advisory board member for, and also appeared as an interviewee in, the Peabody Award-winning PBS documentary, "Broadway Musicals: A Jewish Legacy," which grew out of his research and writing. His work includes the 2011 book Transposing Broadway: Jews, Assimilation and the American Musical, published by Palgrave Macmillan.
The founding chair of the Boston College Theatre Department, a position he held for 13 years, Hecht has worked at Boston College since 1986, teaching classes in directing, playwriting, dramatic literature, and theatre history.
University Communications | February 2022