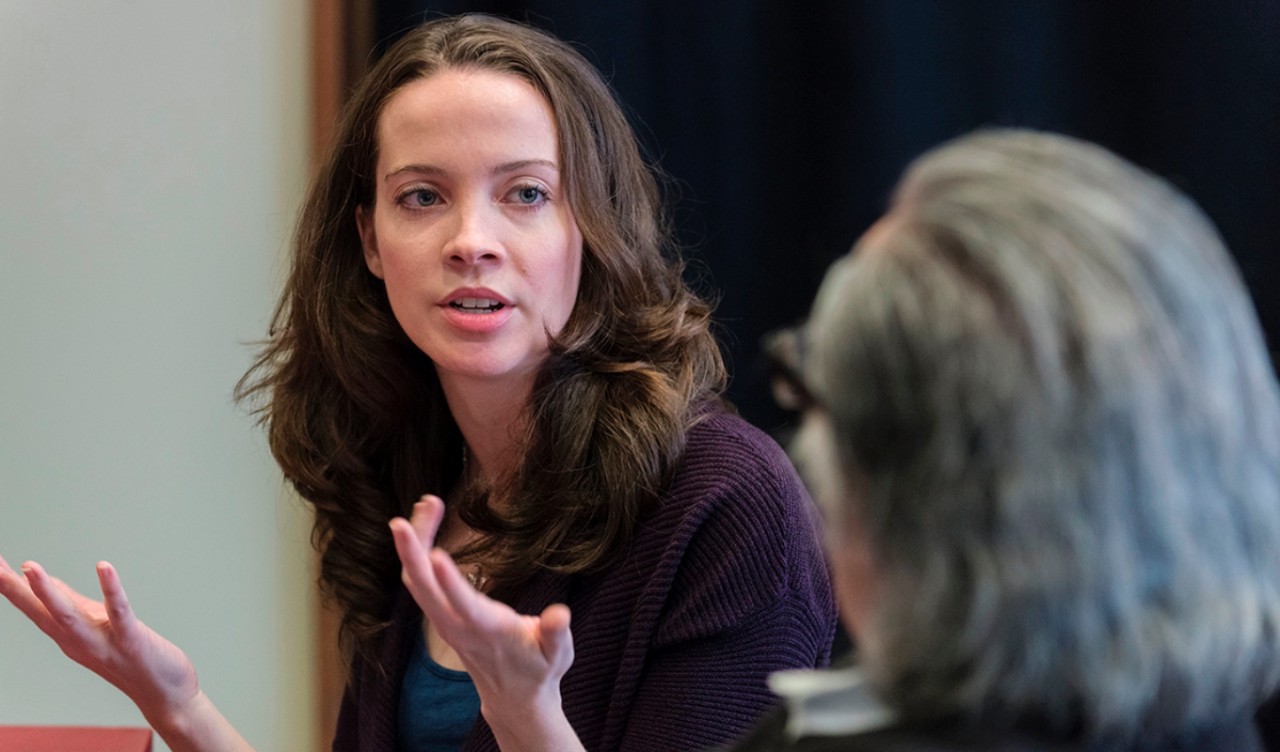 A riveting journey across time and sea will be presented on campus, as 2007 alumna Patricia Noonan—an accomplished New York City-based actor, singer and writer—returns to stage her original musical.
Inspired by the Irish myth of the Selkies—seal people who can shed their skin and become human—"Learning How to Drown" comes to Robsham Theater Arts Center's Bonn Studio February 17-20 at 7:30 p.m., and on Feb. 21 at 2 p.m. 
As its plot unfolds, a hurricane leaves Emma and John stranded together in her New York City apartment.  John proposes, but when Emma turns him down, their weekend takes an unexpected turn as she shares the story of her grandparents' tumultuous love affair in County Clare, Ireland. 
 "'Learning How to Drown' is inspired by the Irish myths and stories I grew up with, so it seems fitting to bring this show to the place where I honed my performance and playwriting skills while studying things like comparative mythology and the politics of storytelling," said Noonan, who was Presidential Scholar at BC.
As the play shifts between the present, Emma's memory, and the love story that has shaped her family, it shows how stories of our past affect our present and asks: Do we let these stories trap us or set us free? 
"The Boston College Theatre Department is thrilled to welcome Patricia Noonan back to the Heights," said Associate Professor and Department Chair Crystal Tiala. "When Patricia was a student in our classes and on our stage, we knew her to be an extraordinary, kind, intelligent, ambitious and enormously talented human being. She continues impress at every phase of her career." 
Noonan wrote the book and lyrics for "Learning How to Drown," working with composer Amanda Jacobs and director Igor Goldin—both high-profile, award-winning theater professionals.
"We are so grateful to have been given the time, space, and support to continue to strengthen the script and score of this brand-new musical," Noonan said. "For me, there is the added joy of coming full circle, as 'Learning How to Drown' will be performed in the Bonn Studio Theatre where my thesis play, 'The Storykeeper,' debuted when I was a senior."  
"Bringing Patricia back to BC along with her equally impressive colleagues, Igor Goldin and Amanda Jacobs, has been a rare and wonderful learning experience for all the undergraduates," according to Tiala. "She is the quintessential role model for all our students."  
The production's stage manager—MCA&S senior Maggie Snell, a theatre major, agrees. "'Learning How to Drown' has been one of the best experiences I've had working on a production at BC," she said. "Patricia, Igor and Amanda are all unbelievably talented and wonderful to work with, and I feel so incredibly proud and lucky to be working on this production. It's been an amazing way to end my undergraduate stage management career, as I look towards beginning a professional stage management career."
Noonan credits Boston College as "one of the reasons I am the writer and actor I am today. The Presidential Scholars Program allowed me the intellectual scope and financial freedom to pursue a career in the arts, the multidisciplinary English and Theatre departments allowed me to develop skills both onstage and in the writer's chair, and my classmates continue to challenge and inspire me even years after graduation."
Noonan, who has performed in theaters "from the east to the west coast and everywhere in between," has a passion for storytelling, and has made a name for herself in New York by breathing new life into the leading ladies of classic shows and by working with composers and writers to bring original stories to the stage and screen.

In an InsideOut play review, Jed Ryan wrote: "Magnetic actress Patricia Noonan is a standout;" in another, she was called "a rising star" by Brian Austin of the White Plains Times.
Noonan also co-wrote and launched the "Make it Fair" project (#makeitfair), which features prominent actors and calls for "gender equality in the stories we tell, the wages we earn, and the future we shape."
Her co-authorship of that project, Tiala said, "demonstrates her concern for others is as impressive as her talent." 
While on campus for production rehearsals, Noonan worked one-on-one with students in Associate Professor of Theatre John Houchin's class, and spoke to a directing class with Jacobs and Goldin. Among other activities, Noonan will have a panel discussion on developing a theater production and "talk-backs" following some performances, and has met with students in the Gabelli Presidential Scholars Program.  
"Learning How to Drown" – a Theatre Department/RTAC production - features set design by Tiala, and vocal coaching by Monan Professor in Theatre Arts Michelle Miller '98. 
Admission is $15 for adults, $10 for students (with valid ID), $10 for seniors, and $10 for BC faculty/staff (one ticket per ID). Additional fees apply. For tickets contact the Robsham Theater Box Office at 617-552-4002, or see bc.edu/tickets.

For more information about Patricia Noonan, visit her website: www.patricianoonan.com.
Rosanne Pellegrini | News & Public Affairs