Hartmut Austen with Lucas Mockler '18, who assisted with some of the artwork on display in Austen's new exhibit '1984: Stop Making Sense.' (Peter Julian)

Jonathan Demme's frenetic 1984 concert film "Stop Making Sense," which captured a live performance by the band Talking Heads, made a strong impression on Assistant Professor of Studio Art Hartmut Austen, then a middle school student.

The visual arts and drawing had spurred his interest that year, and "Stop Making Sense" added to the inspirations he derived from pop culture, history, music and literature. His emerging passion for the arts would become his profession.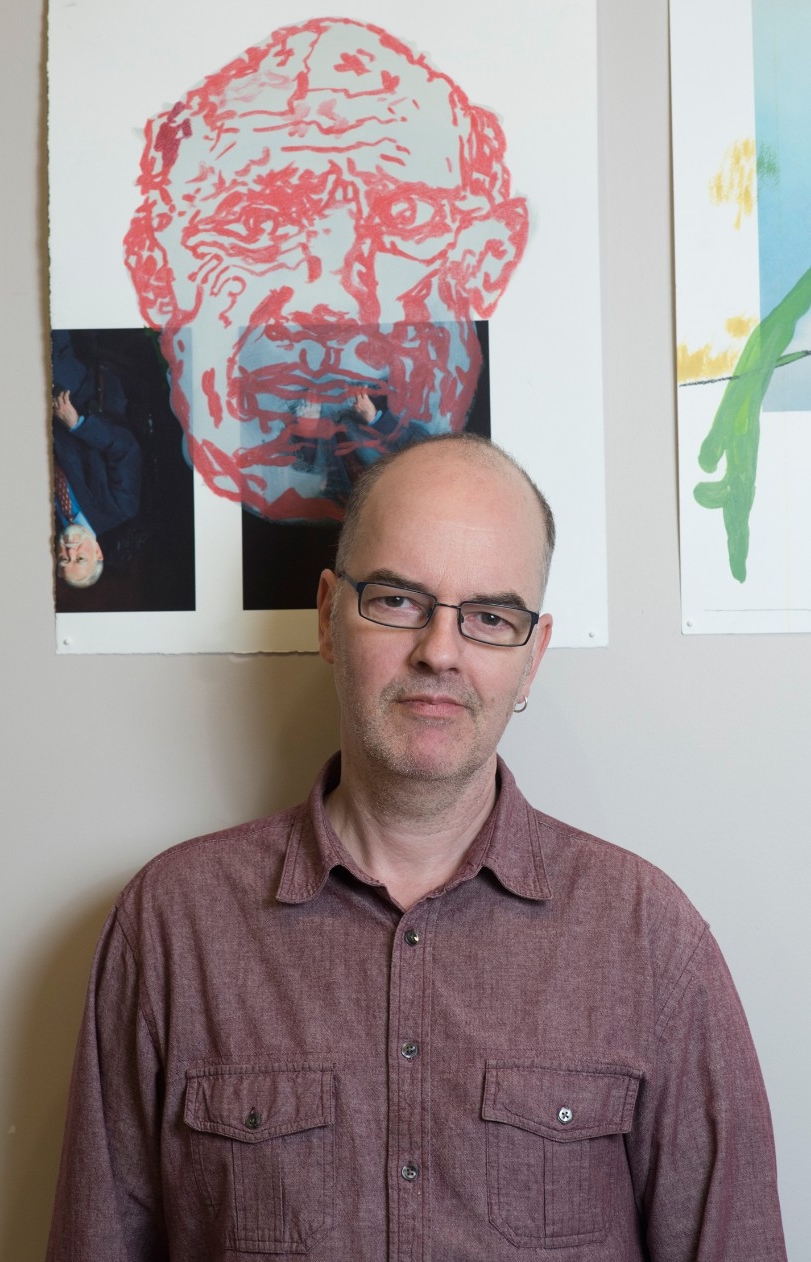 Austen's abstract paintings and drawings are rooted in the real but emphasize structure, tactility and the visceral over representation, according to his faculty profile. He has exhibited widely in the U.S. and Germany, where he studied with H.J. Diehl at Hochschule der Künste (University of the Arts) in Berlin. As a member of the Telegraph Art Collective, he has worked and exhibited with artists of diverse disciplinary backgrounds.

Now a colorful exhibition of his works titled "1984: Stop Making Sense," is on display in the O'Neill Library Level Three gallery through April 30.

Austen created the exhibition "by revisiting and interrogating some of his earlier documented drawings from 1984, and in a short, frenzied period, produced new work based on some of his 'old ideas,'" according to the exhibition statement. The project was an opportunity to see if the works and methods he employed as an artist had changed over time.

Uniform in size, they are displayed unframed to highlight their material character and the experimental nature of their creation, Austen explains. Most of the pieces were created with assistance from studio art students Sara Chung '20 and Lucas Mockler '18.  

"I first watched 'Stop Making Sense' when I was 12 or 13," said Mockler, whose parents "were big into Talking Heads. When Hartmut introduced me to the project I was very excited because I knew their work and had an idea of what he wanted to do." Mockler describes his experience working on the exhibition as "very open and fluid."

The students' contributions, Austen notes, "were very important for the success of the project and I am grateful to them for their input."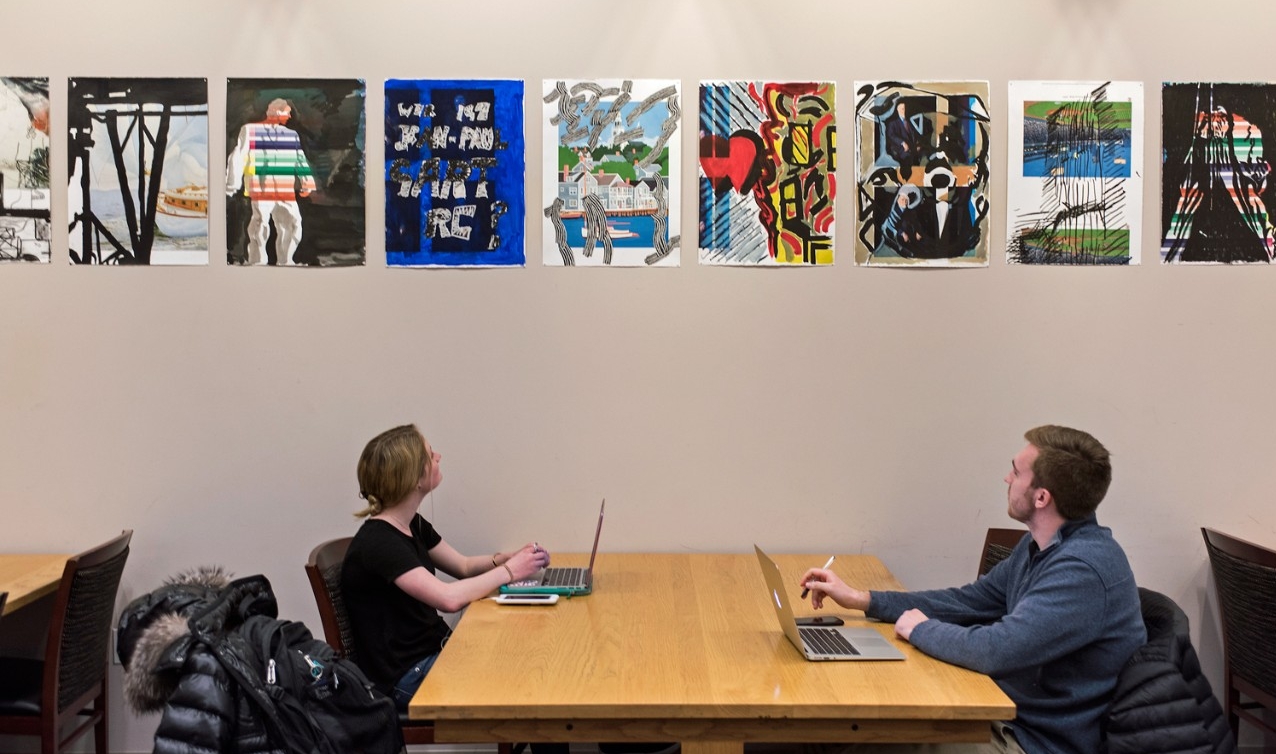 Displayed closely together in a sequence similar to the film structure, viewers see them in quick succession to experience the "contrast of imagery, color, form, attitude and energy," as well as recurring elements. Some have New England motifs that reflect Austen's move to Boston and link the project to the present.

Austen emphasizes that viewers should not analyze the works for direct clues or interpretations of the concert film; an important aspect of the display, he adds, is that more than half of the images are re-creations of drawings he did in 1984.

"These works of art are trying to capture a personal experience within a context of visual art, music and theatrics. Ambition and exaggeration, a visual investigation of my own drawings within a context of iconic music and visuals that carries so much emotion, invention and weirdness despite being carefully plotted."

Viewers, he hopes, will "bring their own observations and thoughts based on what they see. The non-linear frieze of images may be read from either side, or from the inside out.

Of the film "Stop Making Sense," Austen says, it is "visually and emotionally powerful and always will be. It's timeless, and in that sense, as fresh and important to me."

Same as it ever was. 


Rosanne Pellegrini | University Communications