A new exhibition at the McMullen Museum of Art shows how Ireland's Arts and Crafts movement of the late 19th and early 20th century helped shape the country's post-colonial transition.
An exclusive exhibition of more than 150 ecclesiastical and domestic objects, "The Arts and Crafts Movement: Making It Irish" will be on display in the McMullen from Feb. 6 to June 5, coinciding with a year of centenary commemoration across Ireland of the 1916 Easter Rising.
The Boston College community and members of the public are invited to a free opening reception on Feb. 8 from 7-9 p.m. at the museum in Devlin 110.
"Making It Irish" offers the first comprehensive examination of the Irish Arts and Crafts movement as it was experienced in the context of cultural nationalism and major political transformation, according to organizers. The exhibition explores that movement within the contexts of nationalism, feminism, Celtic Revivalism, and modernism. Like the more familiar Irish Literary Revival of the same era, Ireland's Arts and Crafts practice accompanied and shaped the country's transformation from colony to independent nation, and in the North, to continuing ties with the United Kingdom.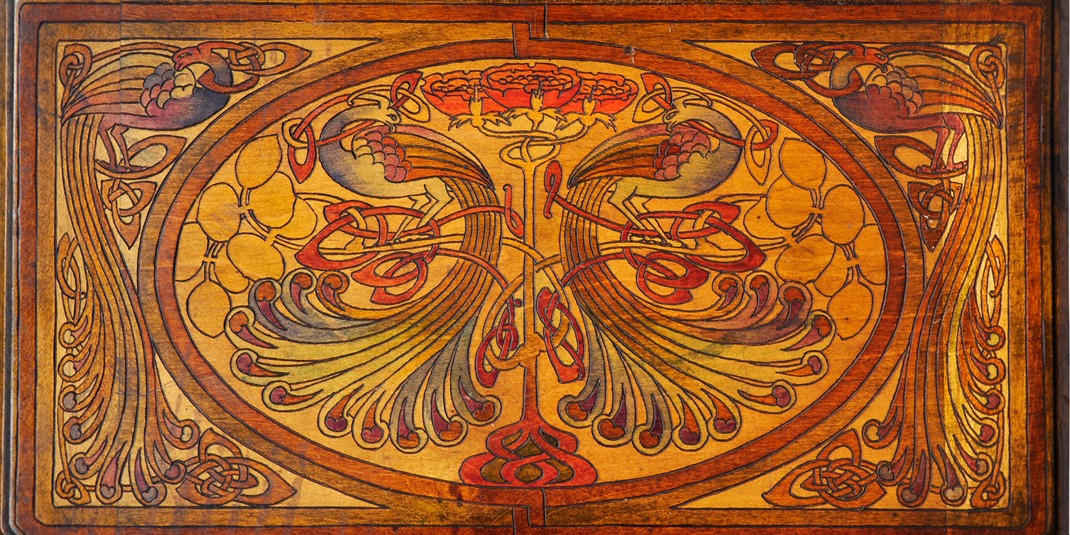 From 'The Arts and Crafts Movement: Making It Irish' at the McMullen Museum of Art: a panel from a wooden box lid with peacocks, flowers, and Celtic interlace, c. 1900–25, by Eva McKee (b. 1890).
As its centerpiece, the exhibition introduces stunning early medieval-influenced metalwork, embroidered textiles and vestments, altar cards, and leatherwork from the Honan Chapel, Cork. The collection of this ideologically charged masterpiece of Arts and Crafts achievement, consecrated in 1916, has never before traveled beyond Cork, Ireland.
"The McMullen is pleased to present the first comprehensive exhibition devoted to the Arts and Crafts movement as it was uniquely conceived in Ireland," said McMullen Museum Director and Professor of Art History Nancy Netzer. "The exhibition and accompanying catalogue with essays by scholars on both sides of the Atlantic reveals that, like the writers of the Irish Literary Revival, artists of the Irish Arts and Crafts movement – many of whom were women – viewed their work as contributing to a vision of a modern, independent Ireland in the South."
Organized by the McMullen Museum, the exhibition is co-curated by Vera Kreilkamp, a professor in BC's Irish Studies Program, and McMullen Assistant Director Diana Larsen, in collaboration with Virginia Teehan, director of cultural projects at University College Cork. 
"During the centenary year of commemoration of Ireland's 1916 Easter Rising that led to independence in the South, the exhibition demonstrates how early 20th-century Irish artists and craftworkers reshaped an original English movement to meet their own country's social and political needs," said Kreilkamp. 
"More than 150 artifacts – the cultural work of a revolutionary era – draw on the motifs of a colonized country's pre-conquest medieval 'golden age' past to make claims for Ireland's future. Many dazzling works from the masterpiece of Irish Arts and Crafts achievement, the 1916 Honan Chapel in Cork City, are displayed for the first time outside of Ireland. Also featured are glass panels by Irish artists who created a celebrated modernist revival of stained glass in the early 20th century."
Added co-curator Larsen: "The stained glass work of Harry Clarke, Wilhelmina Geddes, and the Tower of Glass studio stand out as a unique contribution to Irish Arts and Crafts. I have been excited to discover how this movement manifested itself beyond Ireland's island borders through a stained glass commission by Harry Clarke's disciple, Richard King, here at Boston College."
The accompanying illustrated catalogue, edited by Kreilkamp, includes essays by major Irish and North American scholars, including Netzer, Larsen, Teehan, Associate Professor of English Marjorie Howes, Nicola Gordon Bowe, Andrew Kuhn, Janice Helland, Marguerite Helmers and Kayla Rose, Paul Larmour, Tomás Ó Carragáin, Fintan O'Toole and Kelly Sullivan.  
A digital guide to the exhibition was produced by Associate Professor of English Joseph Nugent and students in his digital humanities course, and a display at  Burns Library—"Recreating Identity: The Arts and Crafts Movement in Ireland"—complements the exhibition.
 "Making It Irish" is underwritten by Boston College, the Patrons of the McMullen Museum, and an anonymous donor in honor of Colman Welby, with transportation provided by Aer Lingus. Additional support has been provided by Ireland's Department of Arts, Heritage and the Gaeltacht, John Sisk and Sons, and the College of Arts, Celtic Studies and Social Sciences, University College Cork.
Exhibition lenders include the National Museum of Ireland, Abbey Theatre, Royal Irish Academy, Royal College of Physicians of Ireland, National College of Art and Design, and National Library of Ireland in Dublin; Crawford Art Gallery and The Board of Governors, the Honan Chapel, Cork; St. Brendan's Cathedral in Loughrea, County Galway; Ulster Museum in Belfast; Crab Tree Farm in Oak Bluffs, IL; Rakow Research Library, Corning Museum of Glass in Corning, NY; John J. Burns Library at Boston College; as well as many private collectors in Ireland, Northern Ireland and the United States. 
Learn more information about "The Arts and Crafts Movement: Making It Irish" and accompanying events.