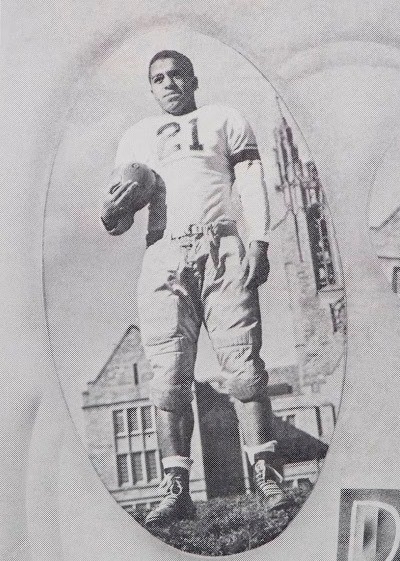 Lou Montgomery '41
A new documentary by Boston College filmmakers explores the racial climate of the era that excluded Lou Montgomery, the first black football player at Boston College, from playing some games, including two bowl games.
"Lou Montgomery: A Legacy Restored" (2015, USA, 45 min.) will be screened at the Museum of Fine Arts on Saturday, Feb. 20 at 3 p.m. in the Remis Auditorium. The film was produced by Susan Michalczyk, associate professor of the practice in the Honors Program, and John Michalczyk, a professor of fine arts. BC senior Cai Thomas served as editor and cameraperson.

In 1937, Montgomery became the first black football player at Boston College. With his exceptional speed and ability to play both offense and defense, he contributed to the building of a championship team. Although a member of BC's "Team of Destiny," Montgomery was excluded at times from playing during the season, as well as from two bowl games due to the racial prejudice of the Jim Crow era. According to Susan Michalczyk, over time, Lou Montgomery and his contributions were forgotten, as were his sacrifices.
A number of Boston College alumni participated in the film, including Juan Concepcion, Wayne Budd, Dan Bunch, Reid Oslin, Donald Garnett, Adisa Duke, and Francisco Bernard, as well as Robert Martignetti '16.
The MFA screening will be followed by a Q&A with Susan and John Michalczyk and Cai Thomas.
--Office of News & Public Affairs