Two exhibits, one at the Carney Gallery and another at the School of Theology and Ministry Library Atrium, enhance Boston College's artistic offerings this fall.
"Late Capital"
Carney Gallery, Carney 203
Through Nov. 1  

The newly renovated Carney Gallery features works by interdisciplinary artist Ben Sloat, a part-time faculty member in the Art, Art History and Film Studies Department. 
He addresses social and cultural conditions in this text-based multimedia exhibit. Using a variety of found and made materials – including canvas painting, neon, wood and metal – Sloat's text pieces function simultaneously as advocacy, imagery, and poetry, according to the exhibit description.
The display comprises four large pieces that simulate brick walls; applied to them are such materials as signage, paint, posters and chalk.
"My initial goals were to create a kind of dialogue for the BC community to participate in, and to have a forum for my students to engage with," Sloat said of his inspiration. "As a result, this exhibition will unfold over the month," as he and his students add content.
"In the larger context of the election season, where many different kinds of conversations are being shared, using art as a forum to discuss and engage seems very timely," he added.
The central piece that initiates "Late Capital," Sloat explained, "is accumulated through different letters found and bought commercially. Since text is typically seen in public for advertising, for solicitation, this text piece is meant to not only be a visual object, but one that unfolds and generates association. In a larger sense, I want the work to have a strong sense of poetics."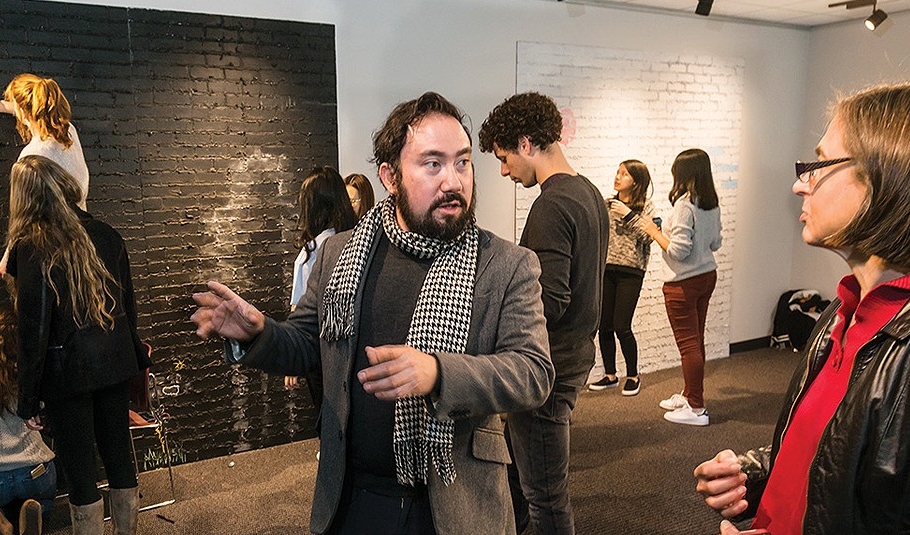 Not only will the exhibit evolve over time, but also "generate new works within it. I'm having the students make digital posters regarding issues they are concerned about to install on the 'walls' in the show. Another set of walls will be a forum for chalk writing and drawing. Their efforts will be documented, to create new digitally based work."
Sloat said his teaching experience as a faculty member enriches his work.
"I see the classroom as another creative venue, a place where new potential artworks can be developed. It's been really wonderful to offer BC students materials and ideas I'm thinking about and see where they go with it. Art, after all, is a type of conversation, as is the forum of an art class."
For information on the exhibit, visit the Carney Gallery website.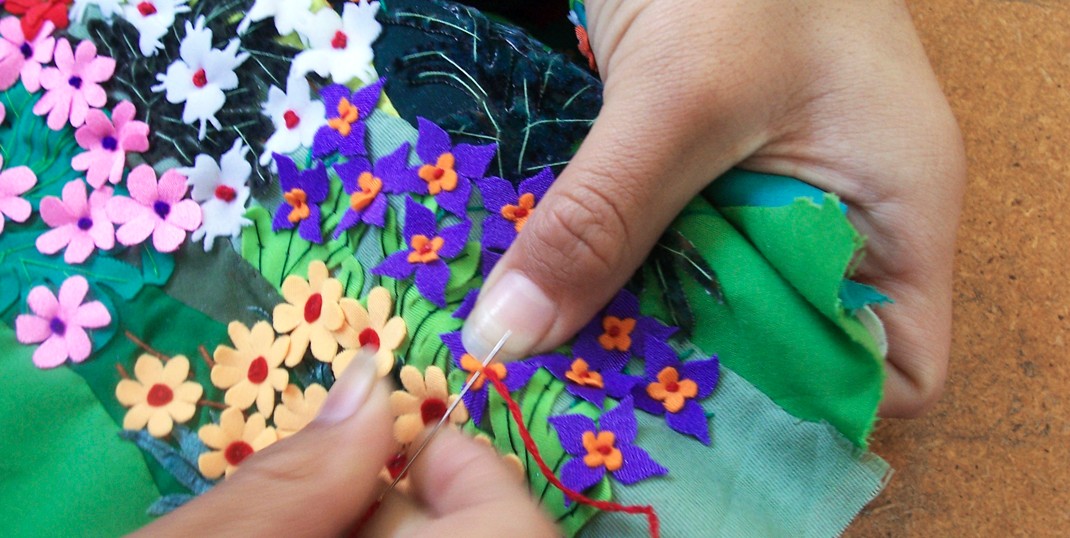 "Picturing Paradise: Cuadros"
School of Theology and Ministry Library Atrium
October 24-December 16
This traveling exhibit comprises some 40 fabric artworks by Peruvian women, which convey powerful memories of the past, realities of present experiences, and images of the world. 
The colorful "cuadros," embroidered and appliqued fabric pictures, were created by artists from two art cooperatives in Pamplona Alta, a shantytown outside of Lima. The exhibit - curated by Rebecca Berru-Davis, a postdoctoral fellow at the College of St. Benedict and St. John's University - has been displayed at other Catholic universities in the U.S.; School of Theology and Ministry Assistant Professor Hosffman Ospino brought it to BC.
STM "has made major inroads and investments to become one of the leading Catholic institutions in the country advancing research and conversations about the U.S. Hispanic Catholic experience," Ospino said. "Bringing the exhibit to BC is an opportunity to highlight the work of a Latina Catholic theologian who is making important connections on questions related to art, justice and religious experience."
As activist research, the project helps support more than 30 women artists and their families, according to Berru-Davis: The exhibit "engages viewers with evidence that creativity, resilience, faith, and beauty exists even in the harshest conditions."  
Berru-Davis, who has been engaged in research and fieldwork with the women artists since 2006, will be on campus for the opening event and reception on Oct. 24 at 4 p.m. She will participate in a panel discussion with STM Associate Professor Nancy Pineda-Madrid and Saint Anselm College Associate Professor Ahida Pilarski on the topic of art, justice, and the contributions of US Latinas/Latin American women to theological reflection. Berru-Davis will offer remarks on the nature and vision of the exhibit at 5 p.m.
The display, Ospino notes, also provides "an opportunity to expose our Boston College academic community and our neighbors to some of our own work at the STM doing groundbreaking theology and preparing pastoral leaders with a global consciousness."
The Brighton Campus venue is the exhibit's exclusive Boston-area venue. Co-sponsors are University Libraries and the Church in the 21st Century Center.  Visit the exhibit's page for more information and to register for the opening event and reception.
–Rosanne Pellegrini | News & Public Affairs