Poetic Water 如诗之水, 2013, mixed media on canvas, from Cao Jun: Hymns to Nature at BC's McMullen Museum of Art.

The McMullen Museum of Art at Boston College presents the first United States exhibition of works by contemporary Chinese artist Cao Jun in Hymns to Nature, on view February 5 through June 3, 2018.

The exhibition, in the Museum's Daley Family and Monan Galleries, comprises sixty-four works, all from the artist's collection, consisting of watercolor and mixed media paintings, calligraphy, porcelain, and digital media.

Born in 1966 and raised in Jiangsu Province in southern China, where the lakes and rivers shaped his childhood environment, Cao Jun studied and worked for eighteen years near Mount Tai, one of China's most ancient places of worship and ceremonial ritual. Concrete experience of both aquatic sites and mountainous terrain informed Cao Jun's approach to artistic creation. After formal training in Beijing, he settled in New Zealand and traveled throughout Europe and the United States. More recently he journeyed to the polar regions and northern Alaska. During his travels, he gained new perspectives that influenced his work.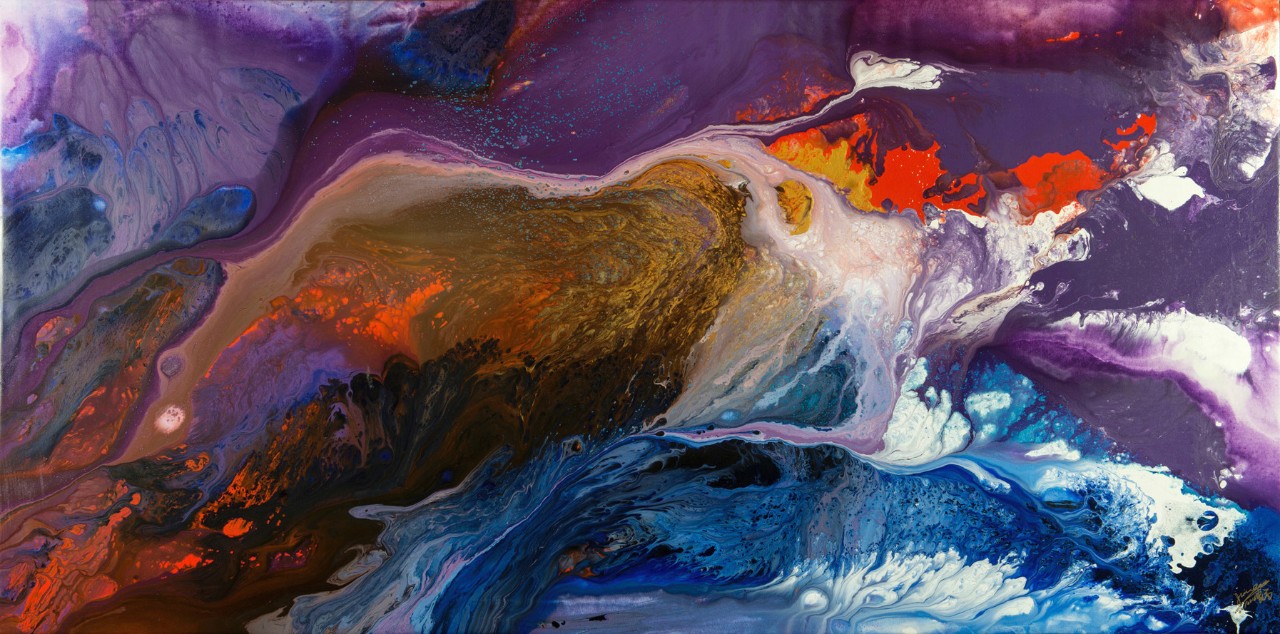 Hymns to Nature examines the deep roots of Cao Jun's art in the experience of nature and how he portrays our place within it, according to the exhibition organizers. It also illuminates his novel responses to admired, earlier paintings by his countrymen, and encourages viewers to ponder a dynamic dialogue between Chinese art of the past and that of the present.

The exhibition is curated by John Sallis, the Frederick J. Adelmann S.J. Professor of Philosophy at Boston College, and underwritten by Boston College with major support from the Patrons of the McMullen Museum.

"The McMullen Museum is grateful to Professor Sallis for bringing Cao Jun, already well known in China, to our attention and to working with us to organize this important contemporary artist's first exhibition and accompanying scholarly publication in the United States," said Nancy Netzer, director of the McMullen Museum and a professor of art history at BC.


"Since I first saw Cao Jun's paintings while visiting his museum complex in Wuxi, China, I have become increasingly convinced that he is among the most highly original and creative artists of our time," said Sallis. "His art blends exquisitely the themes of the classical Chinese tradition with modern artistic features similar to those of Western art. From his early depictions of wild animals to his recent, more abstract paintings of the most elemental forces of nature and the cosmos, his work brings to light profound visions that, without his art, would remain unseen. Curating this exhibition has only deepened my appreciation of his remarkable artistic achievement."

"It is an honor to stage Hymns to Nature at the McMullen Museum of Art at Boston College—my first solo exhibition since immigrating to the United States," said Cao Jun. "Including a collection of representative works reflecting eight different artistic styles that I have created over the past nearly thirty years, I strongly believe that it will be the most important exhibition of my life."

Arranged thematically, the exhibition opens with Cao Jun's early works depicting wild animals. It moves on to later paintings where he employs the techniques of ink- and color-splashing to render mountain landscapes, water, and flowers. Subsequent areas display his calligraphy and porcelain. The exhibition concludes with more recent abstract works exploring the various configurations in which spatial phenomena can appear.

Exhibition sections include: The Spirit of Animality; The Poetics of Water; The Look of Landscape; Botanicals; Reflections of Autumn; Dreams of Space; Calligraphy; Porcelain; Songs of the Earth.

"John Sallis's interpretation of my works has been penetratingly profound, as he has balanced the convergence of Eastern and Western cultures contained in the images that I created with points, lines, and planes to interpret my stories and spiritual pursuits," Cao Jun said. "Working with Nancy Netzer and the staff of an internationally leading academic museum like the McMullen has been a truly rewarding experience."

Hymns to Nature is accompanied by a catalogue, edited by Sallis, with contributions by Chinese and American scholars that examine the ways in which Cao Jun's art fuses elements of classical Chinese painting with modern abstract forms akin to those of Western art. Essays also discuss the philosophical and poetic dimensions of the artist's work, as well as Cao Jun's profound connections to the natural world.

In his introduction, Sallis writes: "During the past decade, Cao Jun has visited many of the most important museums in the world in order to study at first hand their masterpieces. This experience has widened his horizon, yet also has made him aware of the differences between Asian art and Western art; his awareness of these differences is, in part, responsible for the unpredictable, diverse styles of his art."


Accompanying Free, Public Events

Public programming is planned for families and the general public. For more information, and to register for those events that require it (as indicated below), please visit the McMullen Museum events calendar. More events will be added leading up to this exhibition; visit the website and subscribe to the McMullen mailing list for programming updates.

Second Saturdays Children's Program: Every second Saturday of each month, beginning on February 10, the McMullen Museum offers young children and families opportunities to engage with its temporary exhibitions. A variety of activities—including storytelling, tours, games, music, and crafts—invite children to explore themes in the works on display. Prior registration is required via the McMullen Museum events calendar. A Second Saturdays spring celebration will be held on March 10 from noon to 5 pm.

Docent Tours: Beginning on Sunday, February 18, the McMullen Museum will offer free docent tours every Sunday from 2 to 3 pm. No prior registration is required. If you would like to schedule a separate, private tour, please contact the Museum, at 617.552.8587, at least two weeks in advance.

Conference: "Painting Nature: The Art of Cao Jun": Friday, February 23, 1–6 pm; Saturday, February 24, 1–6 p.m. In conjunction with the exhibition Cao Jun: Hymns to Nature, the McMullen Museum has organized a symposium of six scholars, including curator John Sallis, to give papers on the artist and his works.

Walk + Talk with Curator John Sallis: Friday, March 16, noon–1 p.m. Visitors are invited to join the exhibition curator for an informal tour and Q&A in the Daley Family and Monan Galleries. He will introduce major organizational themes and discuss both the making of the exhibition and the artist.

Student Conference: "Chinese Art in the New Millennium": Friday, April 13, McMullen Museum, Hill Room 111. The McMullen Museum and BC's Asian Studies Program have organized an interdisciplinary academic conference composed of new student research in the field of Chinese art. Harvard University's Eugene Wang, the Abby Aldrich Rockefeller Professor of Asian Art at Harvard University, will deliver the keynote address. The conference is free and open to the public.

Into the Collection: These events offer visitors an opportunity to view and learn more about various objects from the McMullen Museum's permanent collection that are rarely on display. Visitors are invited to learn from Museum staff, ask questions, and share their own knowledge and observations. Spring events include:

Into the Collection: Twentieth-Century Prints: Wednesday, April 11, noon–1 p.m.

Into the Collection: East Asian Works on Paper: Thursday, March 22, 5:15–6:15 p.m.

Into the Collection: Meiji Cabinet and Fountain: Saturday, May 19, 2–3 p.m. The Museum will display and discuss two Japanese objects from the Meiji era (1868–1912).
McMullen Museum of Art

McMullen Museum Hours and Tours

All events are free and open to the public. The venue is handicapped accessible and located at 2101 Commonwealth Avenue on BC's 65-acre Brighton Campus. Hours during this exhibition: Monday–Wednesday and Friday, 10 a.m.–5 p.m.; Thursday, 10 a.m.–8 p.m.; Saturday and Sunday, noon–5 p.m.. The Museum will be closed on Friday, March 30; Sunday, April 1; Monday, April 16; and Monday, May 28. For directions, parking, and program information, visit the McMullen Museum website, or contact: artmusm@bc.edu, 617.552.8587.
—Rosanne Pellegrini | University Communications