A detail of 'Discernment,' a collaborative work by Jesuits Sammy Chong and Walter Conlan, inspired by by St. Ignatius' Seventh Rule of Spiritual Discernment. The piece is among those on view at the Art Club faculty and staff show. (Lee Pellegrini)

An impressive array of paintings, collages, drawings, etchings, photographs, prints, and needlepoint by an equally impressive array of University community members comprise the Art Club's annual exhibit of works by Boston College faculty and staff artists. 
The Faculty and Staff Art Show is on display daily from 8:30 a.m. - 6 p.m. in the Carney Hall First Floor Gallery through Dec. 2.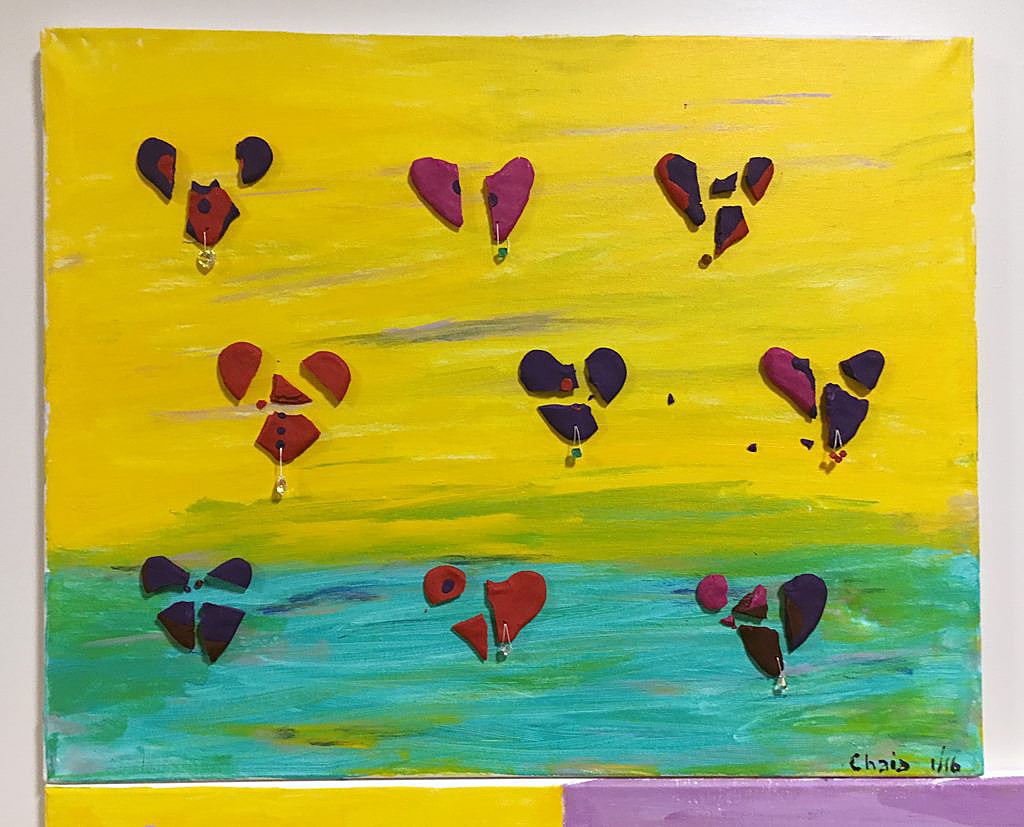 Exhibitors of the 20 works on display represent diverse campus areas, including University Mission and Ministry, Burns Library, Information Technology, and the Biology, Romance Languages and Literatures, and Art, Art History and Film Studies departments.
 "This show, which allows faculty and staff members to showcase talents and skills which are not typically recognized, is vital, because it gives the Art Club the opportunity to have a presence on campus," according to Art, Art History and Film Studies Assistant Professor of the Practice Sammy Chong, S.J., the club's academic advisor.  
"It's inspiring and encouraging to know not only that we – and arts groups at BC, in general – have the support of BC faculty and staff, but that so many people who work here are multitalented," said Art Club President Angel Jiang '17, a biochemistry and Hispanic studies major. "We were very pleased with the range in submissions, theme, media, departments and offices represented." 

Among the items on display is a detailed needlepoint work, "Discernment," on which Fr. Chong collaborated with Walter Conlan, S.J., staff and alumni minister for University Mission and Ministry. Fr. Chong painted the design on canvas, and Fr. Conlan did the needlepoint.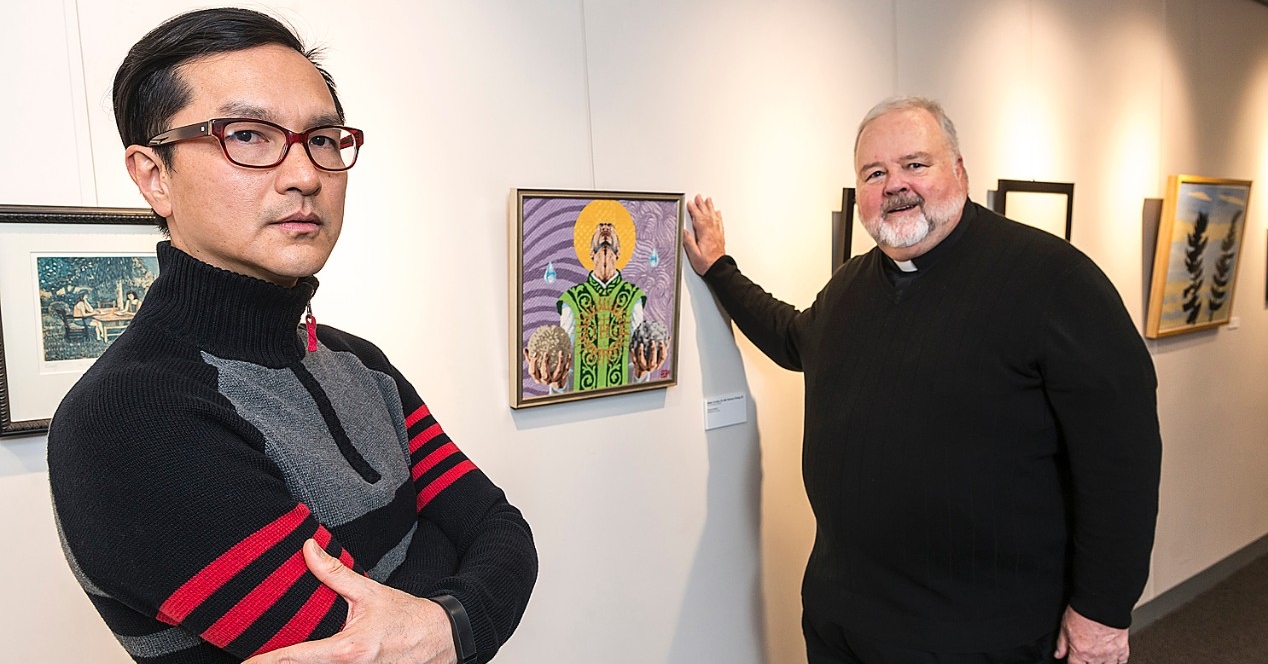 "The inspiration is St. Ignatius' Seventh Rule of Spiritual Discernment of the second week of the Spiritual Exercises," Fr. Chong said. "It states: 'In those who go on from good to better, the good Angel touches such soul sweetly, lightly and gently, like a drop of water which enters into a sponge; and the evil touches it sharply and with noise and disquiet, as when the drop of water falls on the stone.'  
"It was a challenge translating acrylic colors into threads. Because [Fr. Conlan] knows the needlepoint technique, I had to learn how to paint the canvas to facilitate the sewing. The two of us discussed textures, colors, and stitches throughout the process." 
Organizing the show, Jiang said, "is an incredible hands-on learning experience for board members: from curating submissions and paying attention to details like lighting and specific display instructions unique to an artist, to respecting art gallery norms like hanging pieces and their associated labels at specified heights and distances from each other." She said club members felt "privileged" to have Fr. Chong – "a teacher of art-world norms, a personal mentor, and more" – as its advisor.

Fr. Chong said he was impressed with the Art Club officers' dedication to promoting artwork on campus. "This means committing to meetings and taking on responsibilities related to budgets, attending to formational workshops, purchasing art supplies, and coming up with activities for the BC community. For the last few years, Art Club's 'Open Studios' have offered a wonderful space for students to get together in an informal setting to explore ceramics, drawing, painting, design, photography, and even origami."
View other work from the exhibit here.

-Rosanne Pellegrini | University Communications