Phaymus participated in BC's second annual Week of Dance. (Lee Pellegrini)

The second annual Boston College Week of Dance is underway, and proving to be popular among troupe members and student dance fans alike.
With the end of classes, study days and finals ahead, 10 student-run dance workshops held this week at the Brighton Dance Studio have offered a break from academics, and an opportunity for attendees to learn new moves in a variety of genres, including hip-hop, swing, South Asian, Latin, African and modern dance. 
The Week of Dance will conclude with showcases at Robsham Theater Arts Center on Friday and Saturday, December 2 and 3 — a rare, collaborative event featuring performances by 16 student groups. PATU (Presenting Africa To You) also will present a Saturday afternoon workshop at Robsham.
Presented by the Arts Council and RTAC, the week celebrates dance at Boston College, and welcomes students with all – or no – levels of dance experience, according to organizers.
"Week of Dance is a growing celebration of one of Boston College's strongest student communities," said BC Arts Council Program Administrator Sarah McDermott. "The dance community on campus, and through alumni in the greater Boston area, is an incredible force driven by the passion and talents of the undergraduate student dancers." 
Troupes hosting instruction in a variety of dance styles during the week included BC On Top, Dance Organization of Boston College, Masti, BC Full Swing, Phaymus Dance Entertainment, AEROdynamiK, Boston College Dance Ensemble, Feugo del Corazón and Conspiracy Theory. They are among the groups that will participate in the weekend performances. 
Play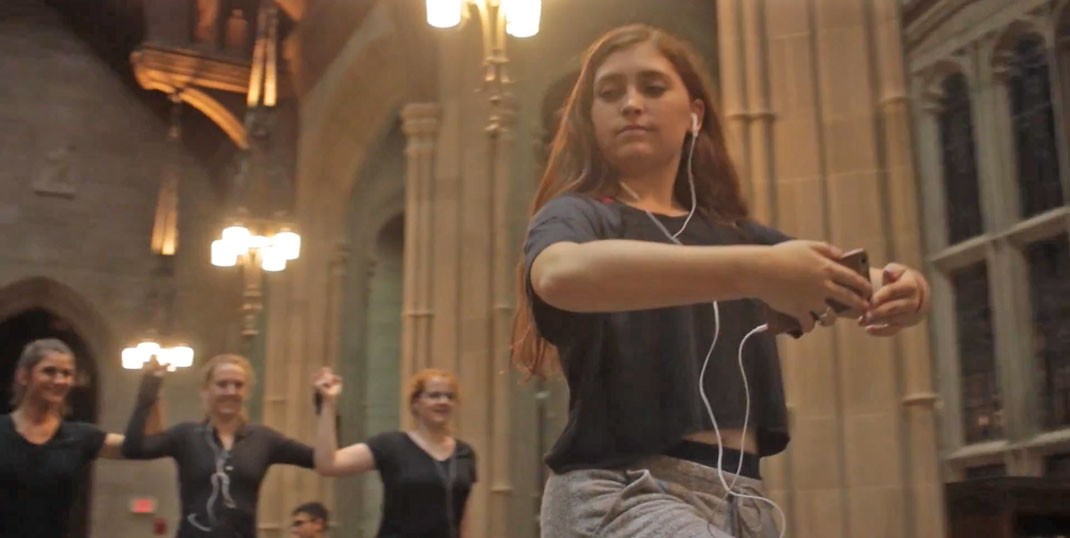 Week of Dance: BC accepts the Mannequin Challenge.

"Phaymus participated in Week of Dance through the workshop portion last year, and we really enjoyed it," said Stephannie Ku '17, a choreographer of the 15-member hip-hop ensemble. "It was actually the first workshop our team has done, and it was a new and enjoyable experience for us to teach others, both in and outside of the dance community at BC, one of the dances we worked so hard to create and learn.
"We are all on Phaymus because [we] share a passion for dance, and really want to create a fun and enjoyable experience for others who want to learn our dances," Ku added.
"Students use this beautiful art form to express their culture, beliefs and personal styles – but more importantly to bring people together," said McDermott. "The Week of Dance workshops and showcases came out of a need expressed by the dance leaders themselves: They wanted to learn from and celebrate each other." 
The weeklong celebration is important, Ku said, "because the dance teams on campus rarely get a chance to come altogether to celebrate our passion for dance and put on a cohesive show. Not just the performances, but the workshops as well, allow the teams in the dance community at BC a chance to teach others outside of the dance community and share and express our passion and hard work."
The Arts Council and RTAC have collaborated "to make sure the celebration of dance is an ongoing success that is highlighted by a week dedicated to the incredibly hard work of the students," McDermott added.
The dance showcases on Friday and Saturday will differ each night, with some overlap.  General admission tickets are $10; click here for ticket information.
-Rosanne Pellegrini / University Communications