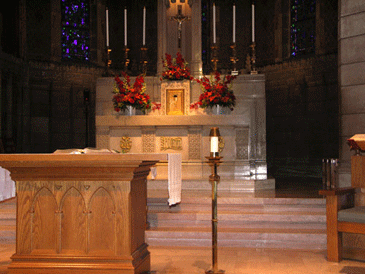 New Online Prayer Service. The Alumni Association's Office of Spirituality & Service has established a new platform for your prayer requests: On Eagle's Wings. Through this online service, alumni, parents, and friends can submit prayers and intentions, which the Alumni Association staff will bring to St. Mary's Chapel, pictured above.
Upcoming Alumni Events
Chicago Chapter Annual Alumni Mass — February 22

The Alumni Association's Chicago Chapter hosts its annual Alumni Mass with William B. Neenan, S.J., vice president and special assistant to the president, once again as celebrant. Immediately following the 10:30 a.m. Mass, the chapter will host a brunch reception at St. Ignatius Jesuit High School, providing a great opportunity to renew friendships and chat with Fr. Neenan about the latest Boston College news. RSVP to alumnichapters@bc.edu by Tuesday, February 17.
Alumni Day at Men's Hockey — February 27

The Alumni Association's Boston Chapter and the Varsity Club invite you to Alumni Day at Men's Hockey. This special alumni reception will include traditional tailgate fare, special guest speakers, an appearance by the BC cheerleaders and Baldwin, and much more! Learn more and register.
Laetare Sunday — March 22


This year marks the 58th anniversary of BC's Laetare Sunday celebration, which will feature Mass at 9:30 a.m., brunch with seating by class, and keynote speaker William B. Neenan, S.J. Join your classmates for Laetare Sunday—a special liturgical experience that connects us in a distinctive way as graduates of Boston College. Register now.
Alumni National Day of Service — April 18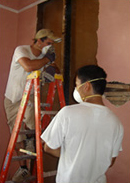 On Saturday, April 18, the Alumni Association will host its fourth annual National Day of Service with the hope of making this the best year ever in volunteer participation. More than 24 chapters led volunteer groups last year in an impressive array of worthwhile programs. This year's day of service will add a new wrinkle: a competitive challenge among the chapters. The day of service promises to be an exciting opportunity for all alumni, parents, and friends to show once again that they are making a difference in their communities across the country. It will also be a new opportunity for one hard-working chapter to achieve significant visibility. More details will follow in the weeks ahead.
Wall Street Council Tribute Dinner

The 21st annual Wall Street Council Tribute Dinner on April 23 will honor Alfred F. Kelly, Jr., P '09, '11, president, American Express Company, with the President's Medal for Excellence for his exceptional personal and professional contributions to society. Over the past 20 years, the Tribute Dinner has raised $12 million dollars for the Presidential Scholars Program at Boston College.
Family Night at the Pops

The entire Boston College community is invited to celebrate the University's 133rd Commencement on May 15 at Family Night at the Pops, a very special evening of music and celebration at Symphony Hall with the Boston Pops.
Voice Your Support for Fellow Eagles
2009 Awards of Excellence Nominations
The Alumni Association is accepting nominations for this year's Awards of Excellence, which will be bestowed upon four alumni. The awards include: the William V. McKenney Award, the highest honor given by the Alumni Association; the Ignatian Award, which recognizes an individual who lives the mission of "men and women for others;" the GOLD Award, given to a graduate of the last decade; and the Alumni Award for Professional Excellence. Visit the website to make your nominations.
Board of Directors: Your Alumni Leaders
Alumni are encouraged to submit nominations for the Boston College Alumni Association Board of Directors. Members of the board serve three-year terms. Please submit the name of any graduate you feel would best serve Boston College and represent its nearly 150,000 alumni. To nominate an alumnus, please complete the nomination form and e-mail it to Maggie Edmonds at maggie.edmonds@bc.edu or fax it to her at 617-552-4626.
Alumni in the News

Harry Markopolos, MS'97
Sara Bedford '08 counsels Iraqi refugees living in Baltimore. More
Margaret J. Hurley '86, JD'91, Kimberly Jones '89, Frank Riccio '73, and James Van Buren '69 have been appointed as leaders of Massachusetts Bar Association sections. More (PDF)
Harry Markopolos, MS'97, a financial analyst, repeatedly warned the U.S. Securities and Exchange Commission that Bernard Madoff's hedge fund returns were likely fraudulent. More
More news stories about alumni
Affinity Programs:
What We Have in Common
The Alumni Association offers several affinity programs that provide an avenue for alumni and friends to connect with one another and the University in deep and meaningful ways. Groups include the AHANA Alumni Council, the Political Science Alumni Network, the Wall Street Council, and the Council for Women of Boston College (CWBC). The Alumni Association is willing to work with alumni who are interested in starting up new shared interest/affinity groups. The Alumni Association also facilitates special, one-time only events and anniversary events, such as the Heights 20th Anniversary, BC bOp! 20th Anniversary, and the 60th anniversary of the Connell School of Nursing—all held in previous years. The website lists guidelines for forming new groups. Learn more.
Travel Opportunities in 2009

The Alumni Association's travel study program offers an array of exciting adventures, including a tour September 26–October 4 titled "Village Life in the Italian Lakes District." Discover more.
Reconnect: An AHANA Celebration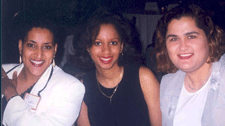 Join alumni and friends such as (from left) Tsedal Beyene, Alycia Sarjeant, and Katty Peña—all members of the Class of 1991 at the AHANA event in July.
All alumni, students, parents, and friends are welcome to take part in Reconnect, which promises to be BC's largest gathering of AHANA alumni, July 17–19, 2009. For registration information, corporate sponsorship opportunities, and all general inquiries, please contact Eva Maynard at eva.maynard.1@bc.edu.


Alumni Programs
Affinity Programs
Career Services
Chapters
Classes/Reunions
Council for Women of BC (CWBC)
Newton College
Tech Council
Travel/Study
Spirituality and Service
Wall Street Council
Got ideas for programs or services you'd like us to consider? Contact a member of our staff.