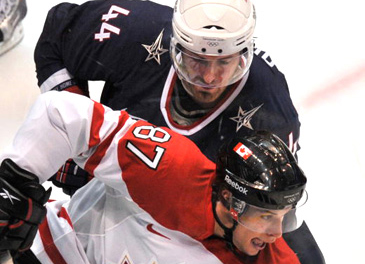 Silver Eagles – Brooks Orpik '01, #44, defenseman on the U.S. Olympic hockey team, vies with Canada's Sidney Crosby for the puck during the gold medal game, Sunday, February 28. Orpik and his teammates won the silver medal, losing 3-2 in overtime. Among other Eagles participating in the 2010 Winter Olympics, Kelli Stack '10 and Molly Schaus '10 also won silver medals as members of the U.S. women's hockey team. Tyler Jewell '99 lost to the eventual gold medal winner in the medal round of the parallel giant slalom in snowboarding, finishing 13th overall. Only one BC alumnus has won a gold medal in the Olympics. Click here to find out who. (AFP/Getty Images)
Laetare Sunday - BC Lenten Tradition

Patrick Rombalski
BC's 59th annual celebration of Laetare Sunday, March 14, includes Mass at 9:30 a.m., followed by brunch with seating by class, at Conte Forum. Patrick Rombalski, vice president for student affairs, is guest speaker. Since 2001, Dr. Rombalski has also served as executive director of Rostro de Cristo Inc., a not-for-profit organization located in Ecuador. The program supports volunteers and high school and college immersion groups from the United States, collaborating with the Jesuit Volunteer Corps, Hogar de Cristo, and Catholic Relief Services.

Join classmates for this annual tradition and experience Laetare Sunday as a special liturgical event that distinctively connects graduates of a Jesuit university. For more information and to register, click here.
Beanpot Memories Redux
A championship for BC in the 2010 Beanpot was a great accompaniment to the audio slideshow of Reid Oslin's "Beanpot memories" in last month's edition. Several BC hockey fans, including Mike O'Neil '83, hockey co-captain and Beanpot champion, responded with memories of their own. Click here to view their recollections. If you missed the audio slideshow on Beanpot memories, click here or on the image above. And if you recall special Beanpot games, tournaments, parties, etc., share those recollections by e-mailing uacommunications@bc.edu.
Tickets for Pops on the Heights Scholarship Gala on Sale
Tickets are on sale now for the 18th annual Pops on the Heights Scholarship Gala. This spectacular event will be held Friday, September 24, on campus in conjunction with Parents' Weekend. This year's performance will feature the Boston Pops Esplanade Orchestra with conductor Keith Lockhart and the University Chorale. Reserve seats today by calling 800-767-5591 or visiting the Web site.
Wall Street Council Tribute Dinner to Honor Francis C. Rooney, Jr.

Francis C. Rooney, Jr.
The 22nd annual Wall Street Council Tribute Dinner on April 22 will honor Francis C. Rooney, Jr., H'86, P'76, '78, '87, chairman, H.H. Brown Shoe Co., Inc. Rooney will be awarded the President's Medal for Excellence. Over the past two decades, the Tribute Dinner has raised more than $13 million for the Presidential Scholars Program, through which Boston College is able to attract the best and brightest students from around the world. For more information and to purchase tickets or table packages, click here.

The council held a market perspectives panel on "The State of College Endowment Funds" and a tribute dinner kickoff reception January 28 at the Waldorf=Astoria, New York City. Moderator was John V. Murphy '71, P'99, '09, University trustee and managing director, Korn/Ferry International, and panelists were Charles I. Clough, Jr., '64, P'87, '93, '98, University trustee and chairman and CEO, Clough Capital Partners, LP; Mario J. Gabelli, P'90, '94, '95, '00, '11, University trustee and chairman of Gabelli Funds; and R. Bruce Myers, managing director, Cambridge Associates. For more information about the Wall Street Council, visit the Web site.
Nominate Your Fellow Eagles
Alumni Awards of Excellence
Nominations for this year's Alumni Awards of Excellence should be submitted no later than March 15 to receive full consideration. The awards include the William V. McKenney Award, the highest honor given by the Alumni Association; the Ignatian Award, which recognizes an individual who lives the mission of "men and women for others"; the GOLD Award, given to a Graduate Of the Last Decade; and the Alumni Award for Professional Excellence. Visit the Web site to make your nomination.

Board of Directors
Deadline for nominations for the Boston College Alumni Association Board of Directors is March 15. Members of the board serve three-year terms. To submit a nomination, please complete the nomination form online or use the pdf version and e-mail it to Maggie Edmonds at maggie.edmonds@bc.edu or fax to 617-552-4626.
Alumni Participation Challenge
There are three months left to reach this year's Alumni Participation Challenge (APC) goal and net BC an additional $500,000 for financial aid. Deadline is the end of BC's fiscal year, May 31. APC is a challenge from the same anonymous donor who provided $1 million for financial aid with the success of last year's Neenan Challenge. APC runs throughout the Light the World campaign and could bring in as much as $3 million by 2015, but BC needs to achieve its annual participation target this year to trigger the release of a $500,000 gift for financial aid. More
Donors of any amount during this fiscal year who also gave last year (before May 31, 2009) are charter members of the William B. Neenan, S.J., Society. The new society recognizes loyal undergraduate alumni who make annual gifts of any amount in consecutive years. More
Stay Connected to BC
The new brochure "Always an Eagle" is your guide to the many opportunities the Alumni Association offers you to stay connected to BC, from keeping in touch with fellow Eagles to making a difference through volunteer work. To find the right volunteer opportunity for you with the Alumni Association and the BC Fund, visit the "volunteer passport."
MBA Fair - Boston
The QS World MBA Tour takes place in Boston Tuesday, March 2, at the Sheraton Boston, 39 Dalton Street, and offers a complimentary pass to BC alumni. The Carroll School of Management is among the schools represented. To learn more and register, click here.
Life and Times Survey
Alumni are invited to participate in the Life and Times survey conducted by the Sloan Center on Aging & Work in collaboration with the Graduate School of Social Work and the University Institute on Aging. If you are interested, please go to the survey. The survey will be available until April 6 and results will be shared at the Living the Journey conference April 10. Survey participants will be entered into a drawing to win one of eight prizes: one $250 Visa gift card, two pairs of 2010 BC football tickets, and five BC gift packs. Participation is voluntary, and any connection of names or other identifying information to actual surveys will remain confidential. You do not need to attend the conference to participate in the survey.
Tee Off - Campus School Golf Tournament
The Boston College Campus School, a special education day school for local students ages 3-21 with multiple disabilities, invites BC alumni to participate in its 14th annual golf classic. The tournament will be held Monday, May 3, at Brookmeadow Country Club in Canton, Massachusetts. The Campus School Classic is the school's primary community fundraiser, having raised over $100,000 in the last five years. Donations, sponsorships, and player registration may be completed by visiting www.bc.edu/csgolf. Registration deadline is April 23.
Featured Alumni

Rita Roach '86 (Wicked local photo by Ryan Richardson)
Rich Aberman '07 and Bill Clerico '07 are building a start-up company in Silicon Valley and look forward to hosting BC students on the annual "TechTrek West" to the Bay Area. Boston Globe profile.
Carl Cafaro, MA'99, wealth management advisor with Merrill Lynch, has been named by On Wall Street to its "40 under 40" list of top financial advisors. His master's degree from BC is in higher education. More
Rita Roach '86, member of the BC women's basketball team who led the Eagles in assists as a freshman, is the first girls basketball player at Wareham (Massachusetts) High School to have her number retired. Roach is an attorney and a basketball referee for the Big East Conference. More
Upcoming Alumni Events
West Coast Technology Council - 'The Job Climate in Silicon Valley' - March 4
'Charting a New Course: Advice for Career Changers'- March 30
Young Alumni Running Group - April 1
National Day of Service - April 17
The Alumni Association's fifth annual National Day of Service takes place Saturday, April 17. Last year, more than 450 people in 31 regions participated in 38 projects. We hope you will be able to join us this year. Regional project information will be announced in the coming weeks.
Upcoming Spiritual Life Events
Lenten Series: Praying for New Life — March 3, 10
Living the Journey: Spirituality for the Second Half of Life — April 10
Save $10 by registering before March 15.
Alumni Travel: Early Booking Discounts
Announcing new travel study programs with great early booking savings:
• $2,000 per couple savings on the "Crossroads of the Mediterranean Cruise" if you reserve by March 19
• free airfare and 2-for-1 cruise fares on the "Samba Rhythms" cruise to South America by booking no later than April 1
• save $500 per couple on "The Treasures of South Africa" tour by making your reservation by May 4

In addition, an extraordinary trip "Egypt and the Eternal Nile" will depart on September 17. Click here for more information or contact gail.darnell@bc.edu.
BC Athletics Update
ACC Basketball Tournament Tickets on Sale


Tickets are available for the 2010 men's and women's ACC basketball tournaments. The men's tournament will take place in Greensboro, North Carolina, March 11–14, and tickets (covering all games) are $396 per person. The women's tournament will take place March 4–7, also in Greensboro, and tickets are $99. Please call 617-552-GoBC(4622) to order your tickets.