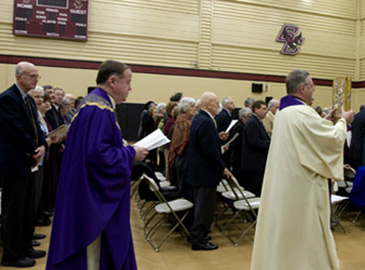 Laetare Sunday: A BC Lenten Tradition. On Sunday, March 2, the Boston College community gathered in Conte Forum for the 57th anniversary of Laetare Sunday. This year's observance began with a Mass celebrated by University President William P. Leahy, SJ (pictured on left). Afterwards, Provost and Dean of Faculties Cutberto Garza gave the keynote address at the Laetare Sunday brunch, where alumni were seated by graduating class.
A Winning Pitch: Eagles vs. Red Sox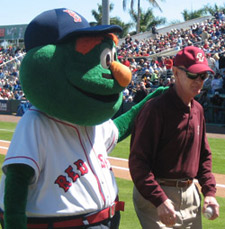 Former Alumni Association President Edward O'Brien '63 threw out the first pitch, flanked by Wally the Green Monster, the Red Sox mascot.
BC Baseball's annual game against the Boston Red Sox in Fort Myers, Florida, has become a true rite of spring. On February 28, the Eagles faced off against the World Series champions, in what was the Sox's first game since defeating the Colorado Rockies last October.
Most of the 300 BC alumni in attendance enjoyed a pregame cookout at City of Palms Park.

View the Eagles's 2008 schedule.




Rooted in Care: Alumni Immersion in Jamaica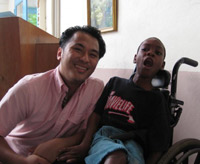 Rodney Alberto '01, JD'04, was one of 15 alumni who participated in the immersion trip to Jamaica to care for orphaned children in the Mustard Seed Communities.
While Jamaica may be best known as a luxury vacation spot, 15 BC alumni traveled to the Caribbean island for a much different experience. They took part in an immersion trip from January 26–February 2, spending the bulk of their time serving the needs of orphaned children in the care of Fr. Gregory Ramkissoon, MA'81, '82. His Mustard Seed Communities successfully balances religious outreach with a variety of social initiatives that serve the poor and underprivileged.
The BC contingent was led by Bob Hart '60, MSW'62, who participated in his seventh Jamaica trip through the BC Alumni Association, but his first since 2001. "It's amazing to see how Fr. Gregory has expanded the Mustard Seed program for these children over the years," says Hart.

In addition to caring for orphaned children on a daily basis, the BC group assisted Mustard Seed Communities with painting projects and clothing drives.
View more photos of the alumni immersion trip.
Read more about Fr. Ramkissoon in the Class Notes section of the Boston College Magazine winter edition.
Alumni Love Is in the Air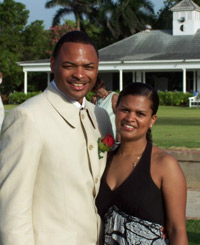 Taren '94 and R. Eric Shorter '94 met on their first day at BC.
Valentine's Day is over, but love remains. Thank you to all the BC couples who submitted stories about how they met to Alumni Connections. Here's one couple's story to get things started:

Taren '94 and R. Eric Shorter '94
My husband and I met our very first day at Boston College during AHANA's Options Through Education summer program. That was 1990, and we were together throughout all four years at BC. We became engaged our junior year and were married two years after graduation in July 1996. We now have two beautiful daughters, Shalyn Erica, 10, and Sydnee Lynn, 8.

More stories and photos from BC couples
Alumni Connections Trivia: Mod-ern Times

You might not have known about the Golden Lantern, the trivia subject in January's Alumni Connections, so here's a second chance to prove your BC expertise!
It's difficult to envision the BC campus without the Mods, yet they were once and still are considered temporary housing. What year were the Mods built?
A. 1965
B. 1970
C. 1972
D. 1975

Answer by logging into the Alumni Online Community. The first 20 people to respond correctly will win a BC decal.


Mod Memories: You Can Go Home Again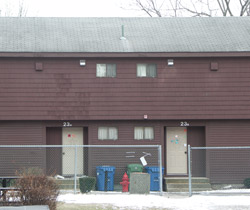 Share your favorite Mod memory for next month's Alumni Connections at uacommunications@bc.edu and we'll send you a photo of what your Mod looks like today! Don't forget to include your Mod number.





Let Your Voice Be Heard:
Nominate Your Fellow Eagles
2008 Alumni Awards of Excellence
Each year, the BC Alumni Association proudly recognizes outstanding alumni in a variety of professions. It also honors an exceptional graduate of the last decade and confers its highest accolade, the William V. McKenney Award, on a distinguished alum. Nominations are due April 10. View the website for more information.
Board of Directors: Your Alumni Leaders
All alumni are encouraged to submit nominations for the Boston College Alumni Association Board of Directors. Members of the board serve three-year terms. Please submit the name of any graduate who you feel will best serve Boston College and represent our nearly 150,000 alumni. To nominate an alum, please complete the nomination form and submit it to Maggie Edmonds by March 15. You may fax the form to Maggie at 617-552-4626.
Alumni in the News

Michael Durkin '77
Michael Durkin '77 recently became president and CEO of the United Way of Massachusetts Bay and Merrimack Valley. More
Patric Verrone, JD'84, the president of the Writers Guild of America West, played an instrumental role in ending the writer's strike in Hollywood. More
Michael Violante '67 is the new district attorney of Niagara County, New York. More
More news stories about alumni
Save the Date! Reunion 2008!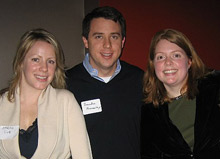 Members of the Class of 1998 (left to right), Sara Cue '98, Brendan Kennealey '98, and Margaret Higgins '98, gathered at a 98 Days to Reunion event.
Celebrate Reunion 2008 with classmates and fellow alumni on May 30–June 1. Reconnect with old friends, attend your class party, and tour the Brighton Campus. There is a full weekend of fun and remembrance planned for all Reunion classes. Discover more.
On Friday, February 22, the 10th Reunion Committee got its celebration underway early with a 98 Days to Reunion event for the Class of 1998 at JA Stats, a bar in downtown Boston. The event gave Boston-based alumni the opportunity to meet up before Reunion Weekend. If you are interested in organizing an event for your Reunion class, contact Erica Rosenthal at the BC Alumni Association at 617-552-2696 or rosenthe@bc.edu.
Social Networking...With a BC Twist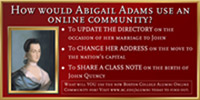 Curious about what your classmates have been up to? Want to get a head start on Reunion plans? Your friends and classmates are much easier to find these days through the Alumni Online Community. Create your own friends network, find old classmates in the Alumni Directory, update your own profile, and much more.
Log into the Alumni Online Community.
First-time users register here.
Online Enrichment for Holy Week
Enter more deeply into the readings for Holy Week with C21 Online's free minicourse "The Death of Jesus: Four Gospel Account." Log on for a self-paced look at the passion narratives, including an examination of the five scenes that are common to each. The minicourse is cosponsored by BC's Center for Christian-Jewish Learning.

For more information, visit C21 Online or contact Melinda Donovan at 617-552-0185 or melinda.donovan@bc.edu.
Season of Spirituality
Lent, No Ordinary Time!
A reflection by Dan Leahy '82, M.Ed.'91, assistant director of the Office of Spirituality and Service:

Believe it or not, we are halfway through the season of Lent. Each year, we are given this special time to use in preparation to celebrate the resurrection of Christ at Easter. Lent is a true gift, an invitation to reflect on the depth of God's love for us and to consider how we have loved Him in return. The Catholic Church offers us this 40-day retreat to reflect deeply on our relationships with God, others, and ourselves. The Church also recommends three important ways to guide us on this journey towards renewal: prayer, fasting, and the giving of alms.

The Alumni Association's Office of Spirituality and Service has several opportunities to enhance your Lenten experience. For more information, visit the website and consider joining us as we journey towards Easter.
Educational Symposium: Teaching and Ignatian Spirituality
On Saturday, April 5, and Saturday, May 3, the Alumni Association will host a two-part symposium, entitled "Go Forth and Teach: Reflections on Applying the Timeless Educational Principles of Ignatian Spirituality to the Art of Teaching." Both programs will be held at Alumni House on Newton Campus and begin at 9:00 a.m. To register or for more information, contact Dan Leahy in the Office of Spirituality and Service at leahyd@bc.edu.
Lenten Reading
Last Words for Seven Weeks: Praying with Jesus on the Cross, a book by Mary Sweeney, SC, encourages and instructs the busy reader to set aside time for daily Lenten prayer.