Alumni News
WINTER 2008
Fr. Gregory Ramkissoon, MA'81, '82
Planting Seeds of Change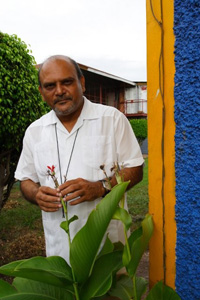 Ramkissoon's Mustard Seed Communities successfully balance religious outreach with a variety of social initiatives.
Families living in garbage dumps. Orphaned children with HIV/AIDS banished from society. People with disabilities with nowhere to turn. These are the people to whom Fr. Gregory Ramkissoon, MA'81, '82, has dedicated himself.
When he was ordained a Catholic priest in 1984, Ramkissoon knew he wasn't called to a parochial vocation, but instead "saw the need to address poverty in developing countries and felt obligated to help in some way."
He soon settled in Jamaica and founded the Mustard Seed Communities. "Our goal is to bring the presence of Jesus Christ to the lives of people who are living in abject poverty," explains Ramkissoon, who gave his service organization the mustard seed name because of the connotation of enduring faith.
Nurturing this faith among the poor remains a significant goal of the Mustard Seed Communities, which balances religious outreach with a variety of social initiatives.
The Dare to Care program, for instance, currently provides homes for 73 orphans with HIV/AIDS. In another project, Ramkissoon's group helped revamp dilapidated housing in the slums of Kingston, while requiring homeowners to participate in its job training programs, so they could learn to support their families. "We've always tried to empower people to be more self-sufficient," says Ramkissoon, whose organization sponsors its own greeting card business and ceramics factory, among other ventures.
Money raised helps fund other programs, such as those that provide food to the elderly or dispense health care to sick and disabled children. The success of such initiatives has helped Mustard Seed hire nearly 400 employees and enlist thousands of volunteers, while expanding into Haiti, Nicaragua, Zimbabwe, and the Dominican Republic.
But the need for outside assistance is still great, explains Ramkissoon, and the Boston College Alumni Association has for the past several years helped fill the void—sponsoring a variety of service and immersion trips to Jamaica. Bob Hart '60, MSW'62, led alumni on this year's immersion trip. "Fr. Gregory has a total commitment to helping the poor and abandoned in Jamaica," he says, "and his work motivates others to care for them directly, or through financial support and prayer."