About the Supported Employment Program
Q. What is the Boston College Supported Employment Program?
The Boston College Supported Employment Program offers adults with developmental disabilities the opportunity to be gainfully employed and supported in a competitive work environment.
Q. What are the goals of Supported Employment?
Supported Employment strives to assist workers to obtain a job that matches their abilities. The program supports workers by helping them develop employment related skills, build professional working relationships, and to access University resources. Supported Employment staff respects the dignity of each individual and offers a flexible support structure to assist each worker in reaching his or her greatest potential.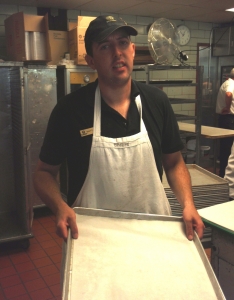 Q. How often will the Supported Employment professional staff monitor a worker?
This can be done on an hourly, daily, or weekly basis depending on the needs of the individual.
Q. As an employer, interested in hiring someone with a developmental disability, I am concerned that I may not have the resources and extra time to train the individual. What assistance can I expect from your program?
Supported Employment exists to have a mutually beneficial relationship between the employer and the employee with special needs. In order to ensure this, the Supported Employment Program has a professional staff that is qualified to provide the necessary assistance and support.
Q. How many hours do employees work and what benefits are they eligible for?
The employees in the Supported Employment Program work 52-weeks each year, with hours ranging from 8 to 35 hrs/wk, Monday through Friday. An employee working 20 hours or more can expect to receive a benefits package which includes vacation, sick, and personal days. The University sponsored retirement plan is available for employees who work 20 or more hours per week and have held permanent part-time employment status for the duration of one year. As with all employees at Boston College, the first six months of work are considered probationary. During this time a worker has the status of temporary part-time employee. However, the status is changed to permanent part-time employee after the probationary period is successfully completed.
Q. What support services can employees expect to receive?
Hourly/Daily/Weekly assessment and support is provided by Job Coaches and Case Managers. An emphasis is placed on task completion, guidance around appropriate work behavior, and social interaction — each tailored to the need of the individual. Weekly meetings with Case Managers are held to discuss work related concerns. Annual meetings are held to help workers identify career goals as well as the steps necessary to achieve them.
Q. Who makes up the Supported Employment staff?
The Boston College Supported Employment Program has both professional staff and undergraduate work-study students, who provide Job Coach support to program workers.
Q. What is a Job Coach?
A Job Coach is an employment training specialist who works with people who have disabilities. Job Coaches specialize in helping workers with disabilities to perform the tasks of their jobs successfully. This includes providing intensive training, monitoring, assessment, and support to workers with special needs. In addition, they facilitate healthy working relationships between management and co-workers.
Q. Does my business or Boston College department have to pay Supported Employment for its services?
No. The funding for professional services provided by Program staff comes from the Massachusetts Department of Developmental Services (DDS). A worker with special needs is paid on the regular payroll from the department in which they are employed. There are no additional costs to you for the support services provided to the employee with a disability.
Q. What modes of transportation are available for employees to get to work?
There are a number of possibilities for workers which may include THE RIDE via the MBTA or a referral to state funded transportation options. Boston College is also conveniently located near several MBTA green line train stops which are a short walk to campus.