BC's 25 All-Time Greatest Athletes
We asked a panel of experts to select the very best who've ever worn the maroon and gold. 
More than 400 athletes have been inducted into the Boston College Varsity Club's Hall of Fame. That's a lot of incredible competitors, and we rabid BC fans embrace every one of them. But of all the many thousands of athletes who have donned the maroon and gold, who are the very best? To find out, we assembled a panel of experts and tasked them with identifying the 25 greatest BC athletes of all time. After many, many hours of analyzing statistics, debating intangibles, and reviewing eras, the panel settled on the following group of exceptional Eagles. Of course, a subjective exercise like this will invariably leave some people disappointed. We very much welcome your thoughts on who we missed. Tell us who's on your list and why, and we'll publish the best of your responses in an upcoming issue.
MEET OUR PANEL: Donna Bennett, John Kane, Derrick Knight '03, Barry Gallup '69, and Reid Oslin '68. 
---
Sam Apuzzo '19
LACROSSE
Blessed with natural talent and a ferocious drive for greatness, Apuzzo shattered BC records and won the Tewaaraton Award, given to college lacrosse's most outstanding player, while leading the Eagles to 3 straight NCAA championship games. An attacker, Apuzzo is BC's all-time leader in career points, goals, and draw controls, and is responsible for the top 3 goal-scoring seasons in University history. After graduation, she joined the lacrosse team's coaching staff.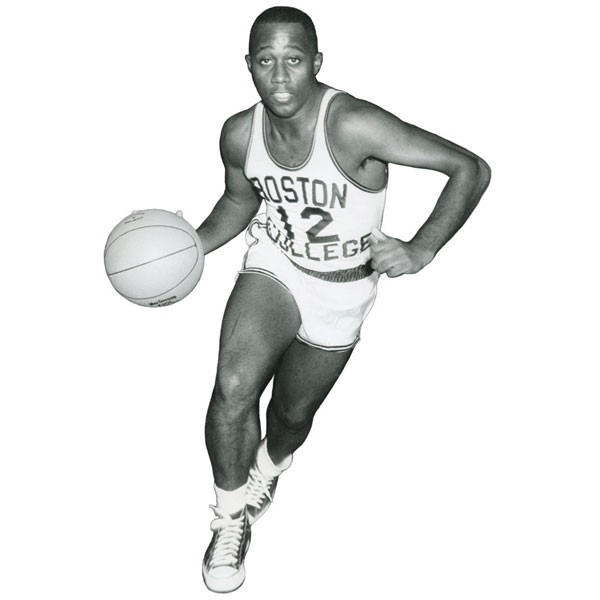 John Austin '66
BASKETBALL
When Austin arrived at BC—recruited by new coach Bob Cousy to help turn the Eagles into a national powerhouse—he brought the modern era of basketball with him. In his 1st season, Austin scored 29.2 points per game and had 49 points in a single game, both still BC records. An All-American, Austin led BC to 2 NIT tournaments and averaged a school-record 27.1 ppg over his career despite playing before the 3-point era.
Dana Barros '89
BASKETBALL
A spectacular athlete, Barros was offered a football scholarship to play wide receiver at BC but thankfully chose basketball instead. The point guard, a Boston native, was the Big East Freshman of the Year, a 3-time all-conference selection, and 1 of only 2 players to lead the Big East in scoring twice. By the time he left the Heights for the NBA, Barros had become the 1st Eagle to score more than 2,000 career points.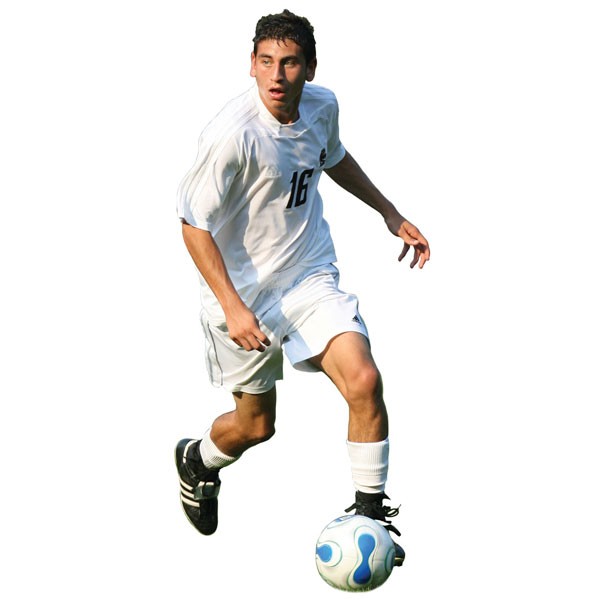 Alejandro Bedoya '09
SOCCER    
A midfielder known for his passing touch, Bedoya helped lead the Eagles to the ACC title in 2007. He is 1 of just 3 players in program history to twice be named an All-American, and was also a 2-time semifinalist for the Hermann Trophy, which recognizes the top player in college soccer. Bedoya has earned more than 60 career caps with the U.S. Men's National Team, and has played in some of the world's top professional leagues.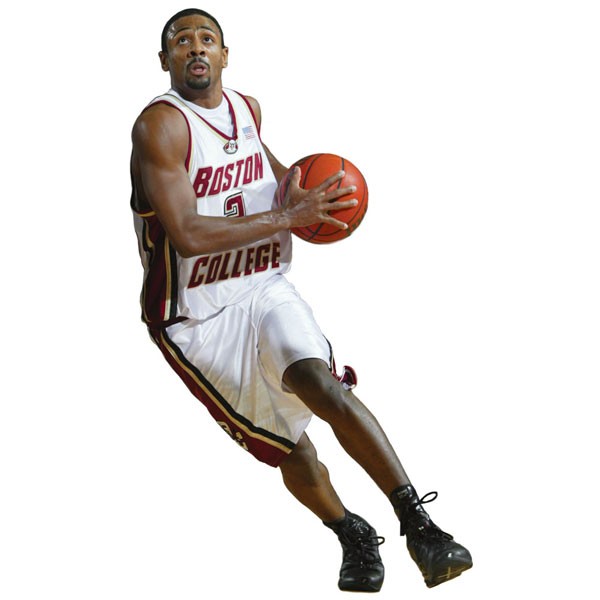 Troy Bell '03
BASKETBALL
Bell made an immediate impact upon arriving at the Heights, averaging 20.1 points per game in his 1st season, and he never looked back. By the time the point guard graduated, he'd led BC to a Big East Tournament title, twice been named an All-American and twice the Big East Player of the Year—and scored more points than anyone in school history, 2,632.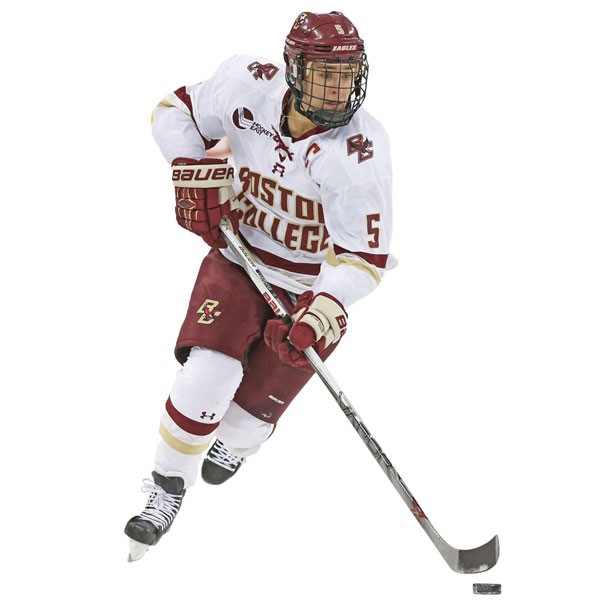 Alex Carpenter '16
HOCKEY
Though Carpenter is best known for her incredible talent with the puck, graduating with the most goals and assists in BC history, she was an all-around player who took as much pride in playing defense and killing penalties. The forward won the Patty Kazmaier Award, given to college hockey's top female player, became the 5th-leading scorer in NCAA history, and helped lead the USA to a silver medal at the 2014 Olympic Games.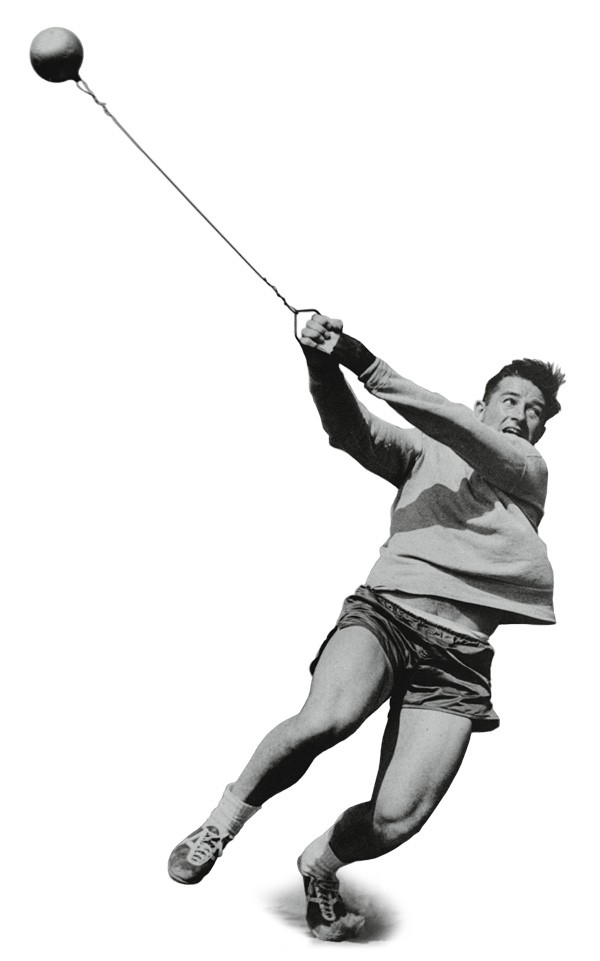 Harold Connolly '53
TRACK AND FIELD
Born with a birth defect that affected his arm throughout his life, Connolly became one of BC's most decorated athletes ever, winning 12 national titles, 9 in the hammer throw and 3 in the indoor 35-pound weight throw. After college, he became the 1st American to throw more than 200 feet, set the hammer-throw world record 6 times while holding it from 1956 to 1965, and won gold in the event at the 1956 Olympics. (Connolly wasn't the only BC hammer standout—check out these other talented throwers.)
Bill Daley '61
HOCKEY
Daley scored the very 1st goal at the old McHugh Forum...and then added another 75 in his BC career for good measure. A prodigious offensive talent, Daley led the Eagles in goals scored during all 3 of his seasons, had 7 career hat tricks (including 4 in 1961), was a 2-time All-East selection, and left BC as the career leader in scoring.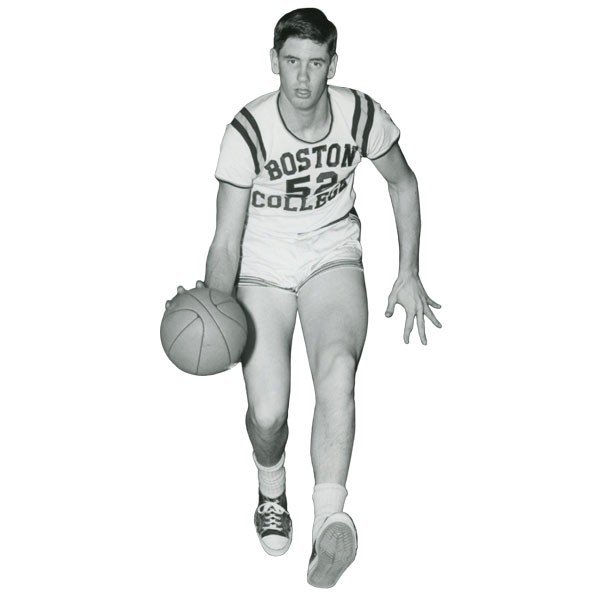 Terry Driscoll '69
BASKETBALL
Like John Austin before him, Driscoll played a leading role in coach Bob Cousy's remaking of BC basketball. An outstanding rebounder, Driscoll was also an effective scorer and a master of the fastbreak style of play preferred by Cousy. In his senior season, the forward led BC to the NIT championship game and was named an All-American. After graduating as the Eagles' all-time leading rebounder, he was taken with the 4th pick of the 1969 NBA draft
Jared Dudley '07
BASKETBALL
A power forward who brought a football intensity to the basketball court, Dudley was a fine scorer and rebounder who always seemed to come up big in the biggest moments. Dudley finished his career among BC's all-time leaders in scoring, rebounding, steals, and free throws attempted and made. Following his senior season, he was named ACC Player of the Year and a 2nd-team All-American, and he has gone on to have a successful NBA career.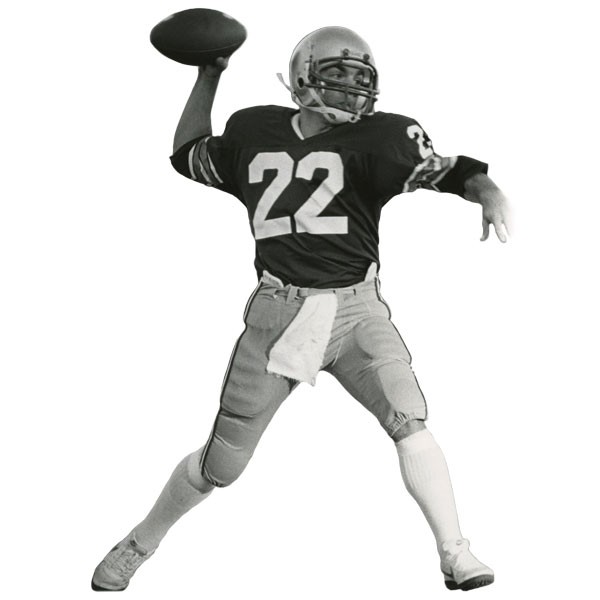 Doug Flutie '85
FOOTBALL
The Hail Mary. The Heisman. The G.O.A.T.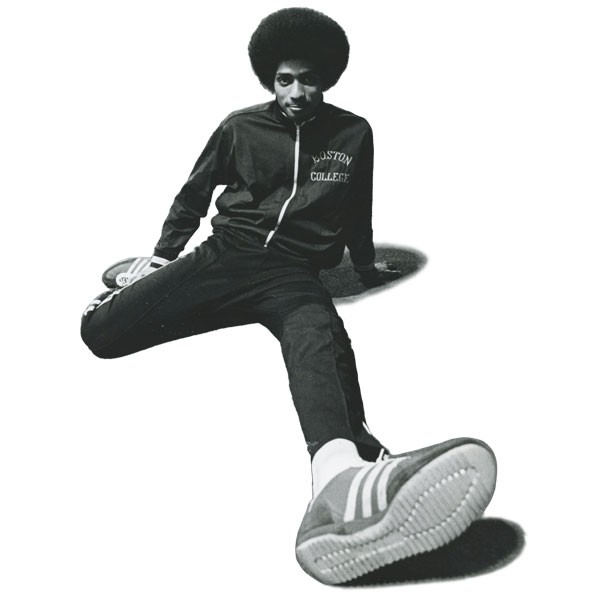 Keith Francis '76
TRACK AND FIELD
Often described as BC's greatest track and field athlete, Francis set school records in 7 different events and was a 7-time All-American. Fearless and at his best when the stakes were the highest, the middle-distance runner was ranked as the number-2 miler in college sports in 1975, and that same year won the NCAA championship in the 1,000-meter event. Later in life, Francis would become a member of the BC Board of Trustees.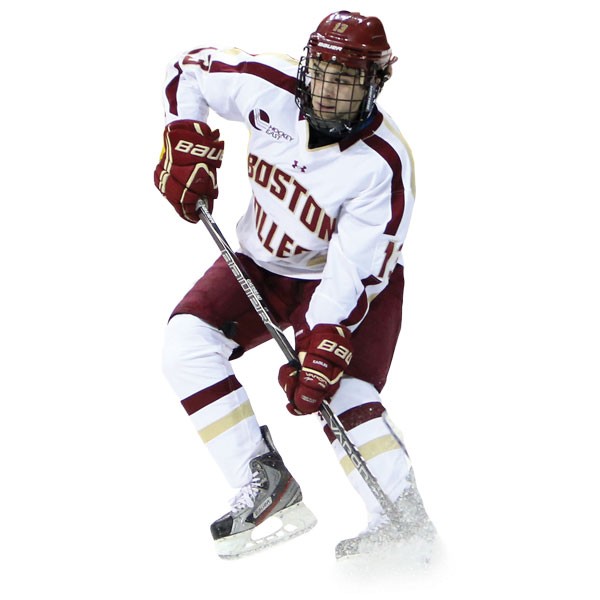 Johnny Gaudreau '14
HOCKEY
An explosive scorer, Gaudreau was instrumental in BC winning the 2012 national championship, and he led the Eagles to a Frozen Four appearance 2 seasons later. Along the way, Johnny Hockey had a 31-game point streak, tying the Hockey East record, and averaged 2 points per game during a dominant final season at the Heights, becoming just the 3rd Eagle to win the Hobey Baker Award as college hockey's best player.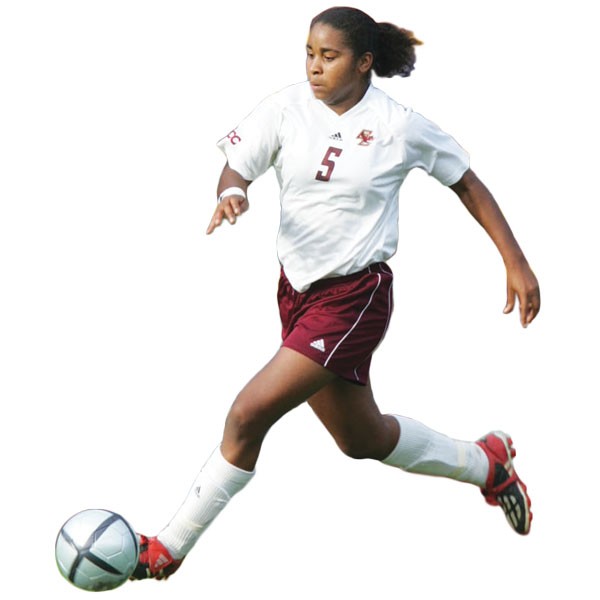 Laura Georges '07
SOCCER
Excellent in the air, and a shut-down 1-on-1 defender, Georges was perhaps the most dominant defensive player in the ACC during her time with BC. She twice made the All-ACC first team, and in 2006 was named ACC Defensive Player of the Year and a semifinalist for the Hermann Trophy, given to the nation's top college player, despite missing 6 games to play for the French national team.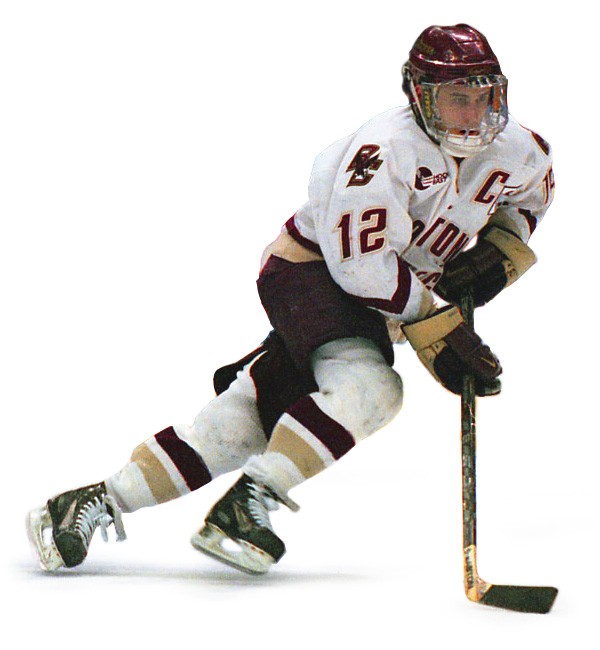 Brian Gionta '01
HOCKEY
How good was Gionta? He once scored 5 consecutive goals in a game against Maine...in the first period. That was just one of the school-record 9 hat tricks that the forward had in a career that also saw him lead the Eagles to the 2001 national championship and leave BC as the program's top all-time goal scorer. Gionta was also a 3-time finalist for the Hobey Baker Award and the Hockey East Player of the Year in 2001.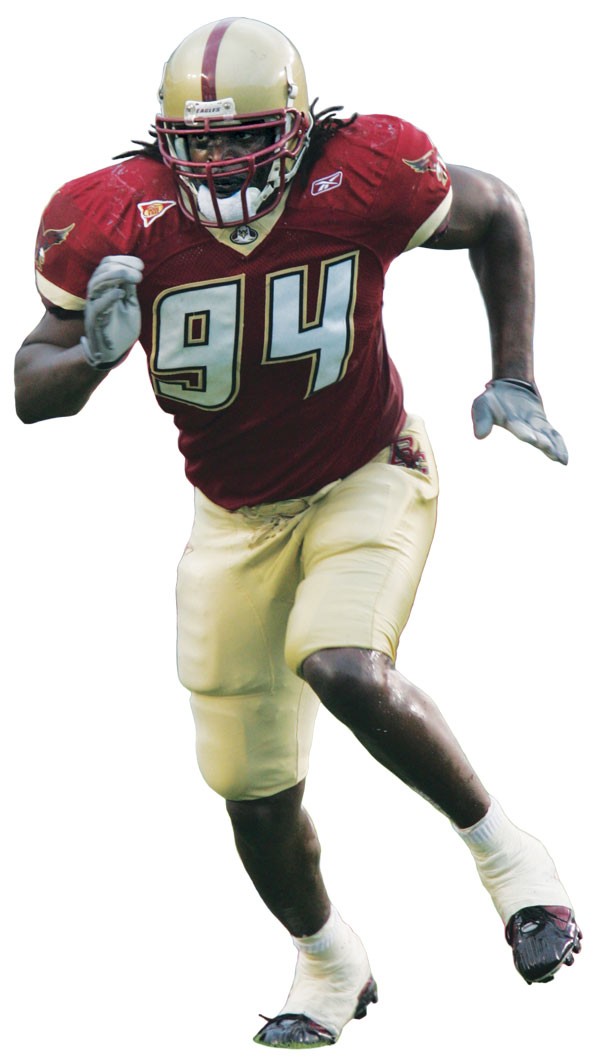 Mathias Kiwanuka '05
FOOTBALL
Kiwanuka, one of the great pass rushers in BC history, finished his career with a school-record 37.5 sacks and 65.5 tackles for loss. The defensive end twice led the Big East in sacks, was a 2-time All-American, and was named the Big East Defensive Player of the Year in 2004. Kiwanuka, the grandson of Benedicto Kiwanuka, Uganda's first prime minister, was well known for proudly displaying the Ugandan flag in his dorm room.
---
---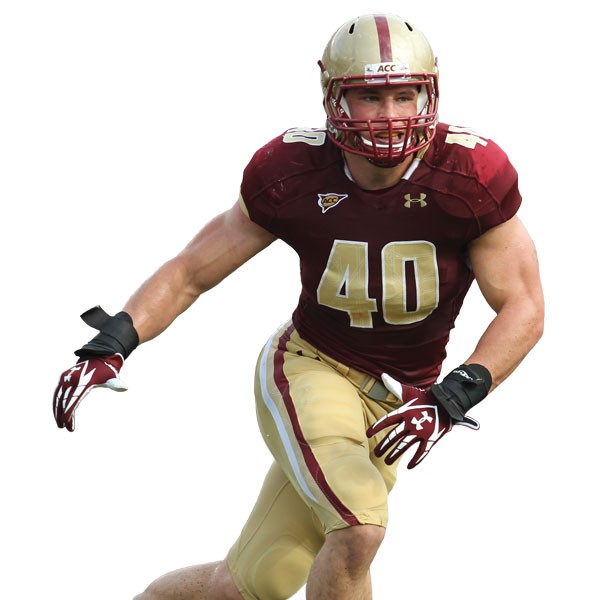 Luke Kuechly '15
FOOTBALL
It was difficult to keep track of all the awards and honors Keuchly collected during his stellar BC career. Twice leading the country in both tackles and solo tackles, he won just about every award there is, including the Bronko Nagurski Trophy, given to the national defensive player of the year, and the Butkus Award, which recognizes the most outstanding linebacker. He was also a 2-time All-American and finished as the ACC's all-time leader in tackles, with 532.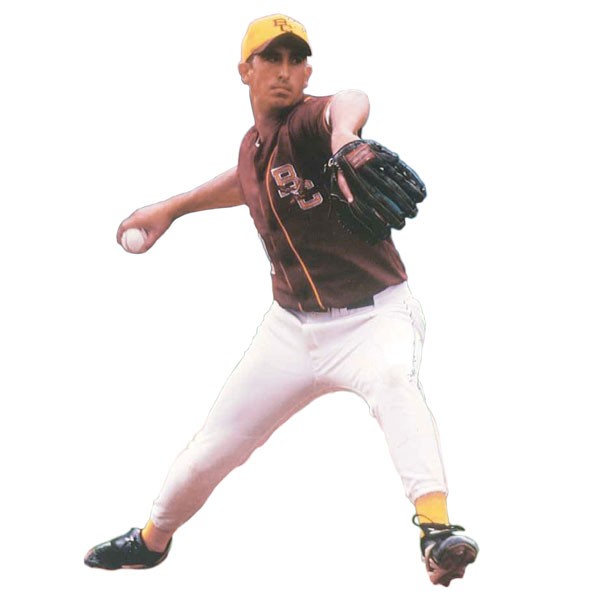 Steve Langone '00
BASEBALL
Whether on the pitching mound or in the batter's box, Langone was a force. As a pitcher, he won 24 games in his BC career, the most in school history, and led college baseball with a 1.54 ERA in his senior season. As a designated hitter and occasional first baseman, meanwhile, the All-American posted a .356 average for the Eagles, 5th all-time, and hit 30 career home runs, 3rd in BC history.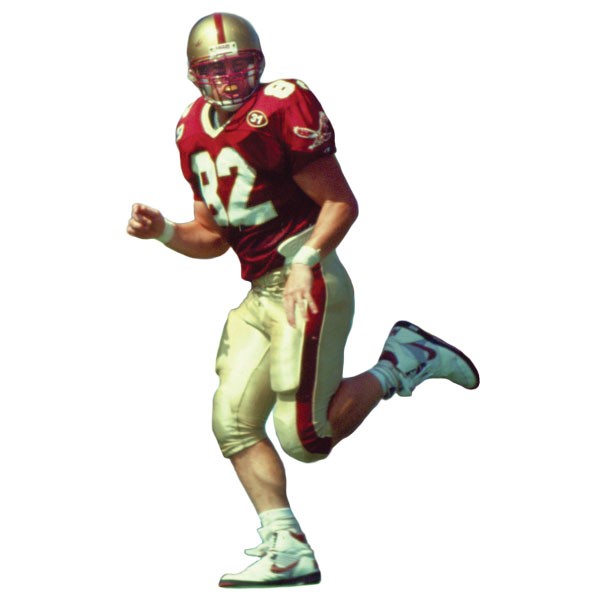 Pete Mitchell '94
FOOTBALL
Game in and game out, Mitchell may have been the greatest tight end to ever play for BC, but it was in the big contests that Mr. Clutch really showed his talent. In one of the standout performances in school history, Mitchell set an Eagle record with 13 catches in the 1993 upset of number-1-ranked Notre Dame. He finished his career as an All-American and BC's all-time leader with 190 receptions.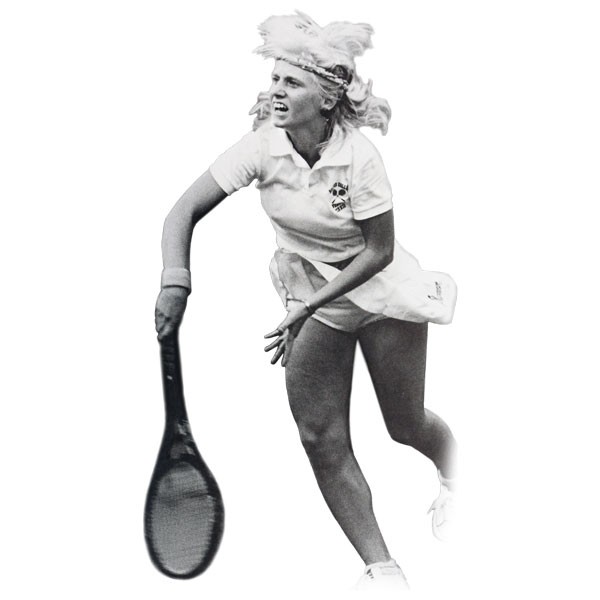 Katie Molumphy '87
TENNIS
The Big East Athlete of the 1980s for women's tennis, Molumphy constantly adapted her game and excelled at exploiting her opponent's weaknesses. An All-American, she was also the Big East Player of the Year 3 times, and graduated with more than 100 career singles victories and a conference record of 50-2.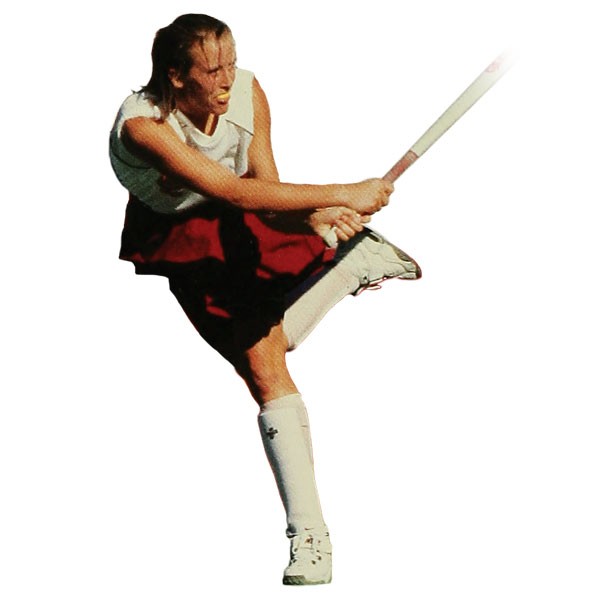 Joy Ramsbotham '99
FIELD HOCKEY
A highly skilled defender with incredible field vision, Ramsbotham was twice named Big East Defensive Player of the Year, yet her explosive shot made her an equally feared offensive player. The 3-time All-American helped the Eagles capture the Big East Tournament championship in 1997 and regular-season title the year after. She also was a member of the U.S. National Team, and finished her BC career with 41 goals and 18 assists.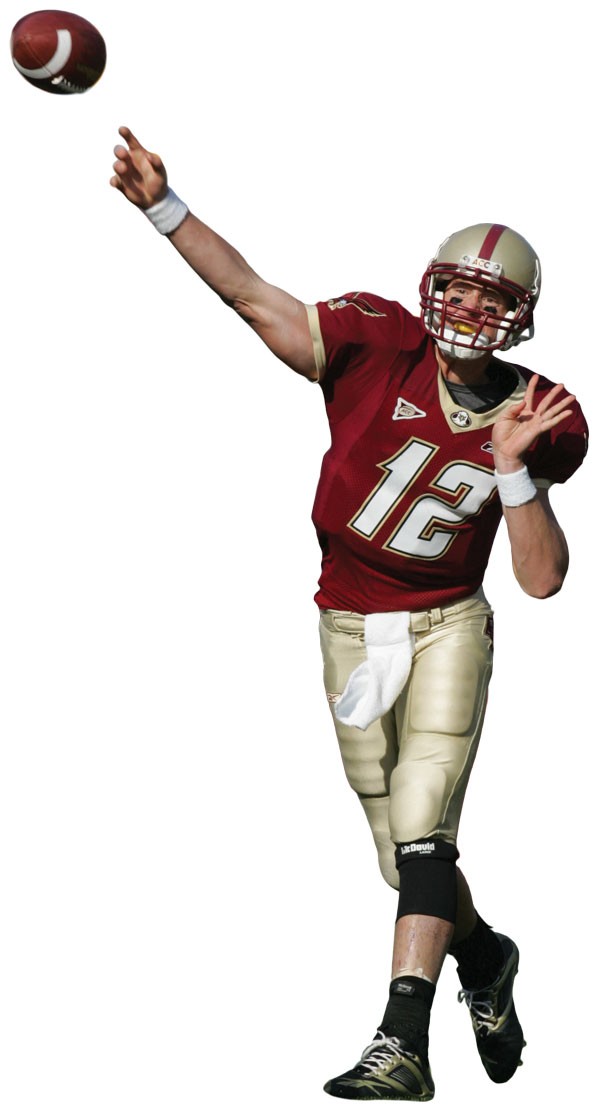 Matt Ryan '07
FOOTBALL
Matty Ice engineered a number of thrilling come-from-behind wins for BC, most famously the 2007 stunner in which he threw 2 touchdowns in the final 2:11 to lead the Eagles past Virginia Tech. In his BC career, Ryan won the Manning Award, given to the country's top college QB, was named ACC Player of the Year, and set a school record with 4,507 passing yards in a season.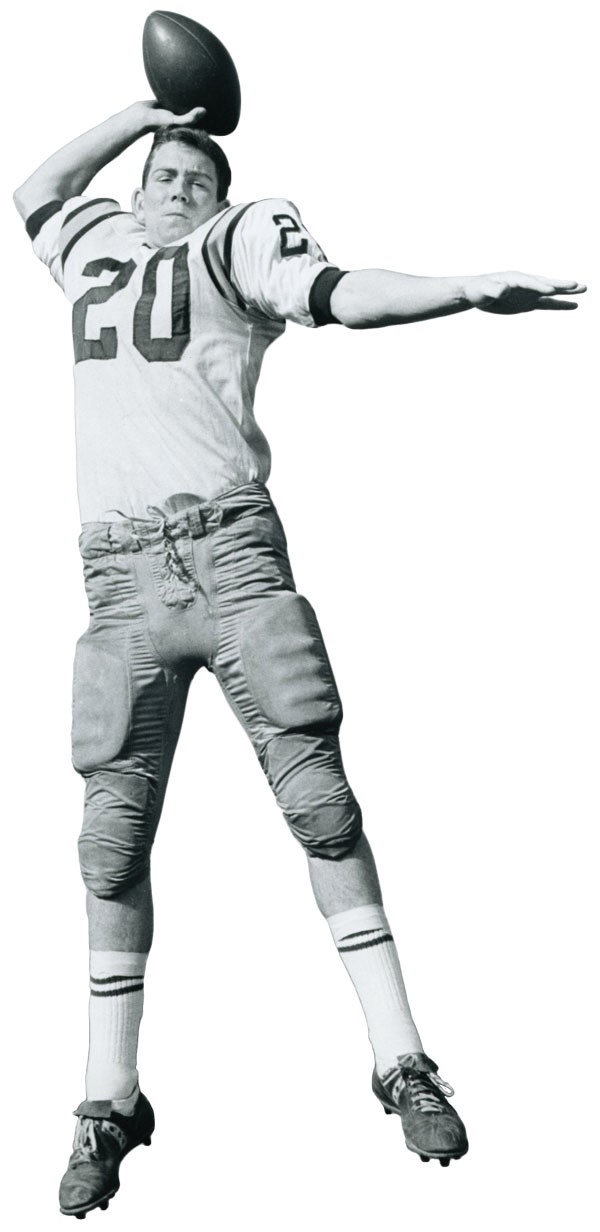 John Salmon '69
MULTISPORT
In the conversation as the greatest all-around athlete ever to play at BC, Salmon graduated as the football team's all-time leader in interceptions, had a .350 career batting average while helping lead the baseball team to a College World Series appearance, and even skated for a time for the hockey team. Salmon eventually became a college football official, working major games such as the Rose Bowl and Orange Bowl.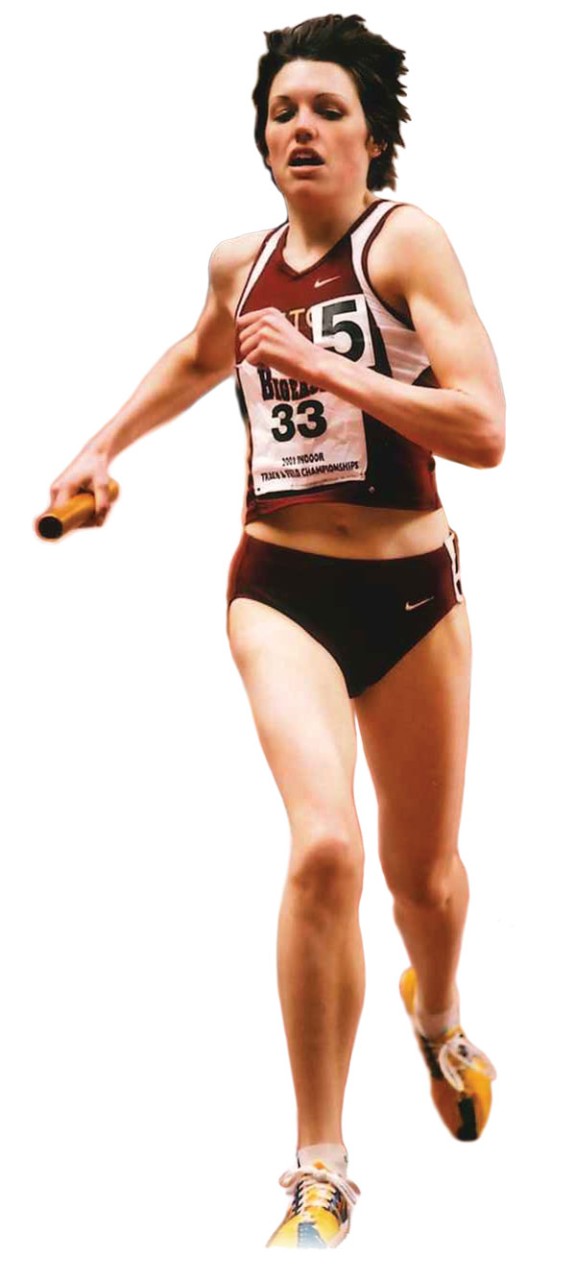 Shannon Smith '00
TRACK AND FIELD
When did Smith's coach become convinced that the runner was the most competitive BC athlete he'd ever encountered? When Smith revealed, after becoming the 1st woman in school history to claim an individual NCAA championship by winning the indoor 3,000-meter event, that she'd done it on a broken foot. Smith was also named an All-American in cross-country, outdoor track, and indoor track.
Carolyn Swords '11
BASKETBALL
A center who loved to hustle on the fast break, Swords graduated as BC's all-time leader in rebounds, blocked shots, and field goal percentage, and was only the 2nd Eagle to score more than 2,000 points in a career. She is one of only 2 players to lead the nation in field goal percentage for 3 straight seasons, and was twice named to the All-ACC first team.
---
BC's Greatest Sports Moments
---