About the Mary E. Walsh Center for Thriving Children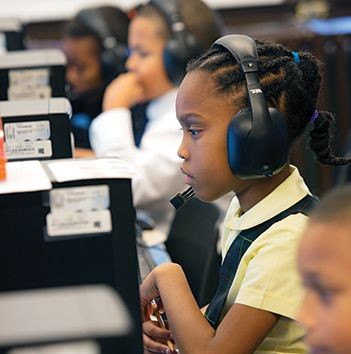 All children rely on relationships and systems of support to develop, learn, and thrive. The Mary E. Walsh Center for Thriving Children (CTC) uses research and data to identify and evaluate strategies that successfully transform schools and communities into systems of opportunity for all students. By engaging in research and convening educators, policy makers, and community leaders, the Center is a catalyst for developing and implementing programs that are effective, systemic, and scalable. We conduct interdisciplinary research that builds on the strengths of both science and practice to understand what it takes to produce true opportunity for all, as well as consider the root causes of the achievement gap and a wide array of programs and practices that promote healthy child development. Our research helps to identify solutions that are sustainable and scalable. We share the results of our work, including best practices, with a broad spectrum of education leaders, policy makers, and community organizations to inform and improve programs, practice, and policy, and inspire decision makers to reconsider what is possible for all students.
Under the Center's umbrella, City Connects puts research into practice by providing a network of care and supports around each individual student to ensure that they are ready to learn and engage in school. The intervention provides customized, comprehensive, coordinated and continuous student support in ways that are quantifiably impactful and cost-efficient.
Note: Because the students and families we serve will be especially hard hit by the educational, social, and economic impacts of the COVID-19 pandemic, the need for strong and effective approaches to student support has never been greater. To help meet this need, the Boston College Mary E. Walsh Center for Thriving Children will continue to bring you information and best practices relevant to effectively serving children and families before, during, and after this crisis. The Center's flagship program, City Connects is continuing its commitment to provide high-quality, evidence-driven student support in this challenging time.

What We Do
Our mission is to study and share the most effective ways to address the out-of-school factors impacting student learning and thriving in schools, and to support practitioners in implementing evidence-driven integration of school and community resources.
The Center serves as a national center for researchers, programs, and practitioners. We reach across multiple disciplines and approaches to share knowledge, promote best practices, test out innovations in the field via City Connects' research & development platform, research impacts on student outcomes, and provide professional development, technical assistance, and resources to support effective integration of school and community resources at scale.
Contact Us
For inquiries regarding the Mary E. Walsh Center for Thriving Children, please contact:
Brenda McCormick
Administrative Officer
Lynch School of Education and Human Development
Boston College
Campion Hall, Room 305D
140 Commonwealth Ave.
Chestnut Hill, MA 02467
617-552-4231
cityconnects@bc.edu
We are currrently recruiting for the following positions: