Are you prepared for the unexpected?
Times like these are a reminder that we never know what tomorrow might bring. You know you should have an estate plan in place. Maybe you've been putting it off. But is there anything more satisfying than taking care of your family?
Estate Planning is one of the most overlooked areas of personal financial management. It is estimated that more than half of American adults don't have an estate plan, in part because many mistakenly believe that this process is for the wealthy or the retired. Estate planning is for everyone!
Every three to five years—or after a major life event (marriage, birth of a family member, divorce, death of a family member)—you should take stock of your investments, assets, and philanthropic distributions whether you have an existing estate plan or would like to start one.
Organize Your Records So Your Family Doesn't Have To
This free guide, complimentary from Boston College's Office of Gift Planning, keeps everything you need for Estate Planning, and ongoing review, in one convenient place. Keeping track of important contact information regarding wills, trusts, power of attorney, healthcare power of attorney, asset inventory and much more.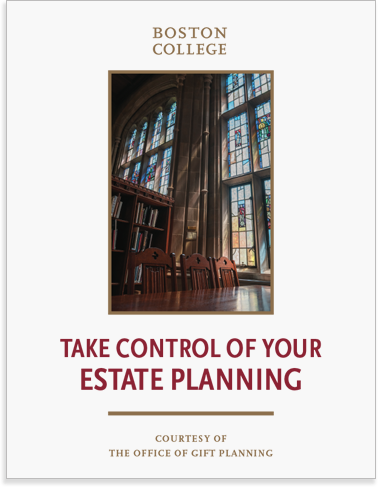 Download Now
Complete the form to download your FREE Estate Planning Guide.
Explore Other Helpful Resources
Check out our new and improved BC gift planning website! You'll find helpful resources, links to news articles and webinars, a personalized gift calculator, and much more.
View Our Webinar About Estate and Gift Planning
Meet the Gift Planning Team
The gift planning team at Boston College provides many families with consultation around charitable giving which is one portion of having a sound estate plan. Our team of experts are here to answer any questions and provide guidance to you and your financial advisor and/or estate attorney.