Connell School of Nursing Dean and Professor Susan Gennaro has been awarded a $3.3 million grant, from the National Institutes of Health/National Institute for Minority Health and Health Disparities, to study a prenatal care intervention for pregnant minority women experiencing emotional distress in order to evaluate its effectiveness in improving outcomes for mothers and babies.
Gennaro's co-principal investigator on the grant is Bernadette Mazurek Melnyk, vice president for health promotion, university chief wellness officer, dean and professor of the College of Nursing at The Ohio State University. Melnyk is also a professor of pediatrics and psychiatry in Ohio State's College of Medicine and executive director of the Helene Fuld Health Trust National Institute for Evidence-Based Practice.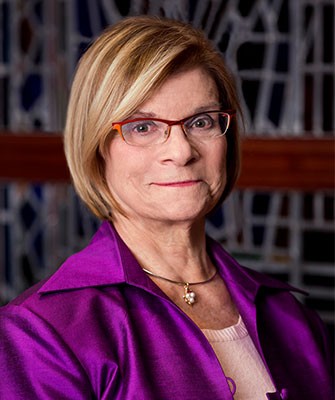 The U.S. Department of Health and Human Services has issued a public health mandate to decrease disparities in birth outcomes based on race and ethnicity. According to Gennaro and Melnyk, developing scalable prenatal interventions to improve birth outcomes as well as maternal physical and psychosocial health is essential to decreasing health disparities in pregnant minority women.
"I am so excited to be able to test this intervention which has the potential to improve the health of mothers, babies and families," said Gennaro. "We mandate screening for emotional distress during pregnancy, but don't know what to do for women who are depressed, or anxious or extremely stressed. We are hopeful that this study will provide the answers."
Their study, titled "Healthy Lifestyle Intervention for High-Risk Minority Pregnant Women: A Randomized Controlled Trial," will be conducted in Ohio and New York City. It is the first clinical trial to test a cognitive behavioral skills building (CBSB) health promotion intervention embedded into prenatal care for emotionally distressed pregnant minority women.
The researchers are looking to determine if the intervention can improve lifestyle behaviors (nutrition and exercise) and lessen anxiety, stress and depressive symptoms.
This study builds upon Gennaro's research on the consequences of stress and health behaviors in pregnant minority women and Melnyk's research on cognitive behavioral interventions to promote healthy lifestyle behaviors, physical health, and psychosocial wellness.
"Given the well-established link between emotional distress, poor health and birth outcomes, and the prevalence of emotional distress in minority women, prenatal care interventions designed to improve mental and physical health outcomes for these women are vital," said Melnyk.
—Kathleen Sullivan | University Communications