The new graduates in cap and gown on Commencement Day at Boston College. (Rich Kalonik/Catholic Extension)
 "A gift from God."

That was how one student first described a special opportunity to broaden her education and enhance her Catholic ministry through a customized, comprehensive applied leadership training program, developed by Boston College's Woods College of Advancing Studies specifically for women religious participating in the Catholic Extension U.S.-Latin American Sisters exchange program.

Now, having completed coursework online, on campus, and in Rome, eleven sisters received master's degrees in applied leadership studies at the University's 143rd Commencement Exercises on May 20—a jubilant day for Sor Yelitza of Puerto Rico, Sr. Maryud of Columbia, and Sr. Mati, Sr. Maria del Rosario, Sr. Mayela, Sr. Rosa, Sr. Tere, Sr. Magda, Sr. Maricela, Sr. Marite, and Sr. Brenda, all of Mexico.
While pursuing their studies, they served more than 100,000 people in 12 disadvantaged areas in the United States.
The women religious are missionaries who arrived in the U.S. in 2014 as part of the five-year exhange program and are now ministering to the poor in dioceses across the nation. At the completion of the exchange, they will return home to help evangelize those on the margins, and raise awareness about religious life in their respective communities.

The partnership with Boston College took root in 2015, when Chicago archbishop Cardinal Blase Cupich, head of Catholic Extension's board of governors, brought the educational needs of the women religious to the attention of Univesity President William P. Leahy, S.J., who asked the Woods College to consider how BC might help to meet them. Supported by a bridge grant from Catholic Extension and the Conrad N. Hilton Foundation, in partnership with BC, a pilot curriculum of organizational development and leadership studies was launched in January of 2017, which was so successful that Catholic Extension determined it would center all of the operational leadership and organizational development training for the program at the University.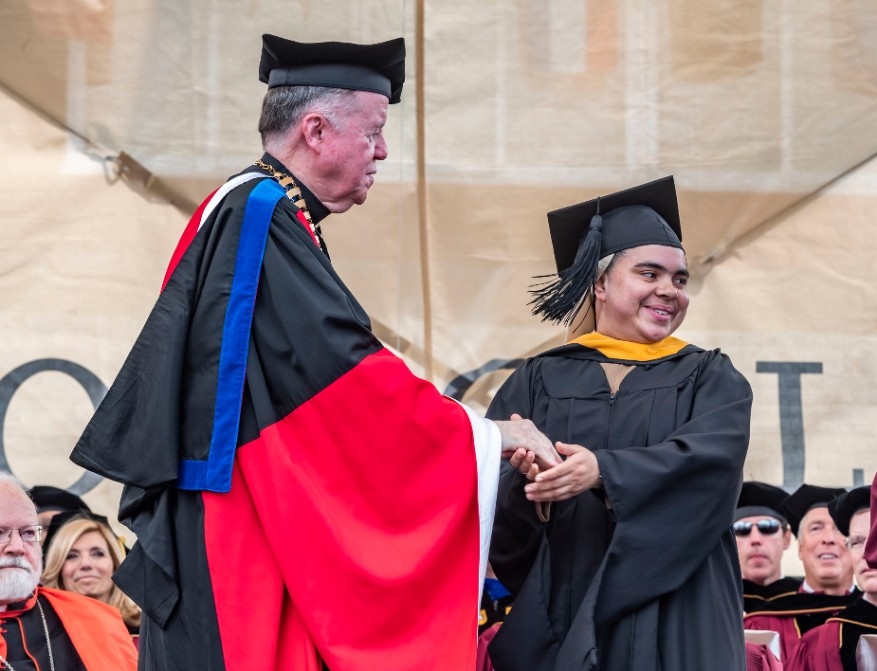 Sr. Maryud Cortés of Columbia, here with Boston College President William P. Leahy, S.J., accepted the degree on behalf of the women religious at the Boston College main Commencement ceremony in Alumni Stadium. Sr. Maryud's journey began when a spinal infection as a young child left her an invalid, unable to attend school. Through an inspirational example of faith and resilience, she regained the ability to walk and now dedicates her life to her ministry. During her time in the U.S, in addition to earning her master's degree, Sr. Maryud provided comfort, faith formation, and youth programs to nine parishes and nearly 300 migrant camps in the Diocese of Kalamazoo in southwest Michigan. (Gary Wayne Gilbert)
Led by program director Elisabeth Hiles, the Woods team then worked with Catholic Extension to tailor a comprehensive degree curriculum that included coursework in marketing, accounting, budget and project management, intercultural communication, operational leadership, fundraising, and grant writing, among other areas. The program was the first at Boston College to be delivered in a bilingual format.

The Woods College has since offered educational opportunities to the 36 women religious in the Catholic Extension exchange program, with 12 enrolled in the full master's program.

"I'm delighted to congratulate the sisters on their achievement, and proud to count them among our Woods College alumni," said Interim Dean David Goodman. "Nowhere is our mission to prepare students for ethical leadership more evident than in our partnership in this initiative. While these women religious are already living out their faith in vibrant ministries to those in need, it has been our privilege to help them gain the skills and abilities that can assist them in their important work."
"This opportunity to partner with Catholic Extension and the Conrad N. Hilton Foundation allowed the Woods College and Boston College to dream big and step outside of our ordinary methods of curriculum delivery and instruction," added Hiles. "The results have been remarkable and we are so happy and proud to now have the sisters as our graduates."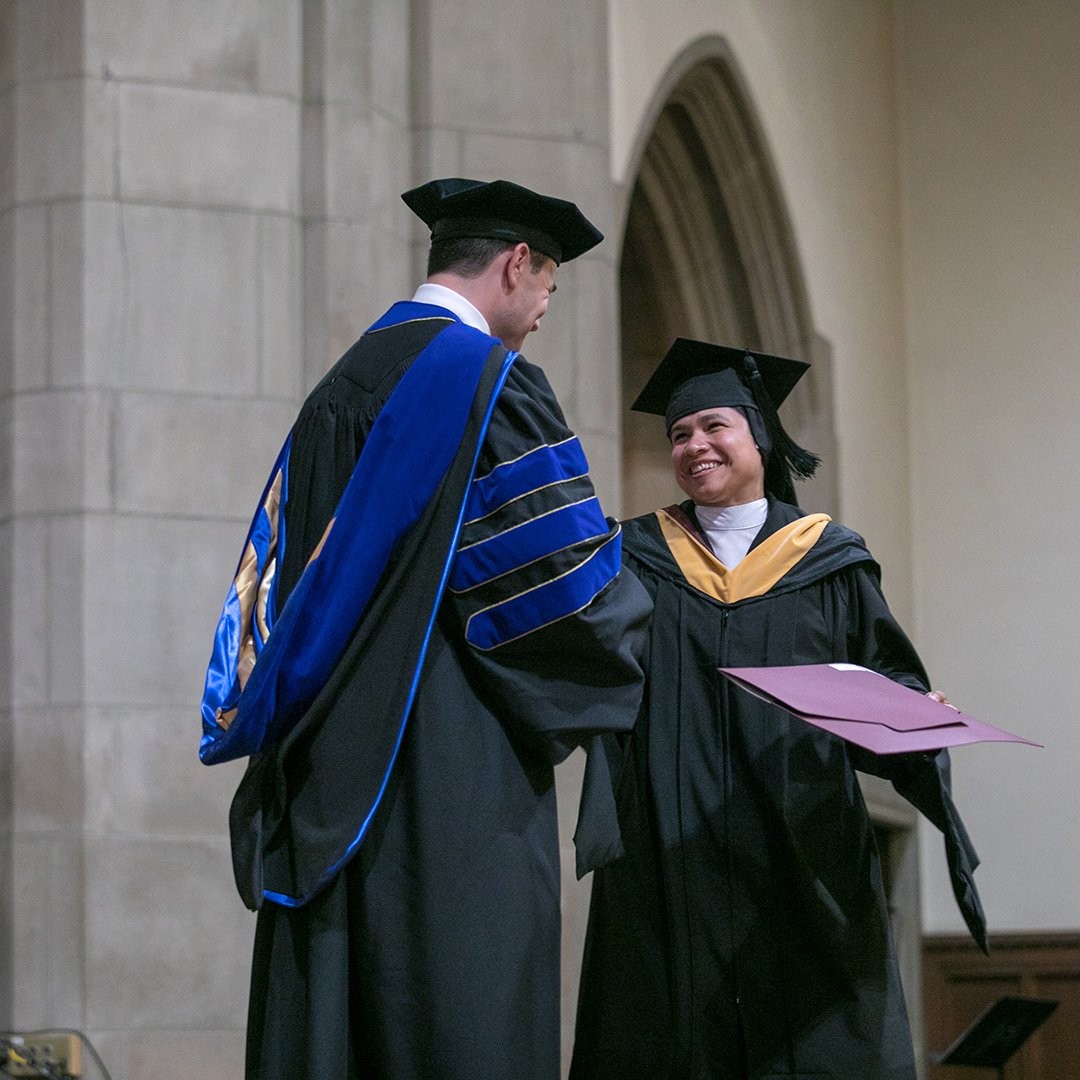 Srr Brenda Hernandez Valdes of Mexico has been evangelizing in the Diocese of Bismark, which serves more than 60,000 Catholics across 23 counties in the western half of North Dakota. Part of the U.S. ministry for Sr. Brenda has been providing stability to immigrants who face the uncertainties of the oil industry in the diocese. She is seen here receiving her degree from Woods College Interim Dean David Goodman at the school's diploma ceremony on May 20 in St. Ignatius Church at Boston College. (Photo courtesy of @BCWoodsCollege)
Over the course of their time in the Woods program, which included an educational experience in Rome and the Vatican in fall 2018, the women religious have reported that they found the experience inspirational, transformational, and empowering.
"Catholic Extension was so humbled by the time, thought, and resources the Woods College invested to create a world-class educational experience for these sisters," said Fr. Jack Wall, the organization's president, at the onset of the program in 2017.
Many women religious from Latin America do not have the chance to study at the university level, he said at the time.

"Coming to study at a premier Catholic university like Boston College is a dream come true for them," he said.


—Patricia Delaney | University Communications | May 2019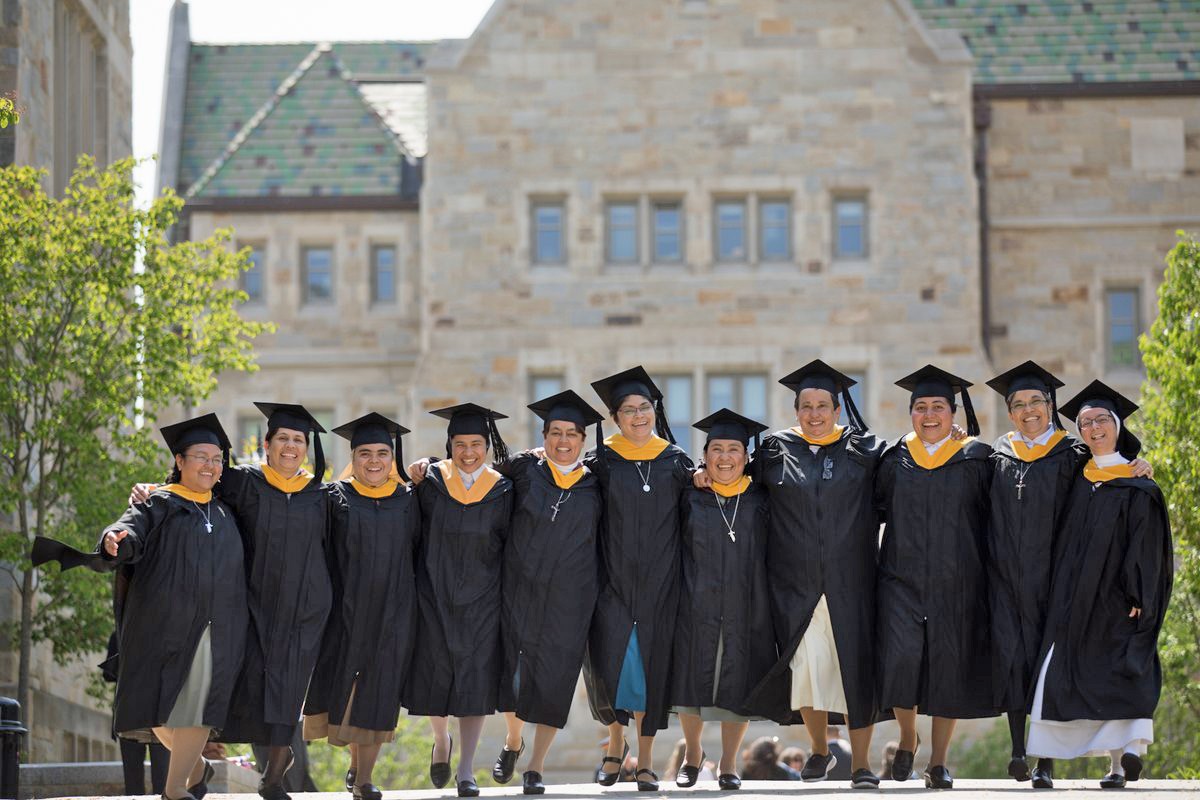 Photo above and below at Boston College Commencement by Rich Kalonik/Catholic Extension