Former Massachusetts Secretary of Education Paul Reville (at lectern) looked on as Washington state legislator Sharon Tomiko Santos spoke during a panel discussion at the Center for Optimized Student Support conference. State legislators Tyrone Thompson (Nevada), center, and Robert Behning (Indiana) were also on the panel. Photos by Lee Pellegrini.
Boston College's Center for Optimized Student Support took a dramatic step toward leading the national discussion on integrated student support, hosting the first-ever conference focused on effective ways to improve U.S. K-12 student achievement by addressing unmet non-academic needs.

Titled "Building Systems for Academic Success: When Academics Are Not Enough," the daylong convening, co-sponsored by the Rennie Center, drew education leaders, prominent panelists, and multi-state policy makers to campus on Nov. 13.

Over five sessions that tracked the path of ISS from its theoretical basis to implementation to policy and next steps, panelists and attendees underscored that a reduction in the achievement gap among U.S. K-12 students will only occur when non-academic factors are addressed.

"Children don't come to school from just the neck up; they come as whole children, but schools—which have always responded to the needs of their students— can't do it alone," said COSS Executive Director Mary Walsh, the Daniel E. Kearns Professor of Urban Education and Innovative Leadership, during her welcoming remarks that tied improved student outcomes to the integration of education with social services, youth development programs, and health and mental health resources.

"One third of [the country's] achievement gap is accounted for by what happens in the classroom," said Walsh. "But two-thirds are accounted for by out-of-school challenges that children bring to school. Why does the achievement gap continue? We haven't closed that gap because of poverty, significant public and mental health issues, demographic changes, the opioid epidemic, and violence in schools, neighborhoods, and at home, all of which contribute to the gap's persistence.

"To narrow the gap we need solutions that are integrated and comprehensive, that embrace the whole child. Schools and policymakers are eager for a new approach, and ISS has the potential to transform the education and development of all children."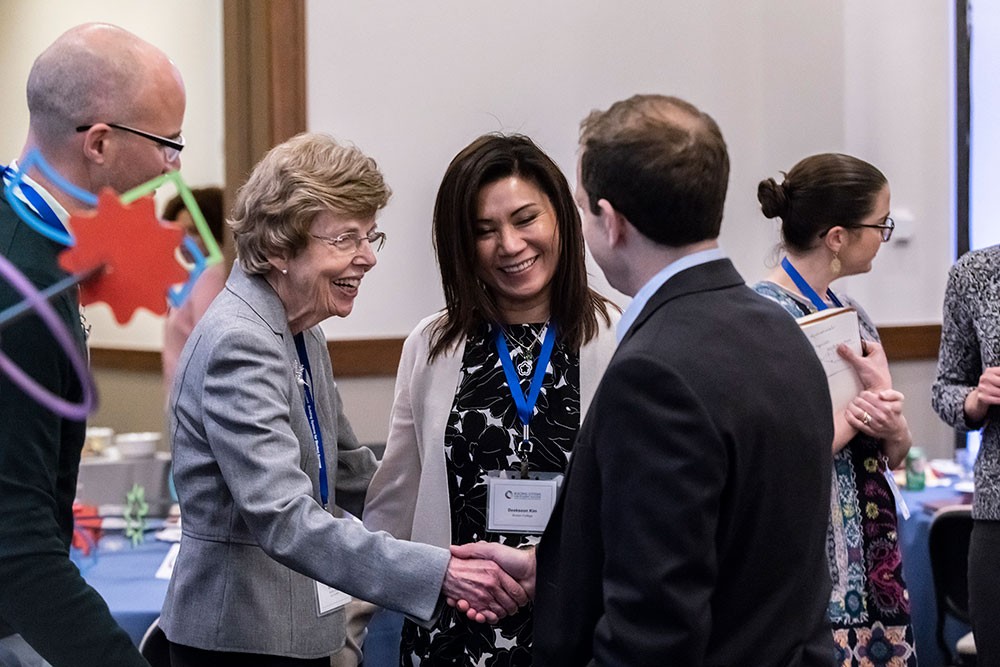 Kicking off the day's first session, "Systemic Challenges and Systemic Solutions," Boisi Professor of Education and Public Policy and Education Research Henry Braun, director of BC's Center for the Study of Testing, Evaluation and Education Policy, described the devastating consequences of the technology-driven, globalized economy for many in today's society.

"There's substantial evidence that the current distributions of human and social capital not only contribute to the vast differences in adult life outcomes but also very strongly impact the transmission of opportunity to the next generation. In other words, social mobility is at a low; those who are at the bottom tend to stay at the bottom and those at the top tend to stay at the top," he noted.

"These different starting points place children on distinctly different trajectories of growth and lead to vastly different outcomes and divergent destinies. We need strong actions to counter the self-sustaining dynamics that are now driving the differences in opportunity for our children, but how can we make a difference?"

Braun advocated for a systematic, sustainable approach spanning the developmental trajectory from birth to early childhood harnessing "all the resources available in schools and the community, working together, to open the pathways of opportunity."

"The combination of ISS with thoughtful and effective school reforms can generate powerful countervailing forces that will make meaningful differences in the lives of millions of children."
"

Children don't come to school from just the neck up; they come as whole children, but schools—which have always responded to the needs of their students— can't do it alone.

"
Putting a human face on the challenges facing many children, Lynch School of Education graduate Yeshi Gaskin Lamour, principal of Boston's Holmes Innovation School, shared the story of Jasmine, a homeless second-grader who was living "couch to couch," had insufficient clothing, and hoarded school lunches in her book bag so she'd have food after and before school.
"That year, 24 students were identified as homeless. That was about 10 percent of my student population, and those were just the students who had been identified. But how many more were there?"

Another panel discussed the increasing number of states that are considering or have embedded ISS into statewide education policy. State legislators from Massachusetts, Indiana, Nevada, and Washington—all of whom chair their states' respective legislative committees on education—echoed their support for ISS, but noted the need for coalition-building to address the funding challenges of integrating ISS into their statewide school systems.

"We spend a fortune on education, and we owe it to taxpayers, to ourselves, and to the children to get better about the way in which we spend that money," said panel moderator Paul Reville, professor of practice at the Harvard Graduate School of Education and a former Massachusetts secretary of education. "But if we think that on average it is enough to get the job done—the job of educating 'all' students to a level heretofore reserved for an elite few—because that's the kind of education they'll need to be successful in this economy, the job of doing that will take a system that is much bigger, broader, and bolder than our present school system."

Other speakers included Lynch School of Education Charles F. Donovan, S.J., Dean Stanton Wortham, who delivered an ISS-aligned message focused on formative education, the integration of education and human development. Lynch School Professor Eric Dearing and Stacey Raczek, COSS associate director of evaluation, both served as panelists, and Joan Wasser Gish, COSS director of strategic initiatives, was the fifth panel's moderator.

—Phil Gloudemans | University Communications | December 2018