Donal Ryan at Burns Library. (Gary Wayne Gilbert)

Award-winning Irish novelist Donal Ryan, whose archives were recently acquired by the John J. Burns Library, has an uncommon profile for a successful author.

A Tipperary native who studied civil engineering and law, Ryan pursued a longtime career in Ireland's civil service, and didn't take up writing in earnest until about 10 years ago. His first published book, 2012's The Spinning Heart – which evoked the personal as well as financial cost of Ireland's recession through the "voices" of 21 characters – won several honors, including the European Union Prize for Literature, and was shortlisted for the Booker Prize. His subsequent novels, The Thing About December and All We Shall Know, and collection of stories, A Slanting of the Sun, also drew public and critical acclaim.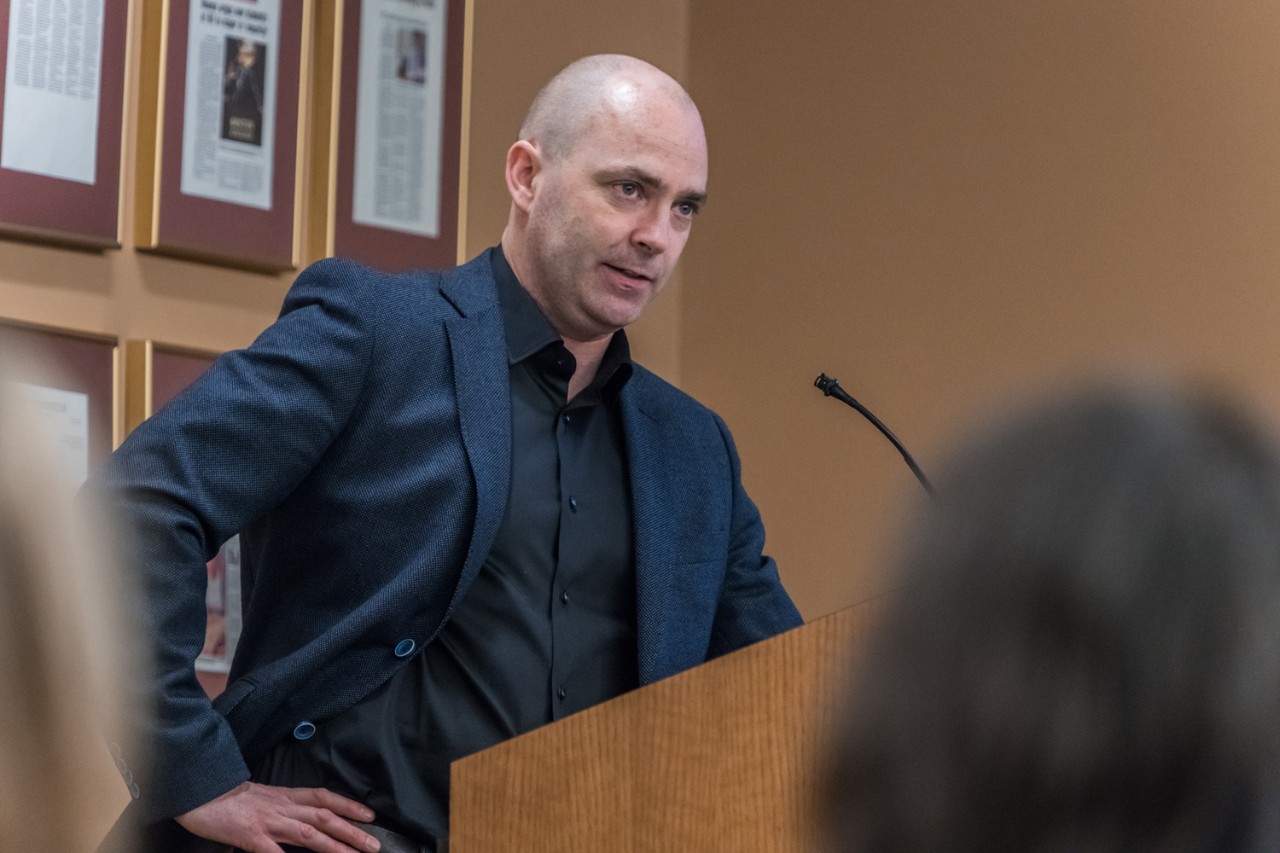 Ryan finally left his civil service job last year to become a full-time lecturer at the University of Limerick, where he had been a writer-in-residence, and is now preparing for the release of his newest book. He lives in Limerick with his wife Anne Marie – whom he has credited as a muse and sounding board – and their two school-age children.

To mark Burns' acquisition of his papers and other materials, Ryan came to campus earlier this year to give a reading and meet with faculty and students. He spoke with Sean Smith, editor of the Boston College Chronicle.
Donal, as a writer still early on in your career, what does it mean to you to have your archives housed in a place like the Burns Library?

It's a great relief, actually. I've been collecting stuff for years, and while I'm not a hoarder, I've been loath to go through and see what I should get rid of. In the past, I'd never really thought about creating an archive; it seemed like navel-gazing. But I realize the value of having a record of one's past projects, and to have it maintained at Boston College is a very good feeling.

Actually, I have no memory of writing some of the things in there. My dad kept my juvenilia for years – thousands of stories and poems, a lot wound up being thrown out accidentally – long before I thought of preserving anything. It's helpful to look back and see what you thought was important to express, and the mistakes you made. When you're in the woods you can't see the trees – as a young person, you tend not to examine anything beyond what's in the moment.

You didn't really focus on writing until about 10 years or so ago, when you began work on what would become The Thing About December. Was there anything in particular that triggered this, or was it a case of just starting something for a lark and then building on the momentum?

It was my wife, Anne Marie, recognizing that I needed to fulfill the promise I had made to myself, over and over again – and broken, over and over again – to finish a novel. I was a serial starter and an inveterate quitter when it came to writing. I could never sustain my confidence. I'd burn short stories and half-baked, quarter-finished novel drafts all the time. I lived for years, alone, in a haunted apartment in my 20s, and had nothing but space and time to write, and couldn't find any traction.

Anne Marie shamed me into it, early in our marriage. I'd say she was sick of listening to my big talk: "Just shut up and do it," she said. And she kept the pressure on, page for page, until it was done, and I had a finished novel. The Thing About December was my gift to my wife, a desperate attempt to impress her. It worked, luckily for me.

The Spinning Heart, which you wound up publishing first, reads like an oral history as well as a sort of forensic investigation, and there's a journalistic dimension, too: the impact of a major event – the Great Recession – on ordinary, and vulnerable, lives. How did those elements all come together?

I jumped straight and blind into polyphony. I'd just finished The Thing About December when I started The Spinning Heart, and felt a bit emotionally exhausted after it. That was an intense book to write, because I inhabited the main character, Johnsey Cunliffe, so completely as I wrote it.

I didn't think I could sustain that level of involvement again so soon and so I decided to write a chorus of monologues, each character being given a small space to tell their story. It was actually a lot easier to write, and came together very quickly. The voices seemed to clamor and their stories formed easily. I was very much drawing on familiar things: the language and landscape and lexicon of my native place, of the people I knew and loved.

Given how closely December and Spinning Heart followed one another, did you come to view one book as a companion to the other?

Actually, neither book was published until two years after they were both completed. They did feel like a set, for sure: a kind of book-ending of our cycle of boom and bust, being set in 2001 and 2010, respectively. I actually give away the ending to The Thing About December in the opening chapter of The Spinning Heart, which feels like a bit of a mistake, in a way, but kind of right in another way, as the books are so linked, and from the exact same heartland. They were written in the same spirit, one of deep fraternal love.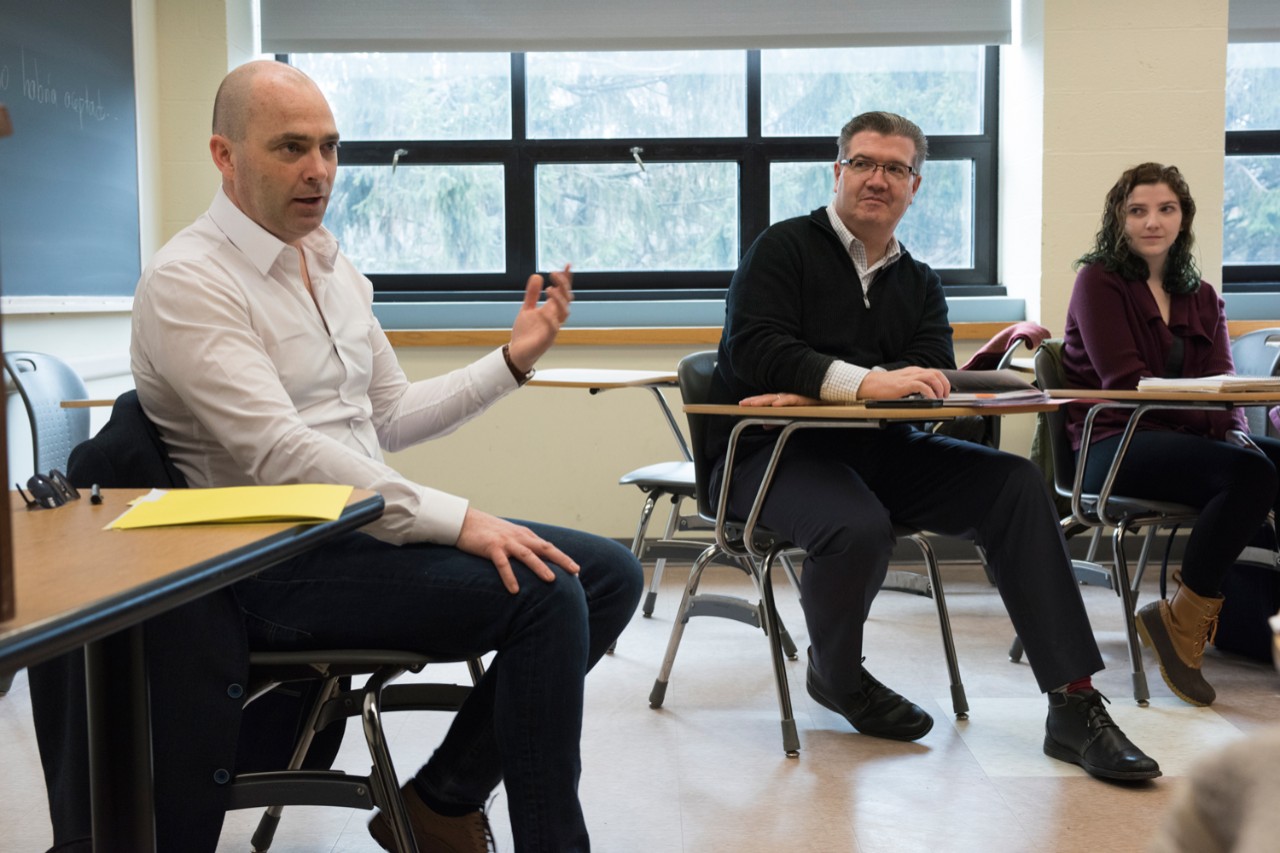 After The Spinning Heart, you got a lot of attention from the media, but not just about your writing. There was the story about you contacting almost 50 different publishers before being accepted.
Well, not all of my inquiries involved submitting a hard copy of the manuscript; sometimes I just sent e-mails. I didn't always get an actual rejection, either – sometimes it was "We just don't know if we're taking on new books right now." In some cases, I simply didn't get a response.

Of course, there was an agent in New Jersey who told me, "I'd be embarrassed to submit this." Or the publishing house that sent me a piece of paper that said, "Sorry, not for us," and I just knew they hadn't even read it.

I didn't think it was at all unusual to have to make all these contacts, though. As far as I knew, it was par for the course in trying to get published.

And then when you went back to your civil service job – before you wound up taking the position at University of Limerick – some of the reporting made it seem like you were destitute.

[Laughter] "Best-selling author has to go to work to pay bills." I had been on sabbatical, and planned all along to return to my job, which I happened to like doing. My point was that, even as a writer who had done pretty well so far, I wasn't a millionaire who could now retire – that's just not how it works in publishing, especially when you've got a wife and two kids plus a mortgage.

 In fact, I like having a full-time occupation. It forces you to be disciplined and structured; you have to approach writing as work, not just art. There's a tendency to think of writing more in artistic terms, but if you invest too much in the artistic side of yourself you may not do what's necessary to make the book something people will actually want to read: "No, this is my art, I'm not going to change it for anyone."

For me, when I write something, I just want my wife to like it. She appreciates a good story.
You have a new book coming out this summer, your fifth in the past six years. Are you conscious now of having a "body of work," a "style" that will create certain expectations among readers (and critics)?

I'm very happy to say that From A Low and Quiet Sea will be published in the U.S. in July by Penguin. It tells the story of three very different men, and is set partly in Syria and in a Greek refugee camp before moving back to Ireland and my beloved Tipperary/Limerick border area.

I do feel that people expect a certain type of demotic-driven, character-based work from me, but that suits me just fine as I'm happy to stay in that creative space for my whole career. I read really widely and I love all sorts of fiction, but I know where I belong as a writer. Although I know that I actually know very little. We're all writing into the darkness, hoping to cast some feeble light.