Maddie Webster sifts through Unity Court materials—the Boston facility contains more than a million artifacts from 39 excavations."History Down the Toilet" exhibit.

Photos by Gary Wayne Gilbert

"History Down the Toilet" may be a rather blunt-sounding title, but it's also an aptly literal description of an exhibit organized by 13 Boston College undergraduates that is now on display in the History Department at Stokes Hall.
The students used objects recovered from late 19th-century/early 20th-century latrines in three Boston locations as a means to offer insights into the lives of the city's immigrants from that period. Because indoor plumbing and municipal trash service were rare during the late 19th and early 20th century, many household items wound up being disposed of in neighborhood outhouses, and subsequently buried over years of development and demolition. These everyday items – including tea cups, jewelry, clothes buttons, cap guns, animal bones and hair care products – provide glimpses into a changing city, and a changing American society.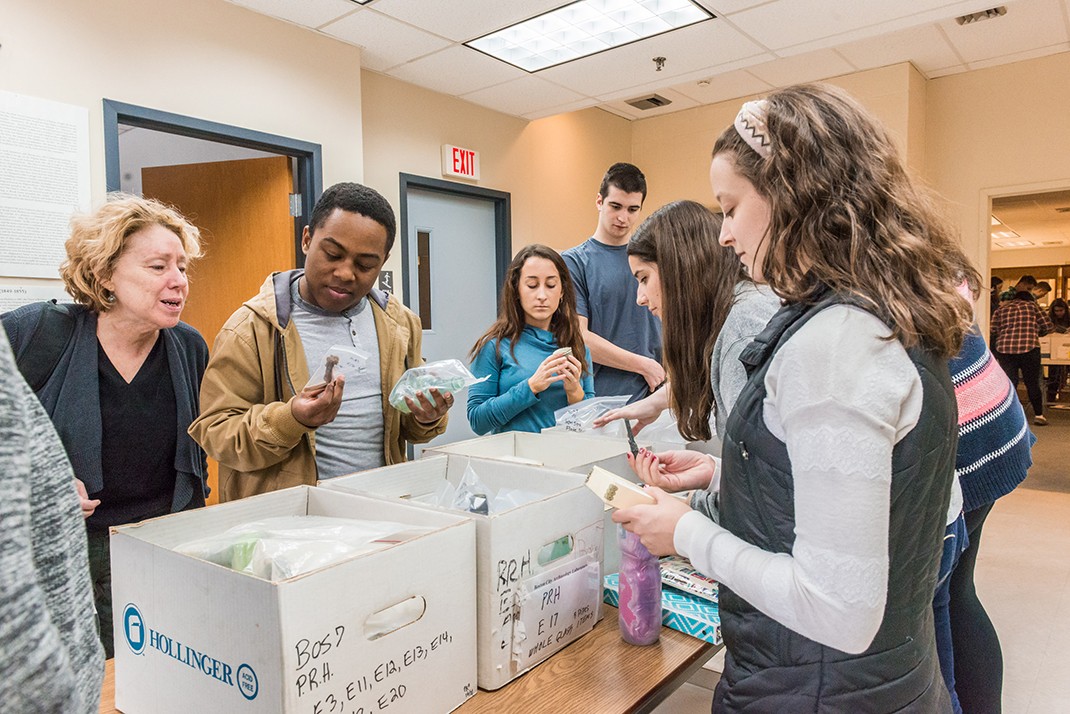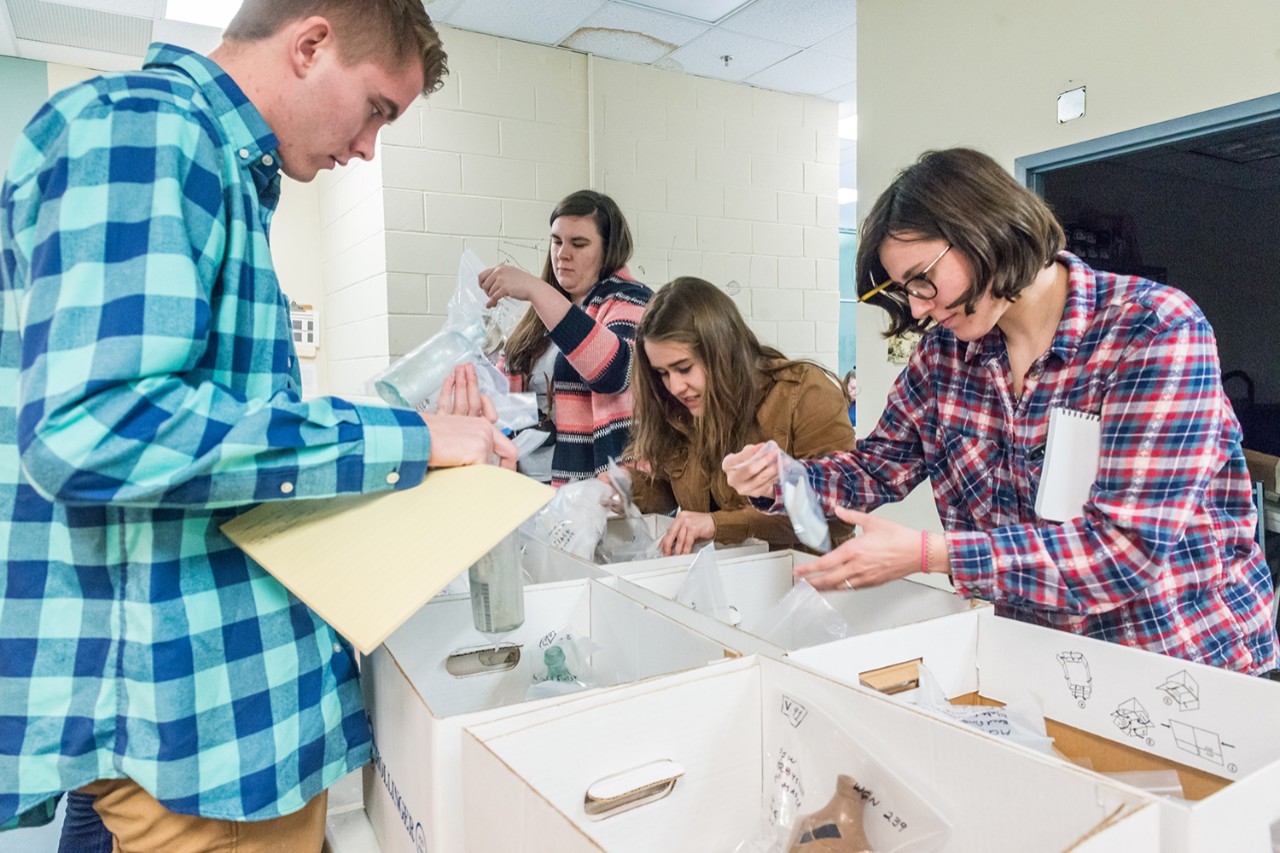 The exhibit is the latest installment in the "Making History Public" series, through which undergraduates in selected history courses plan, organize and pursue a research project and learn how to utilize archival material – with the aim of presenting it to the general public. Past "Making History Public" subjects have included historical justice issues such as Japanese-American internment compensation and global human rights; the history of the Boston Common; the history of the book; and the depiction of historical and social trends in popular comic books.
This latest exhibit grew out of the course History Down the Toilet: Rewriting Boston's Past with Objects Recovered from Three Nineteenth-Century Latrines, taught last spring by Professor of History Robin Fleming.
A hallmark of the "Making History Public" series is that classes collaborate with University Archives, BC Libraries and Media Technology Services staff on finding, organizing and presenting research. For "History Down the Toilet," Fleming and the students went to the City of Boston Archeology Lab and its chief archeologist, Joe Bagley, to sort through a host of materials recovered during the Big Dig. Fleming's students selected artifacts that pertained to their respective areas of interest, and would serve as the basis for historical research. (The objects themselves are not on display at the exhibit, but are represented on photographs and posters.)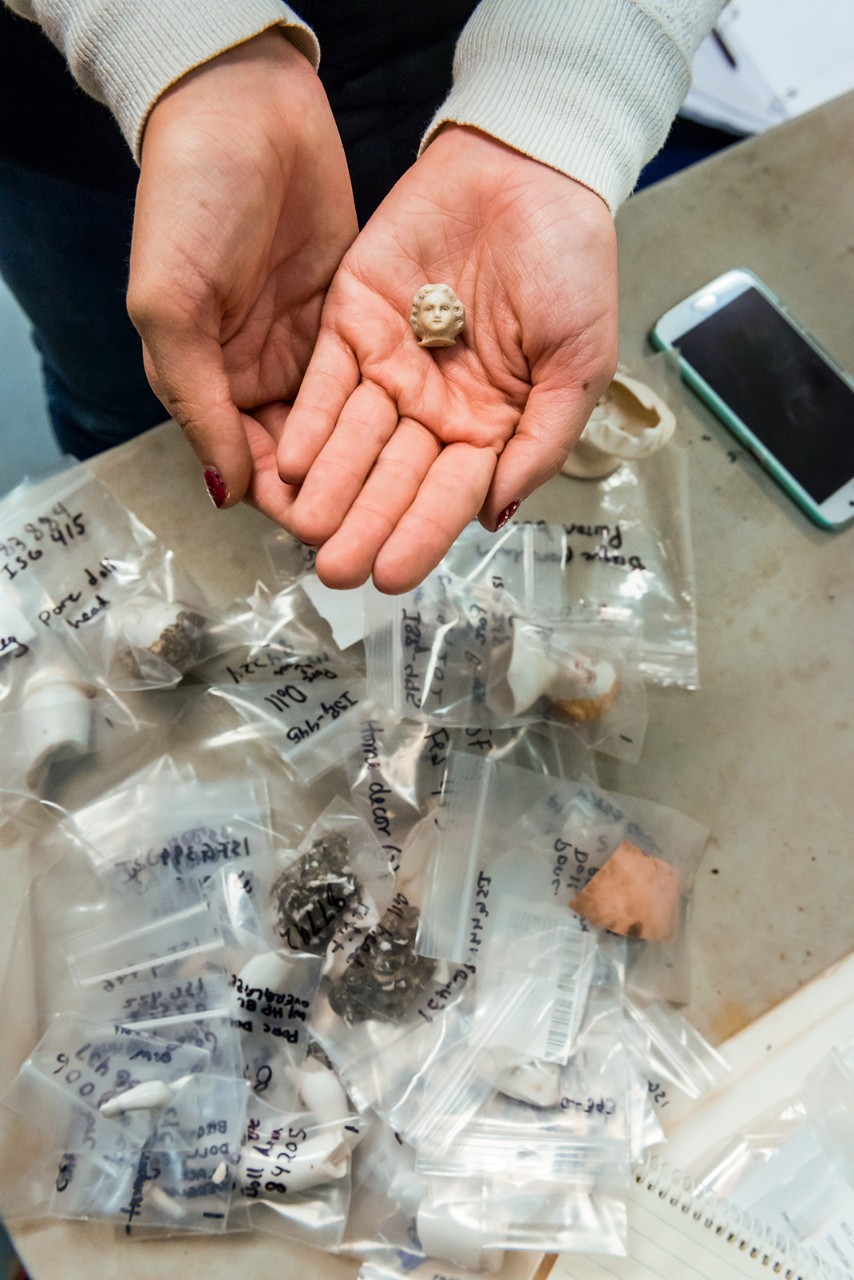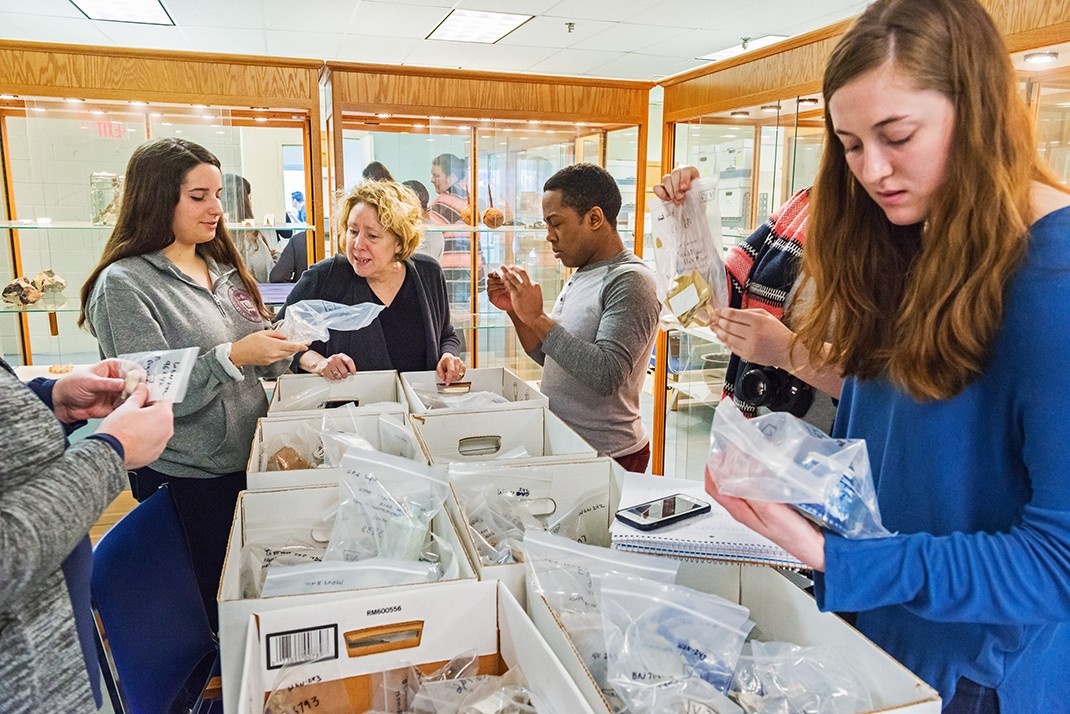 Annie Iannazzi '17, now a graduate student at Fairfield University, was intrigued to find sea coral among the detritus and learned that it had been a popular home decoration among 19th-century middle-class families – but also, apparently, among poor families as well. This revelation was among many in her study of home décor during the period. 
"As I looked into it, what struck me was how intentional and meticulously placed the objects were in the household to express family values," she says. "There might be some carry-over of that today, but you just don't see the same care and attention as it was in the 19th and early 20th century."
Similarly, noted another student, a jar in the archeology lab that had contained pomade suggested the growing consumer culture of the era, where mass marketing helped spur low-income male immigrants to buy a product normally associated with more affluent men.
Yet the persistence of class differences was still apparent, as Bridget Halstead '17 found when she looked at dishware. She discovered some quite fashionable dishes that had belonged to an industrial school for girls – a seeming contradiction. 
"These nicer dishes were a sort of 'plaything' for the girls in the school, who for the most part were being prepared to work for affluent families," she explains. "So in essence, the school was saying, 'You'll use these someday, but for other people.'"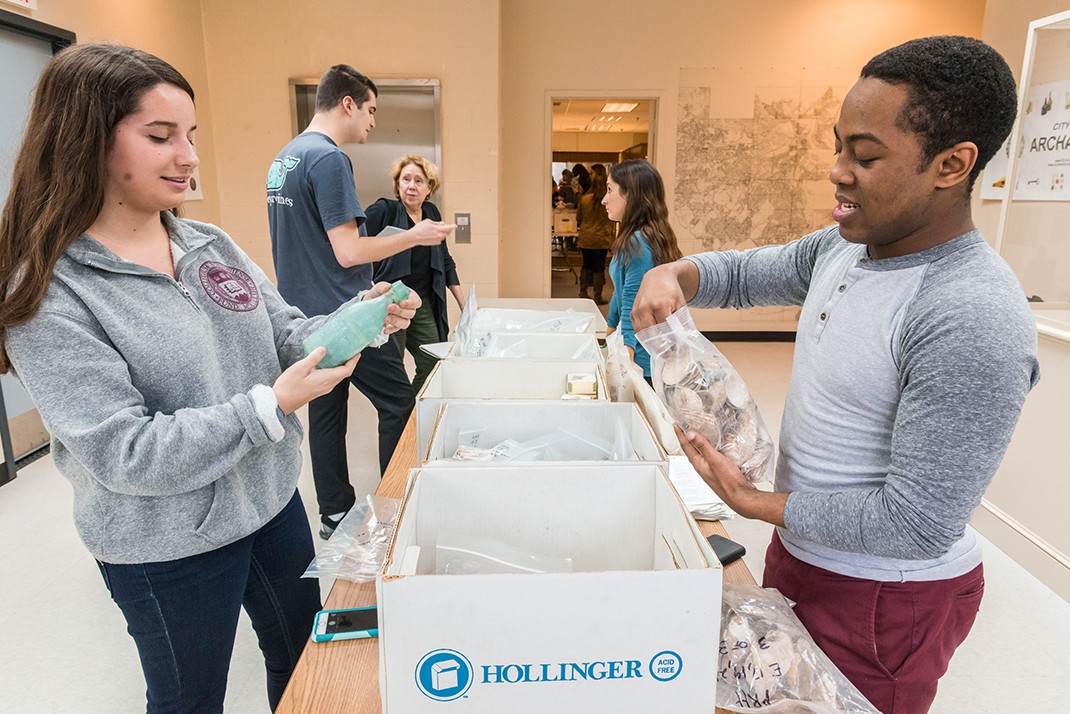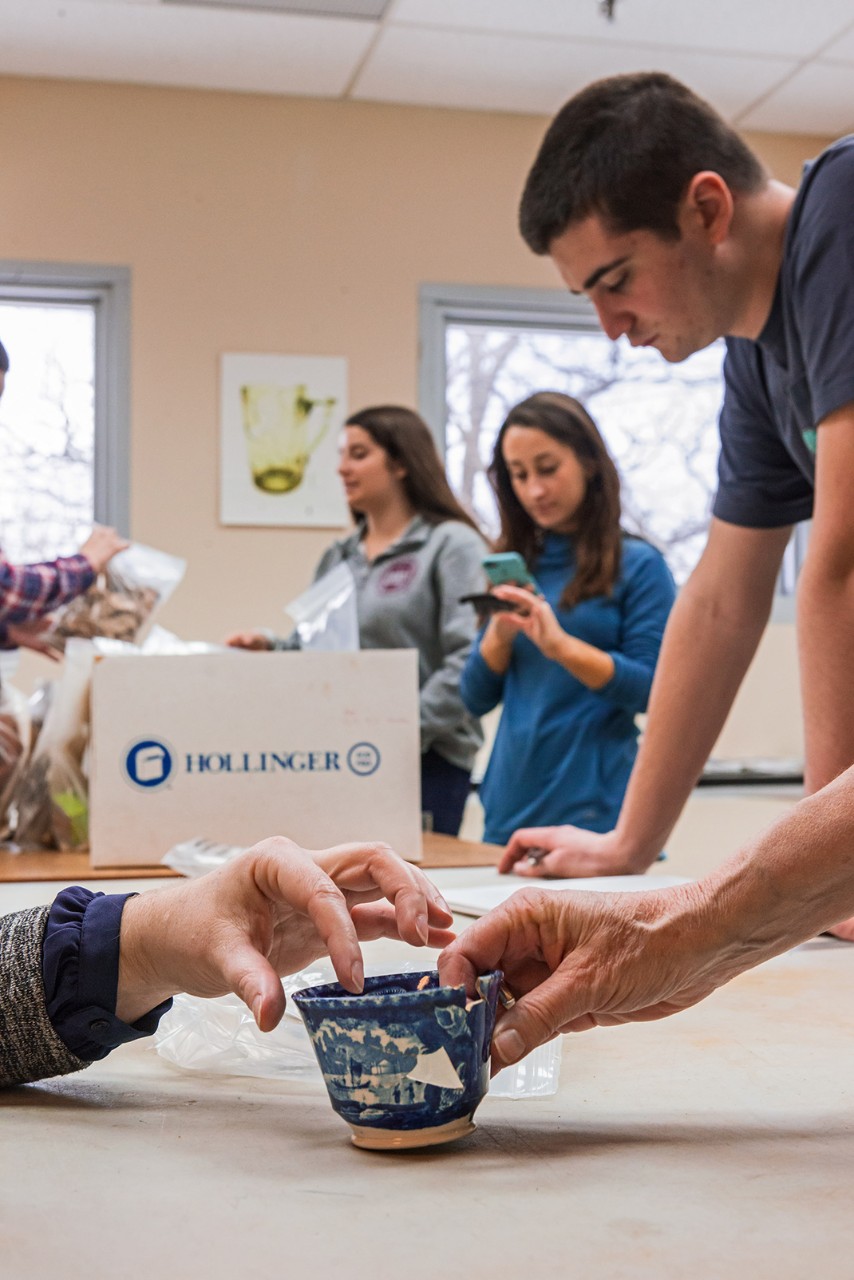 Scrutinizing the different styles, fashions and quality of clothes buttons recovered from a North End latrine, sophomore Michael Zuppone saw evidence of a gradual transition in the neighborhood. 
"When we think of the North End today, we automatically think 'Italian,'" he says. "But what I saw was a neighborhood that was still very English beginning to have an influx of Irish families. So it really expands your awareness of the social history of Boston, in just that one area."
Fleming has been tremendously impressed by the students' enterprise and resourcefulness. "They totally embraced what we were doing. It's a very demanding class: Besides planning and organizing your particular project, you have to edit your research to 600 words for the paper, and 60 words for each illustration. That's a life skill, boiling down and explaining your ideas in a concise, understandable manner." 
Fleming adds that the "Making History Public" concept has energized her colleagues as well as their students: "It's encouraged a lot of faculty to take a more collaborative approach with students, and have their classes be more experiential."
Read more about the development of the exhibit in the summer 2017 issues of Boston College Magazine.

-Sean Smith / University Communications