Associate Professor of History Charles Gallagher, S.J., who is writing a book on a World War II Boston-based Nazi conspiracy, will spend the 2016-17 academic year in Washington, DC, finalizing his manuscript with the help of a prestigious fellowship. 
Fr. Gallagher, a faculty member at Boston College since 2010, was awarded the William J. Lowenberg Memorial Fellowship on America, the Holocaust and the Jews from the Jack, Joseph, and Morton Mandel Center for Advanced Holocaust Studies, at the United States Holocaust Memorial Museum.  
The fellowship—named for philanthropist and Holocaust survivor William J. Lowenberg—supports endeavors targeted to examining issues connected to the Holocaust and the United States.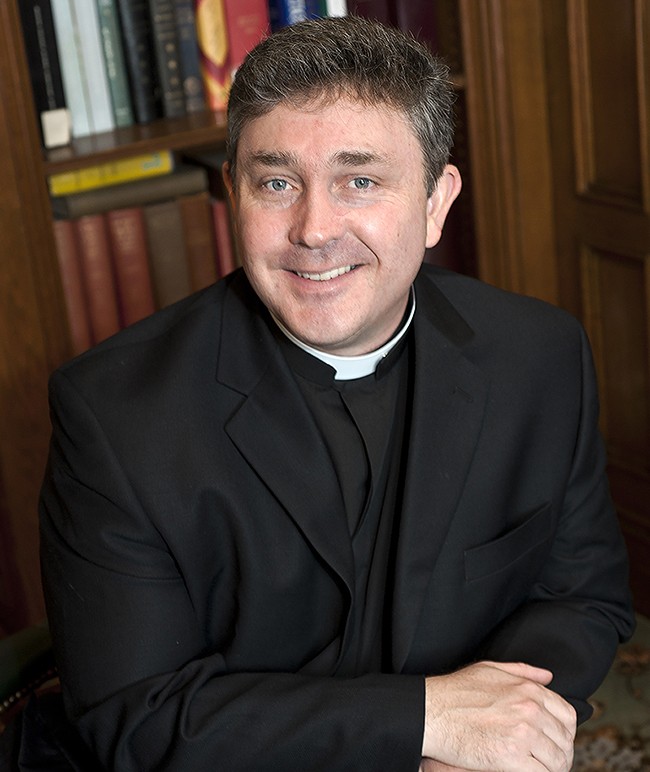 Associate Professor of History Charles Gallagher, S.J. (Lee Pellegrini)
"I feel very humbled to receive this fellowship, and am grateful to the Lowenberg family and the Holocaust Memorial Museum," said Fr. Gallagher. "I'm also grateful to my History Department colleagues who've given me support and offered examples of innovative research that provided inspiration.
"As a Jesuit, it's a real honor to use academic and intellectual resources to further interreligious dialogue. This fellowship will be an opportunity to explore issues of mutual concern to many different faiths."
Fr. Gallagher's book project, "The Nazis of Copley Square: Catholic Anti-Semitism and Secret Intelligence in Wartime Boston, 1939-1945," examines efforts by the Nazis to recruit Catholic members of South Boston's Christian Front organization—which later moved its headquarters to the Copley Square Hotel—to act as propaganda tools.  The research also chronicles a secret British intelligence operation in Boston to suppress the Christian Front.
The FBI arrested the Nazi ringleaders in 1940, but the organization appeared to persist for three more years, said Fr. Gallagher.
 "The book will chronicle the espionage dynamics of this multifaceted case, but it also aims to seek answers to questions about the theological context which allowed some ordinary Boston Catholics to bend toward the Nazi line," said Fr. Gallagher, who used a travel grant from BC's Clough Center for the Study of Constitutional Democracy to track down correspondence and other materials at archives in Berlin, London, California and Washington, DC, that aided his research.
By Sean Smith | News & Public Affairs