Maxwell Korman '23 performs 'Corner of the Sky' at the Pops on the Heights gala. Photo by Justin Knight. 
When he approached the microphone to perform at the Pops on the Heights gala September 30, Maxwell Korman '23 wasn't thinking about the sold-out crowd in front of him (which numbered in the thousands) or the fact that he was sharing the stage with Grammy-winner Jon Batiste (who brought down the house with original songs off his recent album "WE ARE"). Instead, he let his mind go blank, and focused on what mattered: the music.
"I went into, I don't want to call it 'robot-mode,' but I didn't think about what else was going on, I just made sure I did everything correctly," he recalled after the show, which raised a record-breaking $14.5 million for student scholarships. "I remembered all the words and my voice didn't crack, so I'll call it a success."
Backed by the Boston Pops Esplanade Orchestra and conductor Keith Lockhart, Korman performed "Corner of the Sky" from the 1972 musical Pippin, which ends with a dramatic drawn-out high C note, earning him a thunderous round of applause from the audience.
How hard is that last note? "Honestly, it's not that bad," said Korman, a high tenor. "Once you have the technique for it, you can just kind of put your voice up there and it'll just ring on for however long you need it to."
A physics major and computer science and music minor, Korman is humble about most of his accomplishments at Boston College, including his selection as this year's Pops soloist. He entered the audition process with "zero expectations," he said, and was surprised when his performance of "Giants of the Sky" from the musical Into the Woods and "Goodbye" from Catch Me if You Can landed him the coveted role. He spent the summer preparing with a voice coach, who helped him select "Corner of the Sky" for the performance ("it fit my voice well and the message is nice, plus it has the eagle symbolism," he explained).
A Connecticut native, Korman grew up in a musical family: his mother taught piano and his father had dabbled in musical theater. When he turned five, Korman convinced his mom to start giving him lessons, and he started balancing piano and singing when he hit elementary school. At BC, when he's not studying, he's rehearsing or performing with any number of musical groups on campus, including the University Chorale, the Chamber Music Society, Musical Theatre Cabaret, the Tanglewood Festival Chorus, and the multilingual singing group Liederabend. He's also the musical director of the Madrigal Singers of BC, takes private lessons in vocals, piano, and conducting, and volunteers every week as a piano teacher for Boston Public School students.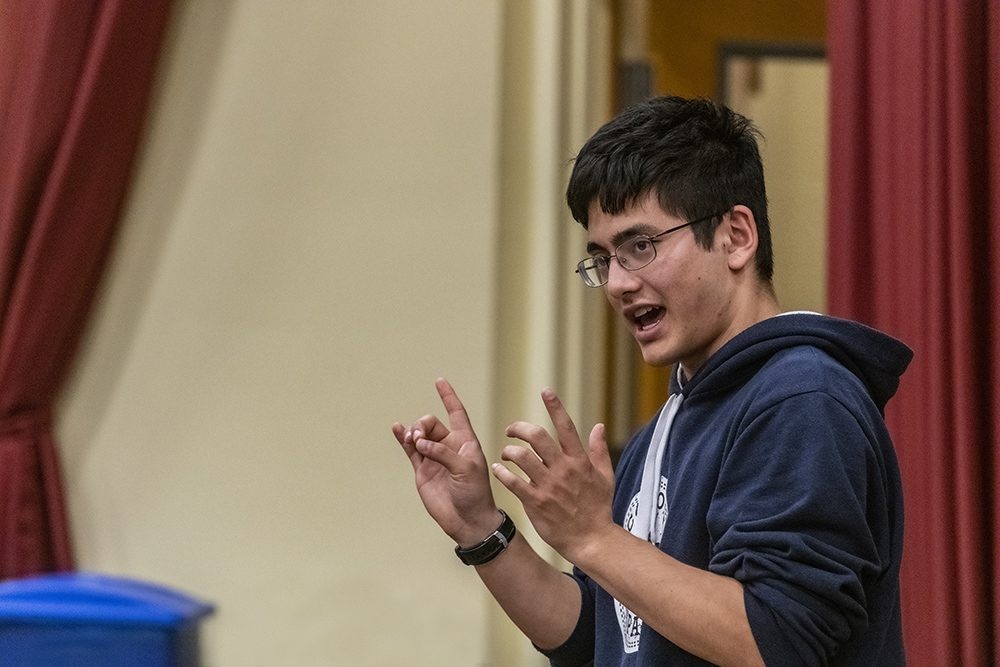 "I cannot say that I have a favorite style of music," he said. "I think they all have their own appeal. Musical theater, pop, classical—they're all equally great."
Korman's passion for the sciences is also something he shares with his parents—his father is a computer scientist and his mother is a former mechanical engineer—and became interested in at a young age (mainly via a fascination with dinosaurs). At BC, he's been able to delve deeper into topics that fascinate him, including nuclear fusion and condensed matter. Post-graduation, he plans to pursue graduate studies with the ultimate goal of becoming a researcher.
"For the last 60 years they've been saying nuclear fusion is going to be 20 years down the line," he said. "If I were able to contribute in any small way to making that a reality that would be absolutely incredible."
Being at Boston College, with its focus on the liberal arts, has allowed Korman to pursue both science and music equally, while forming valuable relationships with mentors in both the lab and the practice room. The two opposite vocations have also given him a sense of balance, he said. When he's feeling overwhelmed by a difficult problem set, he'll turn to music to recalibrate.
"When the sciency stuff is really tough, I love having music to fall back on," he said with a smile. "It allows me to feel like I'm doing something useful and important without having a mental meltdown."
Alix Hackett | University Communications | November 2022