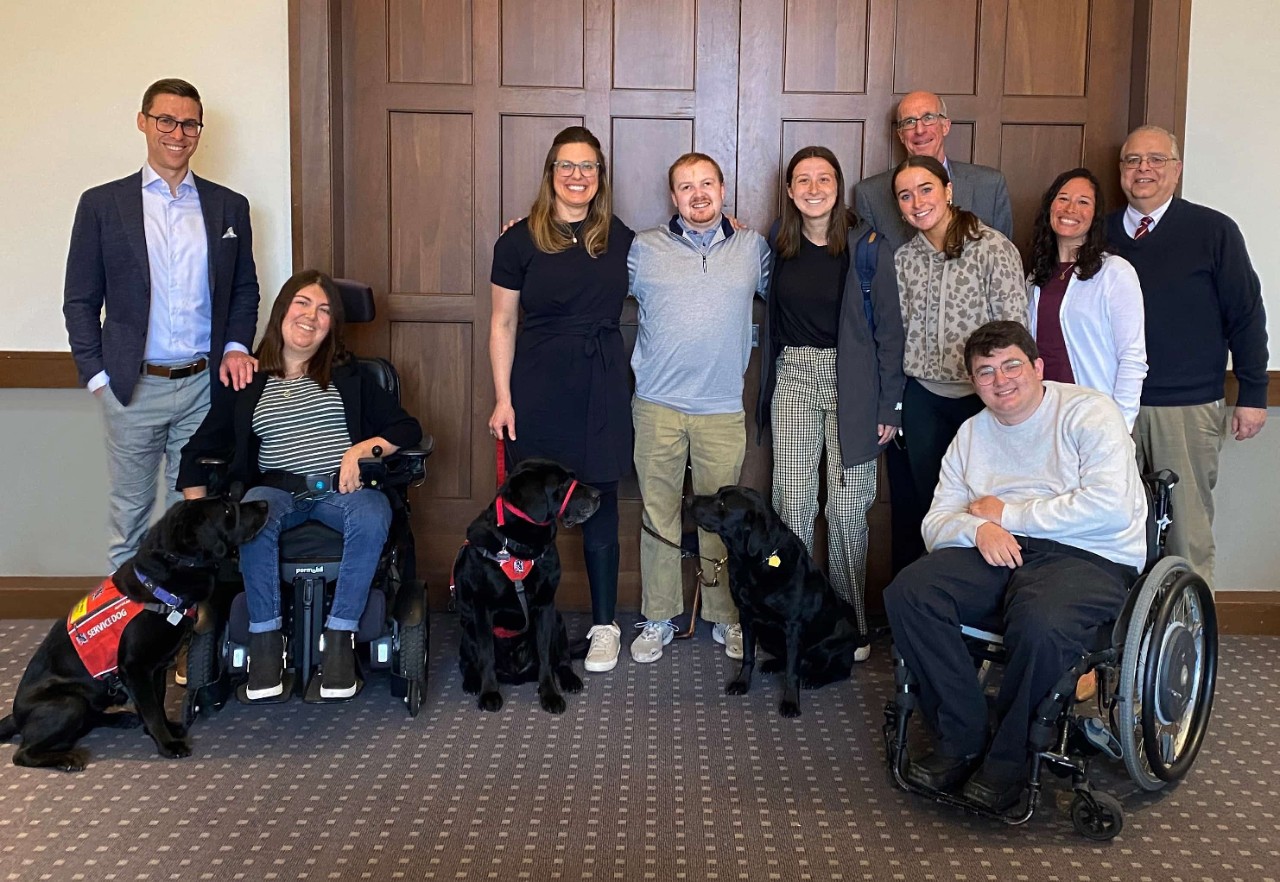 Nick Claudio '22 (fourth from left), this year's recipient of the Boston College Strong Scholarship, with (L-R) Patrick Downes '05, Carolyn Barrett '16, Jessica Kensky, past scholarship winner Cate Cheevers '23, Sarah Farnan '23, Vice Provost for Enrollment Management John Mahoney, past scholarship recipient Conor McCormick '22, Elizabeth Stowe Fennell '05, and Director of Student Financial Strategies and Enrollment Bernard Pekala.
Class of 2022 graduate Nick Claudio is this year's recipient of the Boston College Strong Scholarship, which supports BC students who have overcome adversity. He was formally honored at a reception in May, where he was congratulated by previous BC Strong Scholarship winners Cate Cheevers '23 and Conor McCormick '22.
Claudio, who lost his sight as a result of a brain tumor at age nine, received a bachelor's degree in history and philosophy, and is now pursuing a master's degree in philosophy.
While an undergraduate, he served on the Undergraduate Government of Boston College Council for Students with Disabilities—including as chair—and as a UGBC Student Assembly representative, advocating for an array of campus-wide diversity, equity, and inclusion initiatives. His campus activities also included singing with the student a cappella group Common Tones. Off campus, he has taught Braille and assistive technology at the Carroll Center for the Blind.
One of Claudio's greatest achievements was climbing Mt. Kilimanjaro, the tallest freestanding mountain in the world, during his first year at BC.
The BC Strong Scholarship Fund was established by the Class of 2005 in honor of their friend and fellow classmate, Patrick Downes '05 and his wife, Jessica Kensky, in the spirit of love they received in the wake of the 2013 Boston Marathon bombings. For more about the scholarship, see bc.edu/bcstrong.
University Communications | June 2022