At 3 a.m. the morning of January 7, Boston College freshman Nick Claudio awoke to the sound of harsh winds whipping the flaps of his nylon tent. Wearing four layers to protect against the cold, he prepared for a day of hiking in grueling conditions. In seven hours, if all went well, he would achieve a remarkable goal: to reach the summit of Africa's tallest mountain, without being able to see it.
"Everything had been leading up to that day, and I felt ready," he said. "I remember thinking, 'I'm going to do it, and it's going to be awesome.'"
The story of Claudio's journey to Mt. Kilimanjaro began years before he ever seriously contemplated making the trip. Diagnosed with cancer at the age of 9, Claudio lost his vision during a surgery to remove an orange-sized tumor from his brain. Two years later, two more tumors emerged, and he was referred to the Floating Hospital for Children at Tufts Medical Center, where he underwent radiation and chemotherapy.
In 2012, Claudio's family applied to the recently established Travel for Treatment Assistance Program run by Endure to Cure, a pediatric cancer foundation that supports families of children facing cancer. They received financial assistance to defray some of the travel costs associated with frequent treatments, along with a visit from the foundation's founder, Jason Sissel.
Sissel and Claudio struck up a friendship, bonding over their mutual love of the outdoors. After losing his vision, Claudio had taken up downhill skiing, and later even taught himself to waterski. He told Sissel that he enjoyed hiking and hoped to one day climb a mountain.
"I said, 'Wait, you know I climb mountains, right?'" recalled Sissel. "I said, 'Tell you what, once you beat this thing, if you want to climb a mountain with me, let me know.' And that's how it all began."
The journey to the summit
At 19,341 feet of elevation, Mt. Kilimanjaro is the tallest freestanding mountain in the world, its snow-capped peak visible for miles in any direction. Hikers pass through five different climate zones on their way to the summit, including dense rainforest, moorland, and glaciers.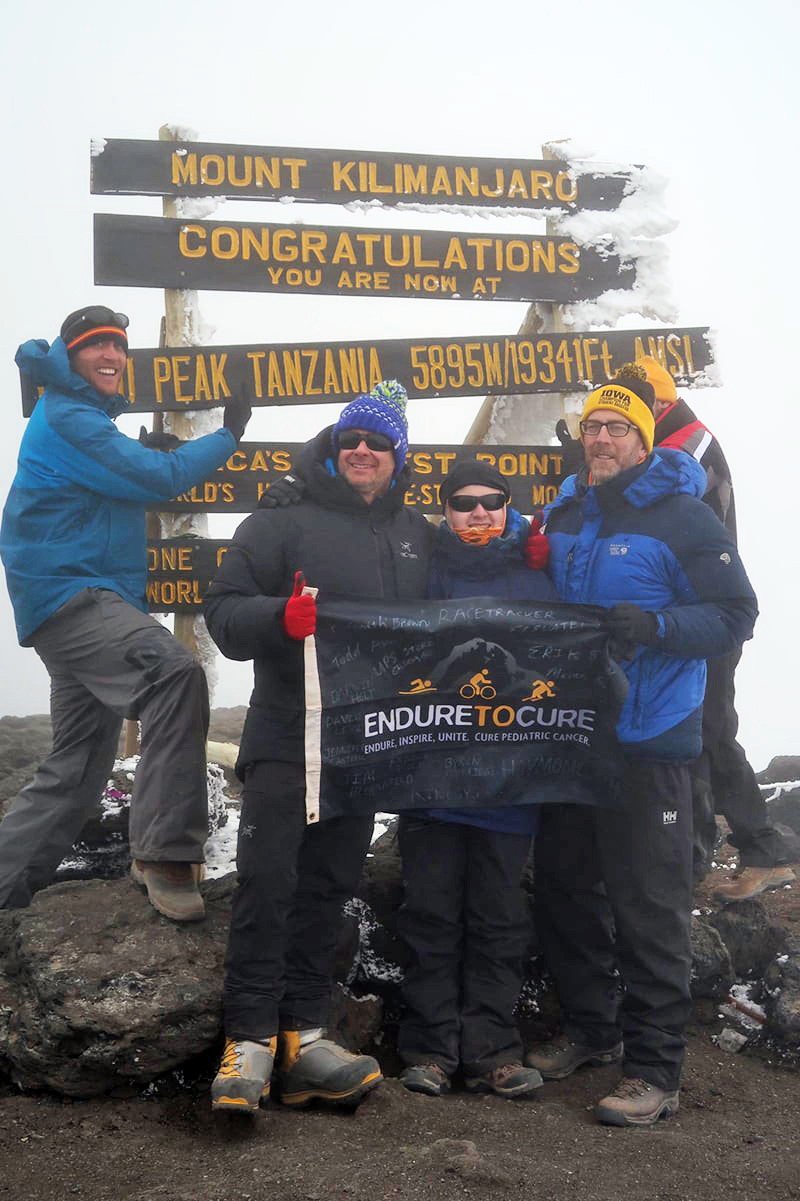 Sissel, Claudio, and Claudio's childhood friend, Zech, began their trek on January 1 with a team of guides from Tusker Trail and two other Endure to Cure members. For the first few days, Claudio used hiking poles to navigate the uneven ground. When the trail grew rockier and more winding, he switched tactics, gripping the backpack of the person in front of him.
"If I'm holding on to someone I can tell exactly what foot they're stepping with and where they're stepping," he explained. "So I just followed their footsteps."
The most challenging day came midway through the trek, when icy conditions made it unsafe at times for Claudio to hike independently. He allowed a guide to carry him over the worst sections, but he wasn't happy about it. That evening, he and Sissel discussed his frustration, and by morning, Claudio was re-energized and ready to take on the famed Barranco Wall—an 850-foot headwall that requires hikers to scramble on all fours.
"My mom put me through six years of rock climbing lessons as a child, so I was in my element," Claudio recalled. "I was holding on to [Endure to Cure member] Ben's backpack and we were just scaling the rocks like nothing, finding footholds really quickly. I feel like that was the turning point where I knew I was going to be ok."
On Day 7, Sissel and Claudio hiked through wind, rain, and hail to reach the summit of Mt. Kilimanjaro. Underneath the worn wooden sign, they posed for photos holding an Endure to Cure banner, celebrating an accomplishment six years in the making.  
"For me it was amazing but it was also a very surreal moment," Claudio said. "I was thinking, 'Is this happening? Is this physically possible?' It was one of the greatest experiences of my life."
At home at BC
Claudio has trouble pinpointing the exact reason he chose to attend Boston College. There's the campus, which felt peaceful despite its proximity to Boston, he said, and the emphasis on interdisciplinary education, which encourages students to study outside their majors.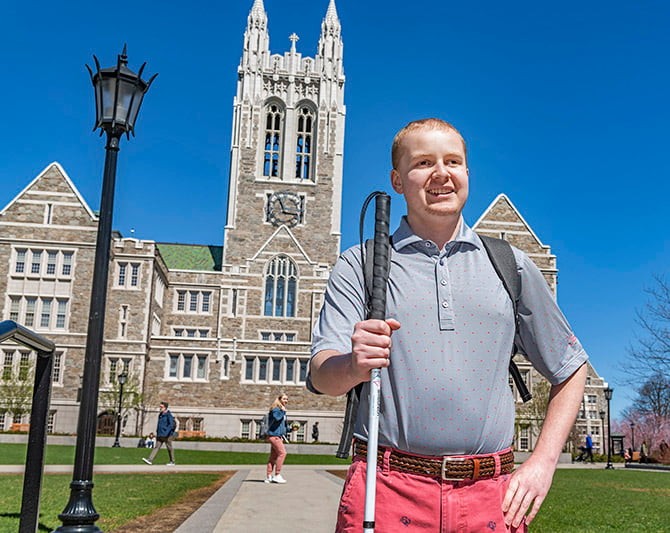 "The people were also a huge factor," he said. "There's a sense of community here, everybody watches out for each other and cares about each other. It's very different from other colleges I've been to."
Midway through his freshman year in the Morrissey College of Arts and Sciences, Claudio is busy with classes and extracurriculars. He's a member of The Common Tones of Boston College, an a capella group, and serves on his dorm's residential hall council where he's the vice president for student advocacy. He's double majoring in history and philosophy, with hopes of becoming a social studies teacher.
Claudio navigates BC's sprawling campus with ease thanks to summer practice sessions with an orientation and mobility specialist and a natural aptitude for committing routes to memory. He utilizes a notetaker in certain classes and is granted extended time on assignments when he needs it, but otherwise, his college experience is similar to that of his peers.
"I probably couldn't have asked for a better start to college," he acknowledged. "It's going pretty well so far."
Learning from the challenge
When he signed on to climb Mt. Kilimanjaro, Claudio wasn't exactly sure what to expect. He knew what the mountain meant to Sissel, who was midway through his first trek when he decided to quit his Wall Street career and start Endure to Cure. And he knew that making it to the summit would require him to push himself both physically and mentally.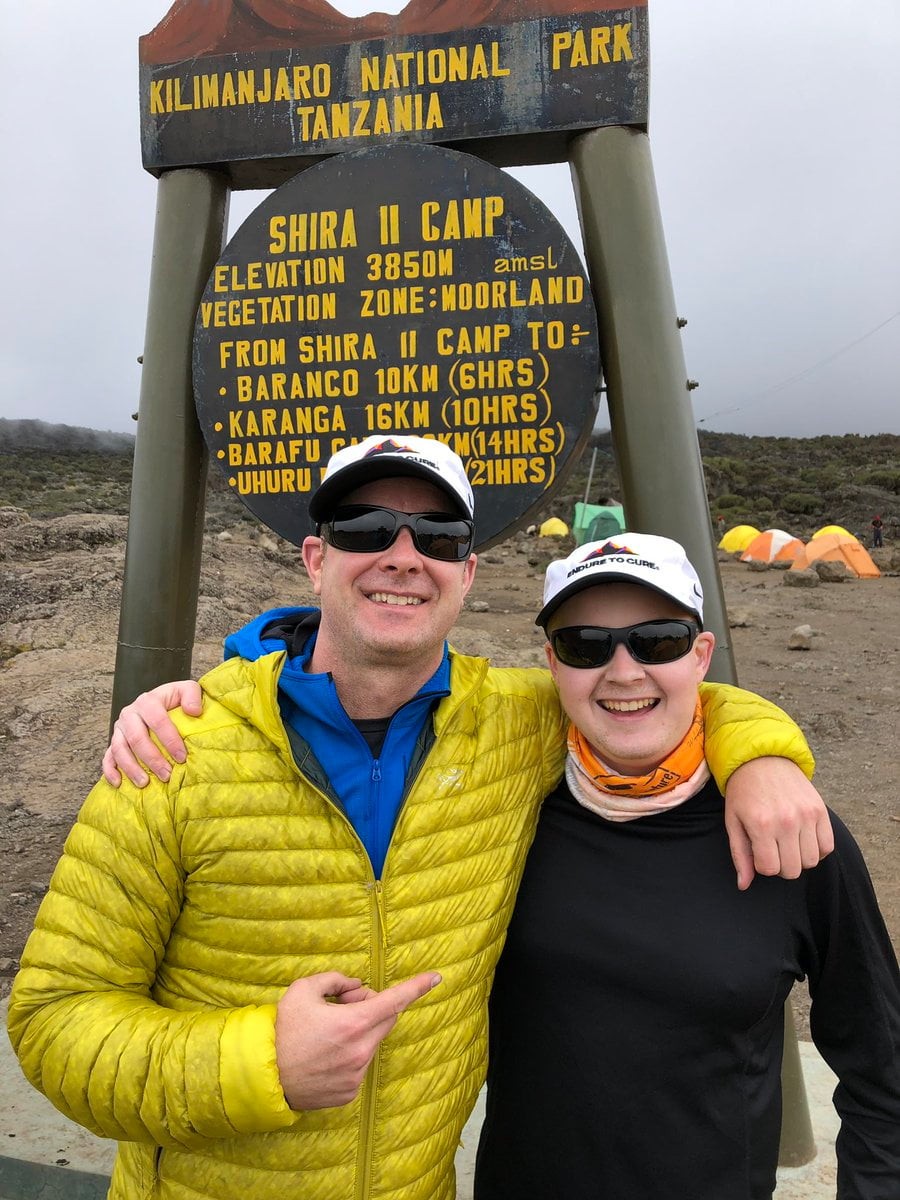 According to Sissel, the dual challenge is precisely what makes the trip transformative.
"That's what makes it special," he said. "When you're mountaineering you have to adjust and constantly adapt, otherwise you fail. I hope Nick looks back on this and remembers what he accomplished and that it gives him a sense of confidence in the unknown."
Although he's still processing what the hike meant to him, Claudio has noticed a shift in his perspective since returning to the Heights in January.
"Things don't seem as hard," he acknowledged. "I have this sense that I can do anything."
The experience reinforced something Claudio learned while undergoing treatment for cancer: setbacks are unavoidable, but how you handle them is within your control.
"I mean, stuff happens," he said. "There's no exception to the rule. There's no one person who isn't going to face challenges. But there's always a way out, and there's always a purpose to things, whether or not you can see it now. There's always something to be gained or something to learn from it."
—Alix Hackett | University Communications | May 2019