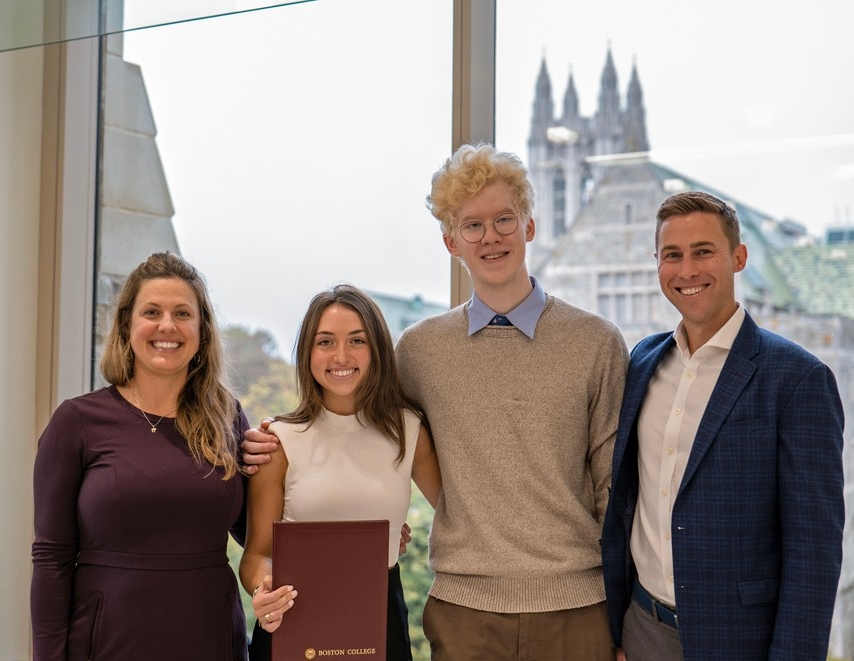 Jessica Kensky, Jennifer Castro '26, Ansel-Ikaei Kufta '24, and Patrick Downes '05. Kufta and Cate Cheevers '23 (not shown) are previous recipients of the scholarship. (Photo by Patrick Mills '24)
Jennifer Castro '26, a marketing major in the Carroll School of Management, has been awarded the 2022 BC Strong Scholarship, which each year celebrates a student with a permanent physical disability who has overcome adversity.
Castro, from New Fairfield, Conn., was born without a left arm below the elbow after developing amniotic band syndrome in her mother's womb.  She was named the sixth recipient of the scholarship, which was established by a group of 2005 BC graduates to honor their friend and classmate, Patrick Downes and his wife Jessica Kensky, who were seriously wounded in the Boston Marathon bombings in April of 2013.
At the October 25 ceremony at 245 Beacon Street, Director of Undergraduate Admission Grant Gosselin, who selected Castro for the scholarship, said she epitomized the spirit of "BC Strong."
"Each year after reviewing all of our applicants, we identify students who meet the qualifications of the BC Strong Scholarship and then bring them before the committee," said Gosselin. "This year was different. Jen came to us through Early Decision, and after I got to meet her and her parents and talk about her goals, we decided not to wait. She is an individual who is incredibly talented both academically and athletically, and who fits everything the scholarship is about. I am pleased that she has shared her gifts and talents with the BC community since her arrival this fall."
"

I wanted to focus on what I had and not what I did not have. I would not change a thing because I wouldn't be the person I am today without the obstacles I faced.

"

Castro shared her inspirational story of growing up facing the everyday challenges of her disabiliity—from riding a bike to tying her shoes—and the pain of being viewed as "different" at an age when every child wants nothing more than to blend in.
"As I would walk in my mother's shadow, I always seemed to pass the little boy or girl who would tug on their own mother and say in a loud whisper, 'Mommy, what's wrong with that girl's arm?'"
She ultimately learned to embrace her condition with the help of a loving family and supportive community to become a star athlete in lacrosse and basketball, captaining her high school basketball team at the Canterbury School in New Milford, Conn.
"My parents and older brothers have always supported me and taught me that I could accomplish anything I set my mind to," said Castro. "As a result, I wanted to focus on what I had and not what I did not have. I would not change a thing because I wouldn't be the person I am today without the obstacles I faced."
Castro credits the Wounded Warrior Amputee Softball Camp, which she was selected to attend at age nine, for giving her confidence after being in the company of 30 Wounded Warrior veterans and mentors who taught her the Wounded Warrior motto: "Life without a limb is truly limitless."
"At camp, I was immediately broken out of my shell by the Wounded Warriors and the 19 other kids who faced the same issues I had dealt with all of my life," she said. "For the first time, I felt like I was not alone."
Castro also credits the Canterbury School for providing a supportive community that enabled her to excel both in the classroom and in athletic competition, and to become a mentor for young kids with disabilities.
"After high school ended, I was afraid that I would never again experience the warmth that the Canterbury community provided me. However, here at BC, I have been welcomed into one of the best places I could be by a community that is just as warm. I can't wait for my next chapter to unfold at Boston College."
"

The BC Strong Scholarship has . . . raised in a profound way our awareness regarding disabilities, helped Boston College to make progress on accessibility, and welcomed great students to BC, including those we are recognizing today.

"

Downes praised Castro as an individual who exemplifies the mission of the BC Strong Scholarship.
"Jen's infectious spirit, resiliency in the face of obstacles, and determination to care for others breathes fresh inspiration into the mission of the BC Strong Scholarship," he said. "When you are in her presence you just know she is special and that she will leave a lasting imprint on any community she is a part of."
Downes and Kensky, who were joined at the ceremony by BC Strong founders Kevin Collins '05 and Elizabeth Stowe Fennell '05, also presented BC Strong certificates to the current scholarship recipients Ansel-Ikaei Kufta '24 and Cathryn Cheevers '23, whose award ceremonies were not held due to COVID-19 restrictions.
"After Jess and I were injured, my dearest friends got together to see how we could take the spirit of what we had received and spread it throughout the BC community," said Downes. "We have been the recipients of so much love, and we have challenged a lot of people to think differently about how we can make the communities we live in more welcoming, inclusive, and celebratory of all people. We wanted to bring that spirit here to BC, and each year we are so inspired by the BC students who are chosen for this scholarship. It has been exciting to see how the scholarship has also sparked new conversations and initiatives around making the Heights more accessible and welcoming to all, and we know there is much more to come."
Vice Provost for Enrollment Management John Mahoney said the scholarship and the examples set by its recipients have helped to improve the entire campus community.
"The BC Strong Scholarship has succeeded in doing three important things: It has raised in a profound way our awareness regarding disabilities, helped Boston College to make progress on accessibility, and welcomed great students to BC, including those we are recognizing today," said Mahoney. "We have seen the momentum. There is tangible progress that has been made, and it is only going to get better."
Jack Dunn | University Communications | November 2022