Kudzai Kapurura celebrates being named this year's MLK Scholarship winner. Photos by Flavio Debarros. 
Two years ago, at the Martin Luther King, Jr. Scholarship Banquet, Kudzai Kapurura '23 delivered a speech on a concept she's been thinking about ever since: "Lift as you climb." She returned to the theme at this year's banquet, where she was named the winner of the prestigious award.
"I would not be who I am if others had not lifted me," she said from behind the podium. "I am, we are, the accumulation of the knowledge, the experiences, and the wisdom of those around us. As I stand here, I look in the room at all the different people who have impacted me throughout my three years at Boston College."
The Martin Luther King, Jr. Scholarship is awarded annually to a junior demonstrating superior academic achievement, extracurricular leadership, community service, and involvement with the African American community and African American issues. This year's finalists included Lubens Benjamin, Tamara Hyppolite, Kapurura, Michael Martins, and E'Sachi Smalls. 
"These five individuals offer a powerful legacy and example to us about service," said University President William P. Leahy, S.J., who presented the award. "When I think about Dr. King, I think about a person who had an abiding sense of mission, and who had a sense of purpose that sustained him. We need people who can help inspire us, who can bring strength."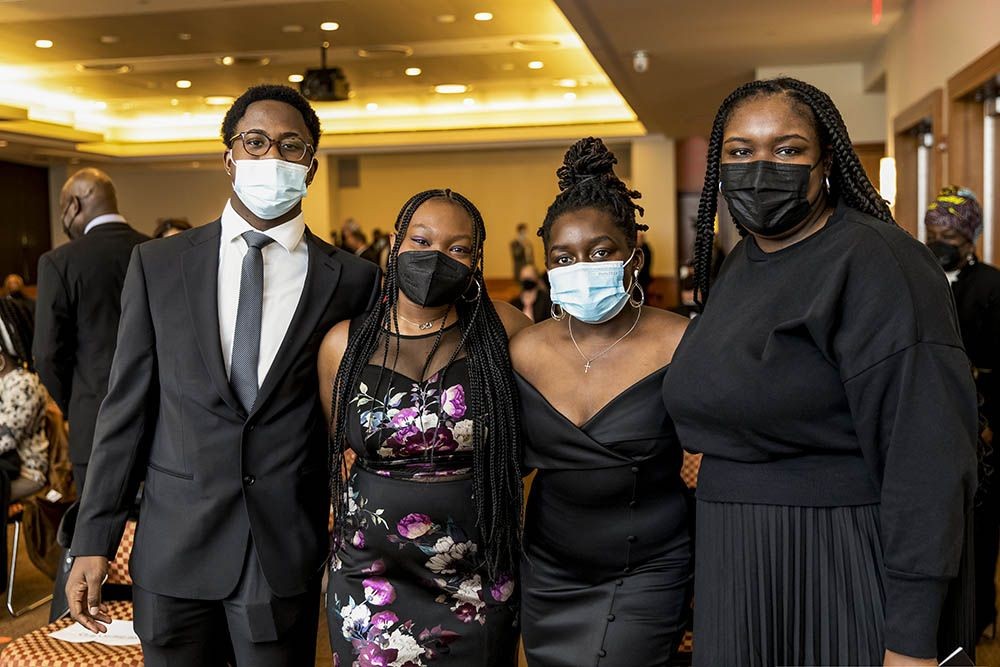 Kapurura, an economics major and African and African Diaspora Studies minor, grew up in the predominantly white city of Salem, Oregon, the daughter of Zimbabwean parents. She enrolled at Boston College in 2019 "ready to experience some diversity, some different cultures, some different people, different perspectives," she recalled. "I wanted to be in a place that was new, exciting, and fun."
She dove in headfirst, completing BC's Options Through Education program, designed to support first-year students who have demonstrated potential and leadership in spite of challenging educational and financial circumstances. OTE, soon to flourish under the umbrella of BC's new Pine Manor Institute for Student Success, helped Kapurura adjust to college life and build a network of support. Since then, she's become an ambassador for the Thea Bowman AHANA Intercultural Center, gone on a Magis Civil Rights Immersion Trip, and served as a facilitator for Courageous Conversations, a program promoting dialogue around racial justice. Last February, she served as co-chair for the Black History Month Opening Ceremony. 
Kapurura's personal mission, inside and outside the classroom, has always been to promote social justice. In high school, she served as a student advisor to the State Board of Education working on diversity, equity, and inclusion issues. And at BC, she chose economics as her major because it was centered around problem solving and, combined with her African and African Diaspora Studies minor, would equip her to combat the inequities she observed growing up. 
Kapurura's most powerful tool is her voice: a charismatic public speaker and talented writer, she won the title of America's Best College Poet in 2021 and has delivered two TEDx talks, one on racial stereotypes and another on how her bicultural identity has helped her pursue a meaningful life.  
"Kudzai has the imagination and vision of an artist and the practicality of an economics major," said Cooney Family Director of the PULSE Program Meghan Sweeney. "She uses her gifts and skills to draw people to her and build community as a leader." 
Kapurura plans to attend law school after graduation, and to continue to inspire others with her words, as Dr. King famously did with his "I Have a Dream" speech. In her acceptance remarks, she marveled at the power of oratory to break down barriers and ignite social progress.
"I stand by my mission to use my voice as a tool in the fight towards social justice," she told the audience, which included her parents. "It starts with a speech, with a word, and with a crowd willing to listen that history can be made."
Meet the other finalists for the 2022 Martin Luther King, Jr. Scholarship:
Lubens Benjamin, Boston, Mass.
Major: Marketing; minor in philosophy
A member of the AHANA+ Leadership Council, Benjamin has worked in the Student Summer Admissions Program and served as a mentor in both the Big Brothers and the Multicultural Leadership Experience programs. He also served as a leader in the Appalachia Volunteers Program and on a Kairos retreat. After graduation, Benjamin hopes to work on nonprofit campaigns that benefit educational programs in his childhood neighborhood.
Tamara Hyppolite, Tewksbury, Mass.
Major: Nursing; minor in psychology
An Options Through Education scholar, the Lift as You Climb and Bowman Advocates programs have been two of Hyppolite's most meaningful commitments while at Boston College. She has also participated in the Jamaica Magis and Magis Civil Rights immersion trips. After graduation, Hyppolite plans to pursue a Ph.D. in nursing, specializing in psychology, in order to treat children who are struggling with mental health while also educating parents on how to better help their children.
Michael Martins, Walpole, Mass. 
Major: Political science; minor in International Studies 
In addition to working at the Thea Bowman AHANA Intercultural Center, Martins is a mentor for the Boston College Democrats FLAME Mentorship Program and participated in a Magis Civil Rights Immersion Trip. Off campus, Martins was an intern for The Coalition for Social Justice, where he engaged in politics at the local level. He hopes to pursue a career in law or politics.
E'Sachi Smalls, Bronx, N.Y.
Major: Nursing 
Smalls cites her employment in the Office of the Vice President for Student Affairs, where she has worked since her freshman year, as among her most formative experiences at Boston College. She is also an MLE Mentor, the Head Coordinator for Nursing Outreach, a Student Ambassador for the Student Admissions Program, and a Bowman Advocate. She hopes to pursue a career in nursing, with a special focus on addressing health disparities facing Black women.
Alix Hackett | University Communications | February 2022