Despite a lack of arts resources in local schools, and the more recent educational challenges presented by the pandemic, Boston College Music Department part-time faculty member Barbara Gawlick has ensured that the lives of area youths are enriched through music.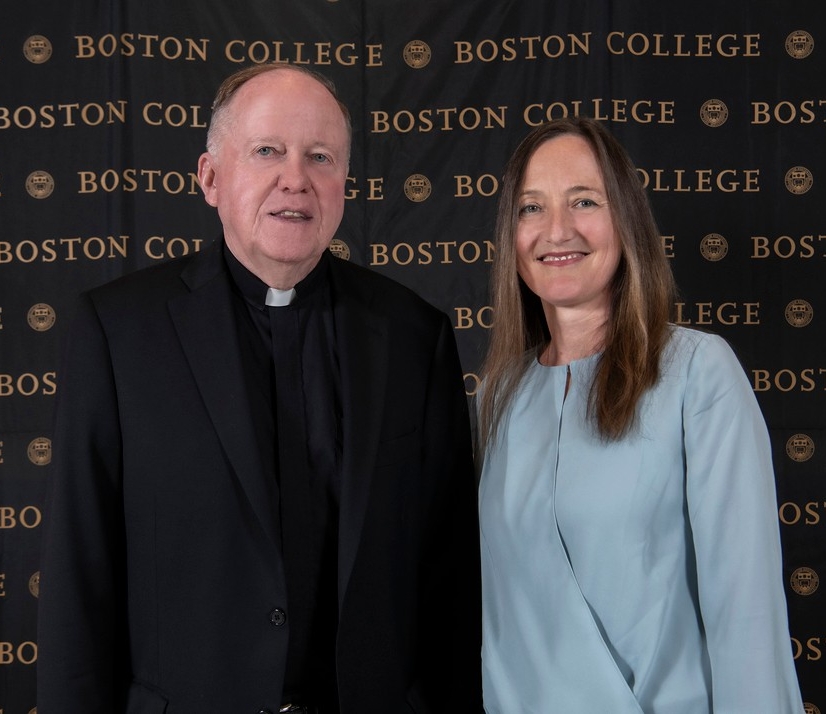 For her long-term service initiative—the Music Outreach Program, which she established in 2011 and has directed since then—she is this year's recipient Boston College's Community Service Award.
Organized by the Office of Governmental and Community Affairs, the award recognizes the outstanding contributions of a BC employee whose actions exemplify the Jesuit spirit of service to others. Gawlick received the honor from University President William P. Leahy, S.J., at a recognition dinner held on June 1.
Through the initiative, BC students provide weekly instrumental and vocal lessons to some 50 children and teens enrolled in schools located in the Allston and Brighton areas. In turn, the approximately 20 BC undergraduate and graduate students who participate annually gain valuable experiences.
"The Music Outreach Program has served as a critical lifeline in the education of hundreds of inner-city children, who otherwise would not have an opportunity to study music and experience its profound gifts," Gawlick said. "Along with the program's artistic mission, it also strongly aims to address issues of social justice and educational equality."
In a letter notifying Gawlick of her award, Director of Community Affairs William R. Mills, Jr. wrote: "We salute you for your labor of love that enables unprivileged children to be exposed to the beauty of music. As a specialist in early childhood music education, you conveyed your talents in schools that have limited or no music instruction, creating the Music Outreach Program with the presence of Boston College students so they could also get training on skill-learning public service opportunities."

Gawlick was nominated for the award by her colleague Jeremiah McGrann, a Music Department professor of the practice and assistant chair, who noted that MOP "directly addresses two important interrelated aspects of Ignatian education: a commitment to actively serve the community, and learning beyond the classroom. Remarkably, Professor Gawlick was able to maintain the program during COVID through virtual online lessons."
According to Gawlick, the program "fosters invaluable relationships between BC student volunteers and the kids they teach. BC students serve as instructors, mentors, and role models. Nothing illustrates our program better than the following statements reported by the most recent BC volunteers:
'After our second lesson, my student asked if she can take the violin home to practice.'
'Once my students learned "Old MacDonald," they could not stop playing it over and over again, with big smiles.'
'My students did not speak English, but we communicated through gestures and music.'
"Without the Music Outreach Program, hundreds of children would never know the feeling of pride and joy that comes from learning how to play and/or sing a song! In order to realize such musical goals, discipline and hard work on both the part of the student and the instructor are essential," Gawlick added.
The program—which serves students at Brighton High School, Gardner Pilot Academy, and Thomas Edison School—has received support from or collaborated with BC areas and local organizations, according to McGrann, including: BC's Institute for the Liberal Arts, Volunteer and Service Learning Center, Arts and Social Responsibility Project, and Music Department, as well as the Boston Cultural Council, Massachusetts Cultural Council, City Connects, and the BC Neighborhood Center.
More information on the program—and a BC documentary film titled Genesis, which highlights the program's success—is available at the department website.


Rosanne Pellegrini | University Communications | June 2022