Kent J. Wosepka, who served as a part-time faculty member in the Finance Department of BC's Carroll School of Management from 2017-2020, was killed after being struck by a vehicle while riding his bike with a group of cyclists in Liberty County, Texas, this past weekend.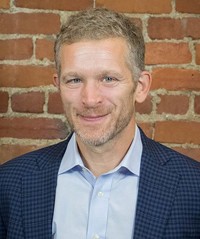 According to news reports, he was one of three cyclists struck by a vehicle on a cross-country trek on October 30. Another rider was injured in the crash but survived. Mr. Wosepka was airlifted to a hospital where he died on October 31, according to Liberty County's Bluebonnet News.

At the Carroll School, Mr. Wosepka taught graduate sections of Management of Financial Institutions from the fall of 2017 through the spring of 2020, according to Finance Department Chair Ronnie Sadka.
"Kent was a great guy and stellar teacher who was highly organized, and very popular with students," said Sadka. "He came to us after he retired from Goldman Sachs; right off the bat, he received fantastic teaching evaluations from his students. He stopped teaching in 2020 so that he could spend more time travelling, but he knew he could come back to teach here at any time. We extend our deepest condolences to his family and many friends."
Prior to coming to Boston College, Mr. Wosepka was a partner at Goldman Sachs, where he was the global head of corporate credit and co-head of sector allocation in Goldman's Asset Management Division. Prior to joining Goldman Sachs, he was the chief investment officer at Standish Mellon Asset Management Company. He also held analyst positions at Rowe Price-Fleming International and Jeffrey Slocum & Associates.
Most recently, Mr. Wosepka served as chairman of the Montserrat College of Art Executive Board of Trustees and on the Essex County Greenbelt Board.
He held an M.B.A. from the University of Chicago and a bachelor's degree from Williams College.
Mr. Wopeska was also an accomplished artist, whose paintings included images of places on Massachusetts' North Shore, such as Singing Beach in Manchester by the Sea and Derby Wharf in Salem.
He lived in Hamilton, Mass., with his three children.
University Communications | November 2021