Edward J. Kane, an internationally recognized economist specializing in banking and financial regulation who served as Boston College's inaugural James F. Cleary Chair in Finance, died on March 2. He was 87.

A highly cited author of three books and hundreds of academic articles, Dr. Kane was renowned as one of the few economists to foresee the savings-and-loan calamity of the 1980s, and pioneered the phrase "zombie bank" to describe an insolvent financial institution that is able to continue operating thanks to explicit or implicit support from the government.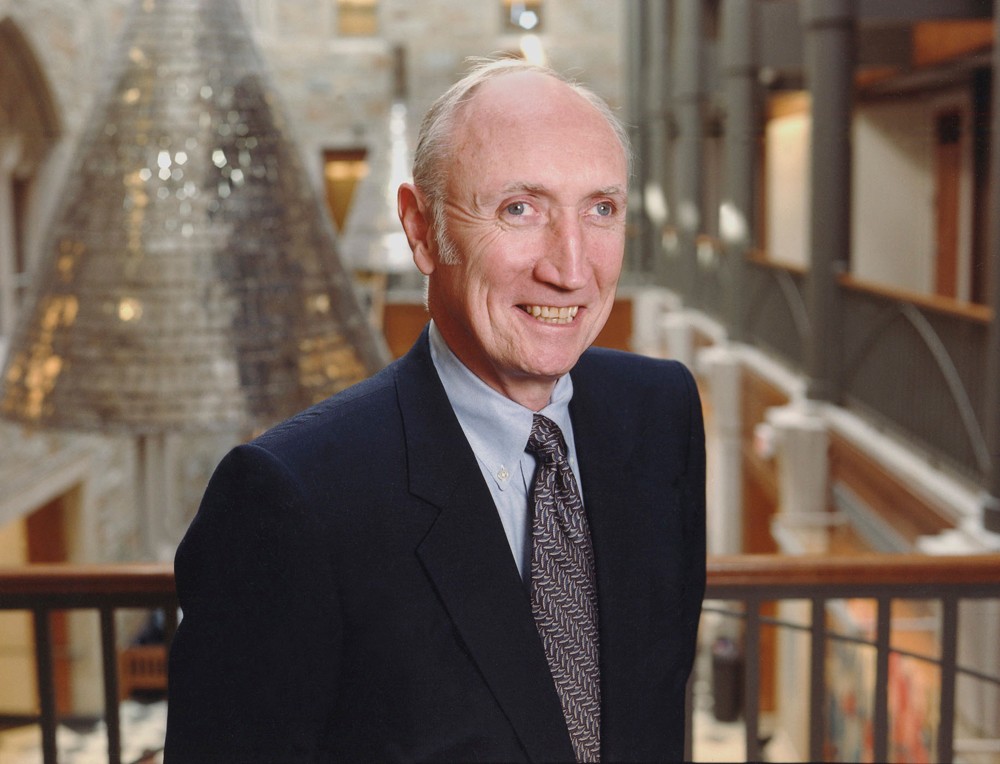 Dr. Kane served as an associate professor of economics at BC from 1966-1968, and as a professor from 1969-1972. He spent 20 years as the Everett D. Reese Professor of Banking and Monetary Economics at Ohio State University, then returned to Boston College in 1992 as the Cleary Chair in the Carroll School of Management. The chair's benefactor and namesake was James F. Cleary '50, H '93, a long-time BC trustee and active and innovative fundraiser.

"It's a place I've always liked and I feel it has grown even stronger since I was last here," said Kane at the time his appointment was announced. "Being able to return as holder of the Cleary Chair is an honor."

Welcoming Dr. Kane back to BC, then-Carroll School Dean John J. Neuhauser lauded him as "someone who has thought long and hard about the present and future of financial institutions and markets. In his earlier writings, he predicted some of the problems now facing the financial world, including the savings-and-loan crisis. We are most fortunate to have his expertise here."

As Cleary Professor, Dr. Kane taught undergraduate and graduate students and presented or organized public on-campus lectures, all the while continuing his analysis of the turbulent state of affairs in the banking industry. Another area of concern for him was federal deposit insurance: At the time he assumed the Cleary Chair, Dr. Kane—who consulted for the Federal Deposit Insurance Corporation—estimated the system's losses would cost taxpayers many billions of dollars.

Dr. Kane shared his expertise in a variety of settings and contexts besides classrooms and publications. He took part in a panel discussion—along with then-BC Trustee and American Stock Exchange President Richard Syron—at the landmark 1994 Boston College Conference on Financial Markets and the Economy. He also was frequently quoted in the media, appearing on radio and television shows such as "The MacNeil-Lehrer Report" on PBS and "All Things Considered" on National Public Radio.

In 1996, Dr. Kane was one of three faculty members who spoke about their professional and academic lives at a BC Trustees meeting: He noted that college professors are typically judged by the volume of their publications, how often they are quoted in the press, and by their invitations to address their colleagues, which all are traceable to the volume and quality of their research. But, he added, "a professor's legacy is not research, it's students. Research is only valuable to the extent it contributes to that legacy."

Among other honors and recognition, he was one of three co-winners of the 2002 National Association for Business Economics' Adam Smith Award in recognition of his work as a "shadow regulator" of the nation's banking system. He was a founding member of the Shadow Financial Regulatory Committee.
He served as a president and fellow of the American Finance Association, a research associate of the National Bureau of Economic Research, and a trustee and member of the Finance Committee of TIAA-CREF. He also consulted for the World Bank.

A native of Washington, D.C., Dr. Kane cultivated interests outside the financial world, including horror movies and comic books. He donated a substantial collection of the latter to the University's John J. Burns Library; the collection was subsequently utilized by students of Professor of History Heather Cox Richardson as the basis for a class project (including an exhibition and publication) that explored a range of cultural themes and trends in comic books reflecting major historical events and societal trends.

Dr. Kane earned a bachelor's degree in economics from Georgetown University and a doctorate in economics from the Massachusetts Institute of Technology. Before his first stint with the BC faculty, he taught at lowa State and Princeton universities. In 1972, he joined the Ohio State University, where he eventually became the Everett D. Reese Professor of Banking and Monetary Economics.

Dr. Kane was predeceased by his wife, Gloria Verde. He is survived by his children, Laura, Stephen, and Ted; granddaughter, Rachel Ruck; his brother, Dick; and sister, Mary.

A Mass of Christian Burial will be take place on March 13 at St. Thomas the Apostle Catholic Church in Tucson, Ariz.

University Communications | March 2023