On Friday, September 22, 2017, a dozen African-American men traveled from Delaware, Washington, D.C., Boston, and from their nearby offices to meet at a steakhouse in New York City's Meatpacking District. Graduates of Boston College, now in their late forties and early fifties, they were a stylish group: herringbone and pinstripe suits, gingham ties and paisley bowties, pocket squares of butterscotch yellow, Oxford blue, regal purple. Lawyers, bankers, entrepreneurs, businessmen, and above all, intimates for three decades, they were exuberant: extending bear hugs, laughter, photographs of their children, playful ribbing. "Here's the guy who really broke the black stereotype at BC: a 6'5″ tuba player," said Reginald Cadet '90 as Clifford Isaac '90 walked in. After half an hour, Martin Pierre '89, Ph.D.'02, the group's acknowledged leader, clinked his glass with a spoon and said, "Brothers, let's sit down and begin." And they sat down to dinner.
All told, the Talented Tenth, as they named themselves in the fall of 1986, consisted of 29 men who attended Boston College between 1985 and 1992. (All graduated but one, who left on account of illness.) They took their name from a phrase introduced almost a century earlier by the white Baptist minister Henry Lyman Morehouse—for whom Morehouse College is named—and a term later popularized by W.E.B. Du Bois. In The Negro Problem(1903), Du Bois called for a "talented tenth" of African-Americans to earn college degrees and "guide the mass away from . . . the worst, in their own and other races." The moniker had resonated with then-sophomore Martin Pierre. "Most of us were the first of our generation to go to college," he said. "Being in the 'Talented Tenth' made you feel part of the intelligentsia. It was about confidence, excellence, striving to uplift ourselves, our family, our race."
The years during which the Tenth attended Boston College were not easy times for young African-American men. The recession of the early 1980s had brought a record high level of black unemployment, 21 percent, and "the reappearance of a latent racism," according to Pulitzer Prize–winning historian David Garrow. End of decade surveys found that more than half of African-Americans believed that race relations had recently stagnated or worsened. Within private higher education, inflation and rising costs had become a barrier, as was a Reagan-era lessening of "commitment to equity as a social goal," the New York Times reported in 1985. Federal grants and scholarships for colleges and universities had dropped from $13 billion in 1975 to $5 billion in 1985. "The urgency of the 1960s and the steady growth of the 1970s are gone. Increasing minority access is no longer a front-burner issue," Georgetown University President Timothy Healy, SJ, told the Times in the same article. Moreover, reflecting tensions in society, racial incidents were on the rise at predominately white colleges.
In 1985 there were some 200 black undergraduates at Boston College. They made up less than 2 percent of the student body. A decade earlier, due to efforts that began with the founding of the Black Talent Program in 1968, African-American enrollment at Boston College had reached 400 students. "That was when America felt like it owed a debt to African-Americans," says Dan Bunch '79, MSW'81, who, like his sister, Charley May Bunch '74, was recruited from Alabama for the Black Talent Program. Bunch stayed on to run the University's Learning to Learn office for more than 30 years, preparing low-income, first-generation freshmen for college life, and he is today a special assistant to the vice president for Student Affairs. (Black Talent became the Office of Minority Student Affairs in 1976, and the Office of AHANA Student Programs in 1979. It has since evolved into the Thea Bowman AHANA and Intercultural Center.)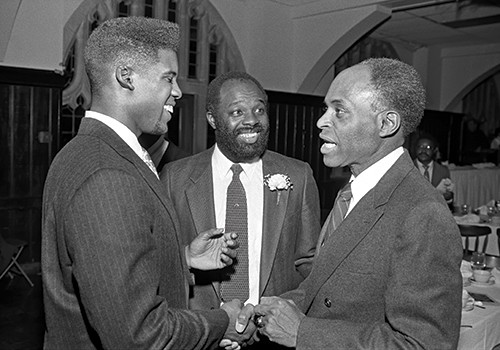 Boston itself was a problem for prospective black students and for local universities that were trying to recruit them. The city's court-mandated school desegregation, administered through busing in 1974, had fueled protest, violence, and white flight. In the fall of 1986, while the Talented Tenth was being founded on Chestnut Hill, some black residents in the Boston neighborhoods of Roxbury, Mattapan, Dorchester, Jamaica Plain, and the South End were campaigning to secede and form their own city, to be called Mandela.
"In the mid-1980s it was tougher for black [Boston College students]," says Bunch. The majority had been raised in impoverished communities and were first-generation college attendees. And aside from the Black Student Forum and a campus chapter of the NAACP, Boston College offered few social, political, or cultural "safe havens."
Of the 29 men in the Talented Tenth, five were recruited to Boston College as athletes, and most of the others had chosen the University because they were Catholic or were referred by the Catholic high schools in which they were educated. About half came from troubled urban areas in the Northeast.
Cliff Isaac, raised in Harlem, who came to Boston College from a Catholic high school, remembers that whenever he returned home on semester break his neighbors assumed he was back from prison. The crack epidemic was at its apogee, and "jail made more sense than college," he says. Michael Sanders '90, from Baltimore, had two brothers who were killed in gang-related shootings. The father of Jayson Taylor '89 was shot to death one night while closing his Brooklyn grocery store. The absent father was a common affliction. "We became our own examples of manhood," notes Martin Pierre, a Trinidad native who was raised in Brooklyn, and had been referred to Boston College by a priest at Bishop Loughlin Memorial High School, where Pierre was class valedictorian.
For many of these men, Boston College was the first predominately white community they'd engaged with. When Harlem native Kyle Edmonds '90 arrived at Upper Campus and looked out the window of his taxi, he was, he recalls, "terrified. I had never seen that many white people before in my life." Dwayne Royster, of Philadelphia, who arrived in the fall of 1987, remembers entering his room in Xavier Hall and "seeing the panicked look on [his roommate's parents'] faces as they realized their son was going to live with a black guy." Cliff Isaac recalls being the only black person in virtually all his classes. "You were viewed as an authority on race," he says, "but you're just a student."
Steve Pemberton '89, a New Bedford, Massachusetts, native who had salved a Dickensian childhood through a habit of reading books, recalls being questioned by two faculty members about papers he'd submitted. Pemberton began turning in handwritten papers, he says, so "faculty would no longer ask, 'Whose work is this?'"
Late in the 1985 fall semester, freshman Martin Pierre went to seek assistance and counsel from Dan Bunch and Donald Brown, director of the Office of AHANA Student Programs. A preternaturally mature young man, Pierre was already active in the University's NAACP chapter and a quiet leader among black freshmen, and he was aware of some of the racial issues they'd encountered. And he had his own story, a run-in with five hallmates he thought of as casual friends and who, late on Halloween night, visited his room wrapped in white bedsheets and carrying a rope. "I had felt that I had a connection [with them]," he says today, "and I was trying to understand where they were coming from. They thought it was a joke. I felt that once they were educated, they would appreciate how damaging that sort of behavior is." He visited each of the five students in the days that followed to explain how hurtful the prank had been, and why. Each apologized. He then invited them to a showing of The New Klan: Heritage of Hate, a 1978 documentary that Pierre had arranged to screen on campus. (The Halloween experience would play a role in moving Pierre's professional ambitions away from medicine and into clinical psychology, which he now practices with a specialty in black male trauma.) When Pierre saw Bunch and Brown a few weeks after Halloween, it was to ask if they would help him form a supportive community of Boston College's black men. Bunch and Brown did not discourage Pierre, but they told him he first needed to make an effort to meet and get to know as many of the University's African-American undergraduates as possible.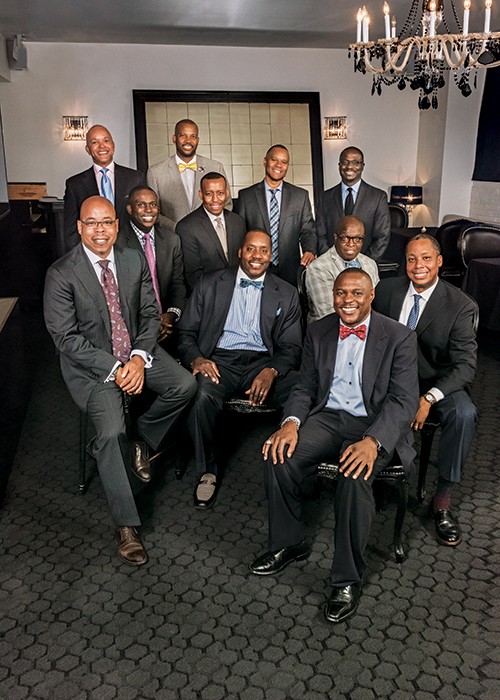 Pierre soon waved down Robert James '89, a light-skinned, mustachioed psychology student who "talked funny, which is to say he didn't have an urban swagger," says Pierre. James grew up in a suburb of Pittsburgh, his father a physician, his mother a teacher, and he brought a middle-class savvy to their friendship—at one point helping Pierre acquire a credit card. When Pierre's first purchase arrived, a fast-food delivery from a local restaurant for the two of them, the novice was shocked: "Oh, this is real money!"
Pierre also grew close to Steve Pemberton, a humorful, intense, and knowledge-hungry political science major. The son of a black father and white mother he never knew (as an adult, he learned his father was murdered and his mother died in a house fire), Pemberton had spent most of his youth in the charge of abusive foster parents. When he was in seventh grade, a guidance counselor gave him a Boston College admission brochure, and he was struck by the photographs of the Collegiate Gothic campus. In his 2012 memoir—A Chance in the World: An Orphan Boy, a Mysterious Past, and How He Found a Place Called Home—he recalled that he entered Boston College with his clothes in a "small, beat-up" suitcase, looking for "a future . . . and a family." (He found both: The head of human resources for the international firm Globoforce, Pemberton received an honorary degree from Boston College in 2015 and was named a trustee in 2016.)
In January 1986, Pierre returned to Brown and Bunch to say he wanted to found a campus club, in which black men could be at ease, and teach and support one another. It was Brown who suggested Pierre call the group the Talented Tenth. Pierre set about recruiting members.
---
Ten students attended the first meeting the following fall; Pierre adapted the agenda from a student leadership program he'd participated in at Bishop Loughlin. The sessions took place on Saturday nights, were three hours long, and each was directed by a student who would set an agenda, book a room, arrange for dinner, and begin the meeting by reading an excerpt from the civil rights canon or by speaking on a topic that Pierre had assigned, such as Is it true that mothers raise boys and fathers raise men?; When have you felt invisible?; or What does it mean to be a man? The other students then critiqued the speaker for content and style. "'Stand tall, look out in front of you, enunciate nouns and verbs, speak from your stomach': I can still hear the brothers calling that out to me when I give presentations today," says Herve Francois '90, founder of a real estate investment firm.
Tenth meetings were also devoted to conversation about public issues, from the Berlin Wall, to the 1988 ad that the George H.W. Bush campaign used to associate Democratic nominee Michael Dukakis with a black convict named Willie Horton, to Len Bias, who was drafted by the Boston Celtics in June 1986 and then overdosed on cocaine.
Personal matters were also on the agenda, though it took time for the young men to become comfortable talking about their lives. Said Michael Gaines '91, "Eighteen-, 19-year-old African-American males with our backgrounds aren't just going to open up to someone, let alone a fellow kid." Black men, says Pierre, have been "taught to keep our guards up at all times to prevent ourselves from being racially profiled. So we assume a defensive demeanor of cool. The downside of cool is not being able to connect." Meetings, says Cadet, were "no-judgment zones. . . . It was therapy." He adds, "We talked about the fragility of life. We navigated through the land mines, and kept each other on course."
The Saturday meetings would often end with an exercise Pierre called "areas for growth," when a member would volunteer to have his strengths and weaknesses assessed by the group. The Tenth "molded me as a clinician," says Pierre. "How I sit with black males in therapy I learned in meetings with the brothers. It's a way of being, an emphasis on shared experience."
Membership grew. "It was contagious," recalls Dan Bunch. "Students saw the Tenth's camaraderie, how they carried themselves with confidence, and they wanted in." Applicants had to submit essays to Pierre on their "life goals" and "leadership potential," and maintain at least a 3.0 GPA. "People are more invested when they have to work for something than if it's free," Pierre says.
Members of the Tenth wore blazers and ties to their meetings. They subscribed to Jet, Black Enterprise, and Ebony Man (a GQ for black professionals), and were receptive to Malcolm X's call to business lives, "wherein we will actually be able to create employment for the people in the community." Seven members majored in political science and 14 were in the School of Management. A majority are in private business today, working for large corporations. Pierre says, "Growing up in single-parent homes, most of us didn't feel we had the luxury to major in the arts. We were compelled by the need for financial stability, the accumulation of wealth to counteract oppression and racism, and [a responsibility] to give back to our families."
Their friendships came to extend beyond the weekly meeting. Members studied together in O'Neill Library. They lived together on campus and after graduating. They pledged to city-wide African-American fraternities that met at Boston University, Harvard, and Northeastern, which offered "a way out of campus life, a chance to have a life beyond," says Dan Bunch. They crammed into Pierre's rusted red Ford Tempo to get their hair cut at a Dorchester barbershop. They ate at Bob the Chef's in the South End. Over ham hocks, chitterlings, grits, and sweet potato pie, "we'd sit for hours, just to feel like we were in the community we grew up in," says Michael Sanders.
Says Michael Gaines, "If you haven't formed this kind of group during college, forget it. After college, you're just trying to do work and go home. But we were boys pushing each other to grow to men." Reggie Cadet says, "To this day, when most people call me out on something, I push back. When someone in the Tenth calls me out, I listen."
The Tenth, says Kyle Edmonds, "gave us confidence to open our wings." He and Darren Kirton '90 brought turntables and a mixer from New York and formed the DJ duo Kool Kyle and Destiny, playing hip-hop each weekend for parties that grew larger and more integrated over the years.
Members of the Tenth also made themselves a campus presence, cofounding the Caribbean Club and the Imani Temple, the latter a nondenominational African-American church group. They addressed racial bias in person and in the pages of the Heights. When the undergraduate government offered Oliver North $25,000 to speak on campus, Dwayne Royster countered with a letter to the editor suggesting UGBC instead invite Nation of Islam leader Louis Farrakhan. They helped each other campaign and win presidencies of the AHANA Caucus, the NAACP campus chapter, the Black Student Forum, and senate positions in UGBC. They brought Malcolm X's daughter Attallah Shabazz to campus to speak on civil rights complacency; invited black history scholar Manning Marable to discuss the dearth of minority faculty in higher education; and sponsored Afrocentrist psychiatrist Frances Cress Welsing to speak on "Racism and Mental Health."
Tenth member Jayson Taylor, along with Glenda Green '90 (now director of the Peace Corps in Swaziland), also created Project 2000, aimed at preparing minority students to enroll in college in the then-distant year 2000. On Saturday mornings members of the Tenth escorted some 40 black and Hispanic fourth-graders from Dorchester to campus, tutored them in math, reading, and leadership, and facilitated discussions modeled after Tenth meetings.
Their confidence buoyed, the men sought allies and friends across the University. Pierre invited Rev. Howard McLendon '75, a campus minister, to speak at Tenth meetings on how spirituality could counter oppression. Wayne Budd '63, H'13, the U.S. Attorney for the Commonwealth who would later go on to a noted career in business and private law, counseled them on negotiating corporate culture. Many members minored in black studies, where the late Amanda Houston, program director, showed them "our people's hands in history, and how we could shape history," says Kirton. Steve Pemberton found a personal guide in John Mahoney Jr. '79, director of undergraduate admission, for whom he would work as an admission officer for five years after his graduation. And when Pierre visited the infirmary one day seeking help for migraine headaches, he met Arnold Mazur, MD, then the director of Health Services. "He took a genuine interest in my story," says Pierre, "my fears of failure, my anxiety over letting my community back home down." Mazur's home in Newton was the first white person's house to which Pierre had ever been invited, and over the next years Mazur tutored Pierre in his science courses and encouraged him in his aspiration to become a counseling psychologist.
---
Martin Pierre was the guiding spirit of the Talented Tenth, and after he graduated in 1989 students seldom recruited new members. By 1992 the campus-based organization had disappeared. The group, however, was only getting started. "I don't think we knew it at the time," says Cliff Isaac, "but you're in the Tenth for life."
Each July throughout the 1990s, Pierre organized a full reunion in the Martha's Vineyard town of Oak Bluffs, a vacation spot for African-Americans since the late 1800s. It was another taste of the black middle class to which Robert James had introduced Pierre, and Pierre saw in it "a place where brothers could enjoy their success together, and reflect on their paths ahead." In 1991, the first year, 20 men took up "every square inch" of the four-bedroom cottage they'd rented. "Getting together, we just felt so good about our situation, but we also kept challenging each other," says Robert "Bobby" Moran '91. They critiqued each other's law and business school applications on the porch; strolled down Circuit Avenue together, blasting Montell Jordan's "This is How We Do It" on a boombox; befriended graduates of Georgetown, Howard, and the Ivies, some of whom became unofficial members of the Tenth. "They saw how rare our bond was," said Gaines, "and wanted some of our magic."
Boston College Magazine reported on the Talented Tenth's 1995 summer reunion ("Brothers," Fall 1995). That story ends in their rented gingerbread cottage, as Moran, sitting in a rocking chair, predicts the future. "We'll go to one another's weddings. . . . In just a few years, instead of having one house, we'll have one house here and one over there and one over there. Our kids will be running around the yard."
Moran's prediction wasn't far off. Members of the Tenth have been best men and groomsmen at one another's weddings. They are godfathers to one another's children. Their families have vacationed in adjacent homes on the Vineyard. Close to three decades after they graduated, they remain a network of personal, legal, financial, and medical advisors—counselors, and confidants.
Martin Pierre was Michael Gaines's best man, and is the godfather to his first-born son, Cristian Martin Gaines. "When I think about who are likely to be my pallbearers, I always see Michael," said Pierre. "It's scary how he knows what I'm going to say before I'm going to say it." "He knows me as well as I know myself," said Gaines. "He lets me drop my armor."
"There's an old African proverb we subscribe to," said Pierre, "I am because we are. And because we are I am. We are all inextricably connected to each other. So I have no choice but to do well because my brothers are doing well."
---
 By contrast with 1985, African-American students on the Heights now are 4.3 percent of the student body. The Office of AHANA Student Programs, with a staff of two in 1985, is part of the Thea Bowman AHANA and Intercultural Center, with a staff of six and more than two dozen affiliated faculty and administrators. It sponsors undergraduate retreats, mentorship programs, cultural events, and scholarships "to promote equity, build community, and support opportunity," in the words of its vision statement. In 1985, the retention rate for African-Americans at Boston College was about 75 percent; in 2017, it was 95 percent, the same as for white students. The Black Studies minor program, which fielded 18 courses in 1985, has evolved into the African and African Diaspora Studies minor and independent major, which this academic year offered 34 courses. The number of black full-time faculty has grown from eight in 1985 to 25 today. And, in an echo of the Talented Tenth, a group of AHANA men called Dedicated Intellectuals of the People (DIOP), which Pierre, Bunch, and Donald Brown founded in 2000, as well as a group of AHANA women, called Sisters Let's Talk, meet regularly to discuss politics, faith, and other subjects.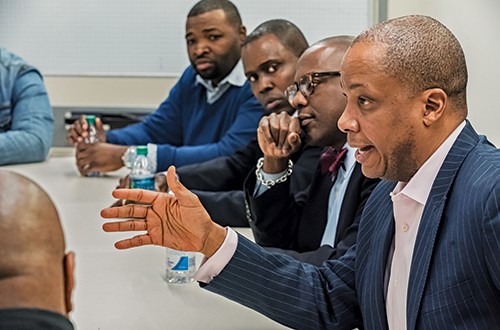 But racial issues arise in the present as in 1985. Last October, two "Black Lives Matter" signs taped to student doors in Roncalli Hall were altered one night by a person who wrote "Don't" above the space between "lives" and "matter"; and late one night soon afterward a student posted a soon-to-be-infamous Snapchat image of a charred sandwich, with the caption, "I like my steak and cheese like I like my slaves."
"What's happening now has always happened to black students in this country," says Dan Bunch. "But two things are different today." One, news spreads instantly. And, notes Bunch, whereas black students led most protests in the 1980s, today there's a "concerted response." Follow-ing the incidents in October, more than 2,000 students, faculty, and staff participated in a "solidarity march" across Middle Campus and down Commonwealth Avenue, followed by a rally and speeches on Corcoran Plaza.
At the Tenth's September dinner in New York, the conversation went on into the early morning hours, flowing naturally from buoyant to solemn to comic and back: in one moment, careers; in another, taunts over a legendary 1989 pickup basketball game in the Plex; in another, inside jokes about escapades during a shared vacation 25 years earlier. The men talked about their children, saying that their sons and daughters live in a more disturbing racial climate than they themselves experienced when they were young. Racial strife "wasn't as front and center then as it is now," said Francois. He cited social media, mandatory minimum sentences, the 2016 election of Donald Trump, and the rising voices of white supremacist groups. Francois's two sons attend suburban New Jersey Catholic schools, "but they are not sheltered," he said, recounting that in the wake of a recent police shooting of an unarmed black teenager, his 13-year-old son had asked, "Dad, should I go to school today?" Many of the men around him nodded silently. "Damn," said James Jean-Pierre '90, the father of a nine-year-old boy.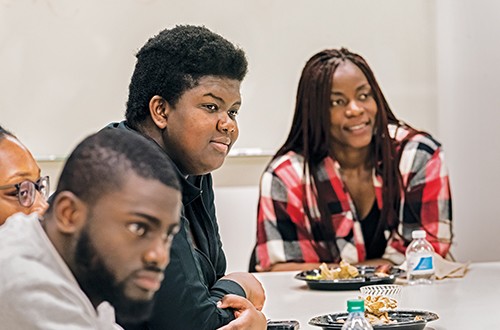 Some of the men in the Tenth now have children nearly as old as they were when they entered Boston College, and their talk turned to the higher education decisions that they were about to encounter. Some felt that predominately white schools would be better for their sons and daughters, teaching them how to get on in a predominately white society. Cliff Isaac, who grew up in Harlem, said he felt it had been "necessary" for him to go to a predominantly white university. "But," he added, "one would argue that our kids should go to an HBCU [historically black college or university], because unlike us they've been around white people since kindergarten."
Wherever their children graduate from, said Francois, "They'd have a faster, straighter path to the top if they go out on their own, rather than working for Fortune 500 companies." Echoing a sentiment expounded by American black leaders since emancipation, he urged, "Start your own business; do your own thing." Amen, several men responded.
Nearly six months later, on March 1, Francois drove up from his home in Lawrence Township, New Jersey, to join Pierre and Gaines and a few other AHANA alumni for a panel discussion with students from DIOP and Sisters Let's Talk. The undergraduates asked mostly for career advice. How do you deal with being doubted or overlooked as a minority in your job? How do you challenge the status quo at the office? How do I balance my desires to be socially responsible and financially secure? The Tenth panelists stressed self-advocacy: "When you're not being given the opportunities you deserve," said Francois, "you have to leave. You have to leave." But most often, they counseled students to find friendship and support wherever they studied or worked.
Recalling the members of the Talented Tenth who turned out for his mother's wake during his freshman year, Gaines said, the friends who do that "will guide you through the setbacks of that first job, and will be the ones you celebrate that next job with. They are the ones who help give meaning to it all."
---
The Talented Tenth today
Douglas Able '91—Residential real estate investor, Atlanta
William Anderson '91—President of a marketing software and data mining firm, Chicago
Corey Beasley '91—Business development specialist for the city of Washington, D.C.
Chad Bishop '91—Territory manager, ConMed, Washington, D.C.
Reginald Cadet '90—Market development manager, Johnson & Johnson, New York City
Joseph DeJames '90—Family and emergency medicine physician, St. John, U.S. Virgin Islands
John Downing '91—Consultant, The Powers Company; Lt. Col., U.S. Army Reserve, Hampton, Georgia
Kyle Edmonds '90—Attorney, New York City
Saadiq El-Amin III '92—Orthopedic surgeon, Duluth, Georgia
Herve Francois '90—Real estate investor, Lawrence Township, New Jersey
Michael Gaines '91—Biotech marketing executive, Newton, Massachusetts
David Gay '89—Fourth grade teacher, Zionsville, Illinois
Clifford Isaac '90—Territory sales manager, Publicis Touchpoint Solutions, Morrisville, Pennsylvania
Robert James '89—Diversity program manager, Highmark Health, Pittsburgh, Pennsylvania
James Jean-Pierre '91—Regional account director, AstraZeneca, New York City
Darren Kirton '90—Attorney, Jersey City, New Jersey
Norman Lippett '91—Audit product manager, Caterpillar Inc., Peoria, Illinois
Anderson Manuel '90, M.Ed.'93—Third grade teacher, Sudbury, Massachusetts
Robert Moran '91—Senior associate director of critical care, Bellevue Hospital, New York City
Bernard Patnett '91—Fleet supervisor, Environmental Health Inc., Boston, Massachusetts
Steve Pemberton '89, H'15—Chief human resources officer, Globoforce, Chicago
Martin Pierre '89, Ph.D.'02—Counseling psychologist, Boston; staff psychologist, Brandeis University
Eugene Redd '91—Cofounder, Marriage Mentoring Network; senior sales manager, FedEx, New York City
Robert Ross '91—Managing partner, MV Sports Management, New York City
Dwayne Royster, EX'91—Political director, PICO National Network, Washington, D.C.; senior pastor/founder emeritus, Living Water United Church of Christ, Philadelphia
Michael Sanders '90—Commercial fleet manager, Toyota, Dallas
Raymond Sykes '90—Attorney, New Haven, Connecticut
Jayson Taylor '89—Attorney, New York City
Chandler White '90—Pre-college program counselor, Atlantic Technical College, Coconut Creek, Florida