Gilli Rozynek '20 and Morgan Biles '21 outside their first Kured location in Beacon Hill. Photos by Lee Pellegrini. 
Millions of people have posed under the iconic archway of New York City's Washington Square Park, so to announce the grand opening of their nearby charcuterie shop, Kured, Gilli Rozynek '20 and Morgan Biles '21 got in on the trend. But instead of smiling faces, Kured's 11,000 Instagram followers were treated to an image of a paper cone of meat, cheese, and olives.
Cue the fire emojis.
Charcuterie boards have been a staple of dinner parties and cocktail bars for the last decade, but Kured, which opened its first location in Boston's Beacon Hill neighborhood last year, offers a more accessible (and affordable) way to get your meat and cheese fix. Following the build-your-own model popularized by chains like Chipotle and Sweetgreen, the store gives customers complete control over their creations, whether they're looking for a single-serving snack or picnic fodder for 10. A rotating menu of ingredients includes everyday staples like genoa salami and mild cheddar, delicacies like duck prosciutto and pomegranate whipped ricotta, and everything in between.
The idea for Kured was born during Rozynek's junior year abroad in Madrid, where she and her friends adopted the local tradition of sharing plates of Spanish cheese, ham, and snacks while indulging in hours-long conversations. A year later, after graduating from the Carroll School of Management with a degree in marketing and applied psychology, Rozynek was quarantining at home during the pandemic with her parents, wondering if the 9-5 job she'd accepted in New York was going to be a good fit, when she noticed a LinkedIn post advertising a summer accelerator program for BC entrepreneurs. The program, SSC Venture Partners, was founded by BC alumni, and provides workshops, coaching, and $10,000 in funding to help students, alumni, and employees of the University turn their start-up dreams into reality.
Rozynek applied to the program and pitched an idea for an e-commerce charcuterie business, before pivoting to a brick-and-mortar concept thanks to insights gained through the SSC network. With funding from the program and other BC investors, she opened Kured's first location on Beacon Hill in June of 2021.
From the beginning, Rozynek knew she wanted Kured to be a business that merged food, art, and conversation. The store's location near Boston's Public Garden made it the perfect stopover for friends and family heading out for a day in the sun, and Rozynek hired artist Henry Dunkelberger '20 to paint a striking 11-foot mural of a rainbow-breathing dragon on the store's wall ("I knew it would get people talking," she said). Both Kured locations now have a program in place where rotating local artists receive wall space as well as the chance to design a seasonal charcuterie box and receive a portion of its profits.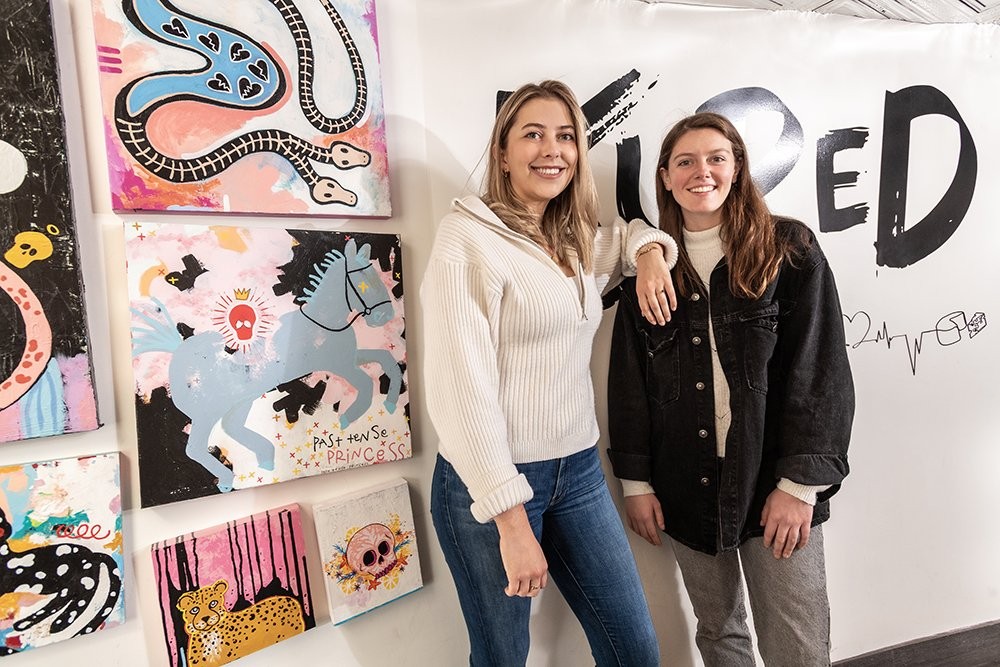 "There are a lot of synergies between charcuterie and art," explained Rozynek. "I wanted the store to sell a product that powered conversation but also be a place where artists can speak and showcase their work and be compensated properly for doing so."
Kured's custom charcuterie model proved immediately popular, prompting Biles, a political science and communication major, to apply for a job there shortly after graduating. She and Rozynek later became partners, and returned to their BC contacts at SSC to apply for a second round of funding to expand their business. Between in-store sales, catering gigs, and appearances at pop-up markets around the city, Kured was already showing signs of outgrowing its 700-square-foot space.
"We realized the demand was there, but we weren't sure how many Kureds Boston could hold, so we said, 'Let's go to New York,'" recalled Rozynek. "It's the epicenter of everything, which was very exciting."
She and Biles began touring spaces in January 2022, and signed a lease on a Thompson Street storefront in Greenwich Village. At the same time, Rozynek started the process of relocating to Brooklyn, with Biles staying on in Boston. In December, Kured NYC opened its doors, becoming the city's first "BYO charcuterie shop" and, its founders hope, an integral part of the local community, inspiring neighbors and friends to come together over delicious food.
"It's all about the people," said Biles. "In Boston, for our first anniversary in June, we put up a blank artist wall for people to draw on, and there were so many customers who came in who were excited to celebrate with us. It's such a good feeling that people know who we are and what we've built."
Alix Hackett | University Communications | January 2023