In 2014, Gale Straub '08 left her accounting job at a venture capital firm and embarked on a yearlong camping and hiking trip with her partner. That led to she-explores.com, a site Straub created where women share their outdoor experiences. Her She Explores podcast, meanwhile, has generated rave reviews (it made Outside magazine's list of top outdoor podcasts), and her book by the same title was released in March.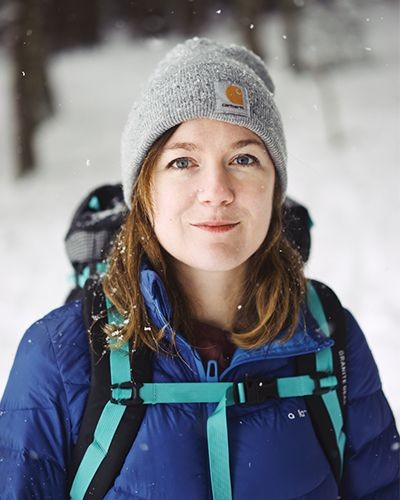 PASSION PROJECT
There weren't a lot of resources for women interested in hiking and camping, so I thought, why not create something? I didn't know it would turn into what it has. It was just an opportunity to work on something I was passionate about.
TELLING STORIES
We've done over 125 episodes of the podcast, featuring hundreds of women. One talked about how she feels safest when she's alone in the backcountry, camping. That's counterintuitive to the messages women are usually told. But by hearing these voices, other women might be inspired to try a new activity.
BEST JOB EVER
It's allowed me to dabble in different creative mediums—a short documentary film for REI, writing for places like Vox and the Appalachian Mountain Club. I also get to go on backpacking trips with people I otherwise wouldn't have met.
Kelly Freund | Boston College Magazine