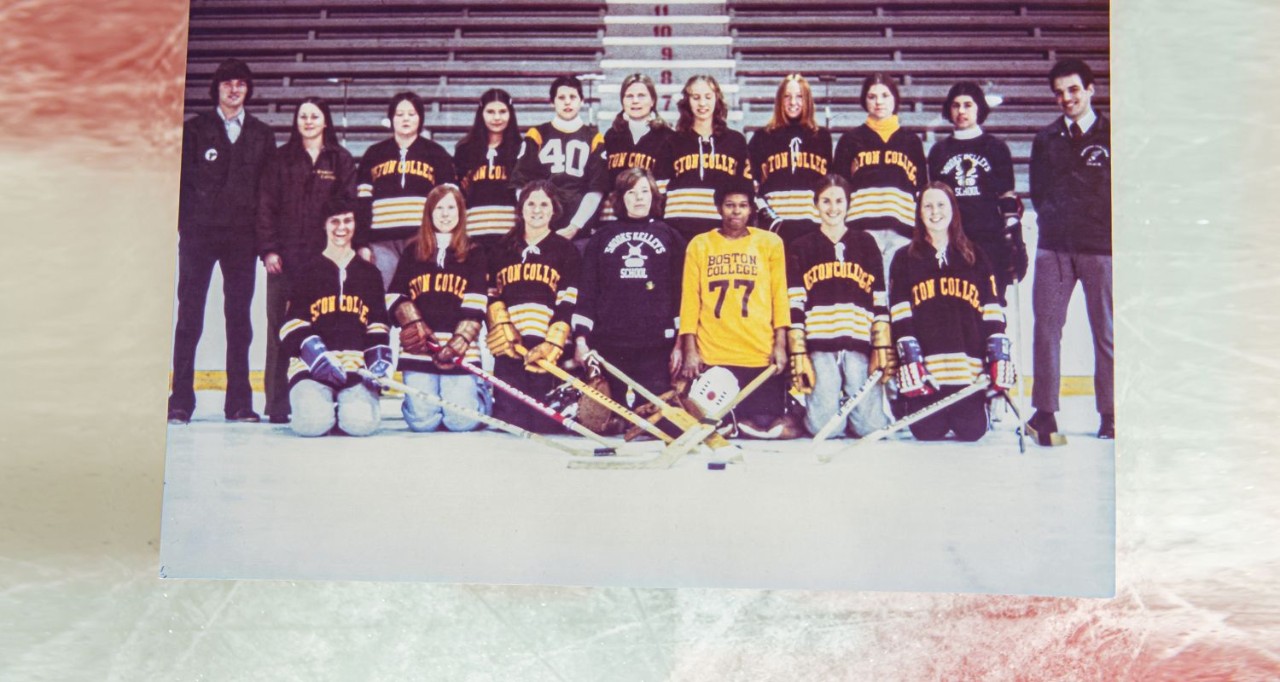 Over the past dozen years or so, the Boston College women's hockey team has become a juggernaut, making seven Frozen Four appearances and winning three Hockey East championships. There have also been eight Beanpot titles in the program's history. It has become difficult, in other words, to imagine BC without a women's hockey team. When Reenie Baker arrived on campus in the fall of 1973, however, it wasn't difficult at all—there wasn't one. Not that this fact came as a surprise to Baker. It was the reason she'd chosen BC in the first place.
Baker was raised to love hockey. She grew up on a farm in upstate New York, where her father, a professor at Cornell and an obsessive fan of that university's men's hockey team, encouraged his five children to get out and play once the pond froze each winter. When Baker's older sister, Reggie, enrolled at Cornell, she started a women's hockey team. Baker was a high school junior at the time, but she already knew that someday she would do the same. "I had planned to go to college somewhere in the Midwest," Baker recalled, "but then my sister and I went to the men's ECAC tournament in Boston, where BC played against Cornell. I remember BC beat Cornell and I looked at Reggie and said, 'I'm going to go to Boston College. And I'm going to start a women's ice hockey team there.'"
Baker managed to do exactly that, though the process would prove far more daunting, and frustrating, than she'd ever imagined. What follows is the story of how Baker and a courageous group of future nurses and teachers—along with the help of a certain BC hockey legend—came together to overcome administrative intransigence and found what would eventually become one of the marquee programs of collegiate women's hockey.
[Editors' note: We owe a debt of gratitude to Karen Given, executive producer of NPR's Only a Game, whose radio story first brought Reenie Baker to our attention.]
---
Reenie Baker '78, team founder: I started as soon as I got there. Like, the second day, I went right down to the ice rink and said, "I want to start a women's ice hockey team. How do I go about doing it?" They referred me to Snooks Kelley. I don't know why he was there, to tell you the truth. I'm not sure what he was doing.
Reid Oslin '68, former BC director of sports information: John "Snooks" Kelley was a BC hockey legend. He'd won a national championship, won all kinds of trophies and awards. The rink in Conte Forum is named in his honor. Anyway, he retired after the '72 season, when BC was in very poor financial condition—I think that's one reason they started opening the doors to women students in 1970. When Snooks retired, Athletic Director Bill Flynn—he loved Snooks, he'd played for him on the men's team—made a job for him, special assistant to the athletic director. He had a little office down in the McHugh Forum, which was the old rink. He used to just sit there and hold court.
Reenie Baker: I told Snooks my idea for a women's team and he was so supportive: "This is a great idea! Let's do it." So I thought it wasn't going to be a problem. But when I went to the people in the athletics department, I became very discouraged. They said, "This is going to be hard. It's going to be hard to get you ice time." I went back to Snooks, and he would just pick me up and say, "Nope, come on. This is what you've got to do next." When they told us they couldn't supply us with equipment, he said, "Tell him I have a few things here that I can let you guys use. If they say you can't have ice time, tell them I can figure that out."
Reid Oslin: Snooks became hockey coach in 1933. It was during the Depression and BC was on the verge of going out of business, so they cut way back on their athletic program, including hockey. University President Louis J. Gallagher, SJ, said there could be a team, but there'd be no financial support and no equipment from the University. So they wound up wearing the football team's old jerseys. So Snooks knew what it was like to have to work to get a team.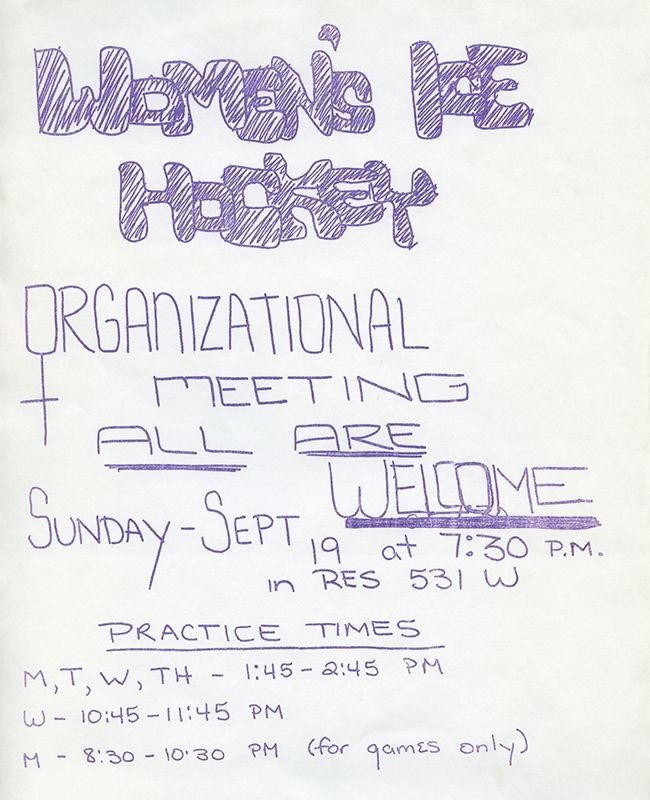 Reenie Baker: Title IX had just been approved in 1972, so the doors were opening to women. In my high school, the only women's sports were field hockey, and maybe basketball. I was thrilled that schools could not discriminate against us anymore, that they had to do something for us when we wanted a team. I pulled the Title IX card many times with the athletic department—"You can't tell me no!" I think that was irritating to them. I kept trying to get them to give us varsity status. They were saying it was too expensive and we had to start as a club team. I finally accepted that just to get to play, but I never stopped pushing for varsity status. Anyway, my dorm friends got excited about the club team and said, "We're going to help you any way we can." We called them our managers.
Patti Dolcetti Clements '77, team manager: Freshman year, I lived across the hall from Reenie in Claver. When she decided to start the team, I guess she thought I could handle the management aspect of it.
Reenie Baker: I was in the education school, so I had access to a Xerox machine. I made all these posters—Are you interested in women's ice hockey? Come to a meeting at the rink. I wrote it out and then Xeroxed it, and we took tape and hung them all over campus.
Charlene Rose Gottlieb '77, team member: I was in the nursing school and half of our school were commuters. We saw the flyer in the commuter lounge. So we went down and met up with Reenie. I think six members of the team were nursing students.
Reenie Baker: I didn't know if two people were gonna show up, but we got maybe twenty who came to that first meeting. In those days, women either became teachers or nurses, so the whole team was either teachers or nurses. The rules were that club teams had to be open to staff, so we invited staff to play. We needed them, though. We didn't really have enough to be a team at first, and the ones we did have, most of them were figure skaters and they wanted to do anything they could just to keep skating. They had no hockey skills.
With the roster set, the new women's hockey club held its first practice.
Charlene Rose Gottlieb: We got on the ice and we…it was just chaos! There were figure skaters—literally, there were women that were just practicing their jumps.
Carol McCarthy '77, team member: I had no idea what I was doing. There were no skills.
Charlene Rose Gottlieb: I was having such a hard time even staying on my feet. You gave me the puck and I'd manage to get down the ice. I was a field hockey player so I had a good shot. Then I'd fall down. That's how I would stop.
Reenie Baker: We had the figure skaters with no stick skills, and then there were the field hockey players with the stick skills but no skating skills. Most of them were in figure skates. We let them wear them because that's all they had.
Carol McCarthy: The big difference is a figure skate has pricks in the toe of the blade so you can stop. You can push yourself off with that on the ice. You do that with hockey skates, there's nothing there. You fall down, because there's nothing to push off. It's a whole different kind of skating.
Eric Pfaff '74, team coach: There was a lot of gliding and doing ring turns, as opposed to starting and stopping as you do on hockey skates. Running into each other was kind of inevitable because of the inability to stop once they got going, especially in the figure skates. It was sort of a roller derby type of experience.
Reenie Baker: We were terrible. At our first game, the opposing team won the opening face-off and the puck slid all the way down to the goalie, and it just went right in the goal.
Patti Dolcetti Clements: I remember somebody at the BU game handing me some sort of diagram. As manager, I was supposed to keep stats of the game while it was going on. I had no idea how to do that. I mean, not a clue how to do that.
Charlene Rose Gottlieb: But Reenie just stayed calm and gracious. She was the anchor. She knew how to skate and she knew how to play hockey, but she was so humble. She was extremely encouraging. She knew I skated horrendously, but she would tell me, "You have an amazing slap shot." She saw the potential in everybody, that we could become a team.
When the first season concluded, it was reasonable to wonder whether there would be a future for the team. But the following year brought a surprise.
Reenie Baker: My first year, we didn't have enough players for a team. But when we went into the next year, we had plenty of women interested, and the staff members stopped playing.
Eric Pfaff: These were Massachusetts people, a lot of them, and this was in the height of the Bobby Orr hysteria. Everybody was a Bruins fan and a hockey fan.
Kathryn O'Leary '79, team member, and later coach: I grew up in Hopkinton, Mass., and I was a product of the Bobby Orr era.
Carol McCarthy: I was number four—that was my number—and I played defense. I was Bobby Orr!
Reenie Baker: We had more women the second year, but the athletic department still wouldn't give us varsity status, and they wouldn't give us equipment.
Sandy Chevrette '77, team member: Snooks Kelley got us some old shirts from the boys, the smelly old shirts, and that was pretty much it.
Gail Risti Young '79, team member: One of the shirts, the Eagle was sewn on inside out. Our team got those shirts.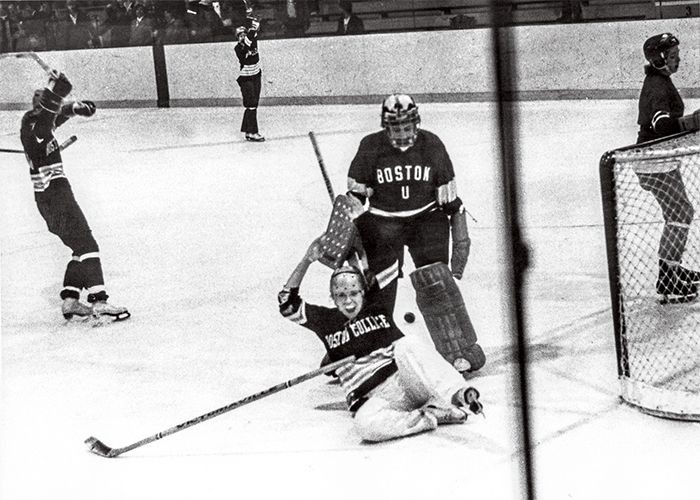 Sandy Chevrette: We had to buy everything else, or get stuff from friends. Because they gave us nothing. And it did create a little bit of anger. I have our team picture, with all the ragamuffin—some of the shirts don't match. We just kind of looked like we were playing street hockey on ice.
Kathryn O'Leary: A lot of girls didn't even have hockey pants. They played in sweats with their shin pads underneath and did their best to tape the outside of the sweats so they would at least work with the shin guards.
Sandy Chevrette: We also had trouble getting games, so we sometimes played junior highs and high schools—boys teams. We went against the Fessenden School from Newton one time, and they were younger kids. When they came out, they looked up at us, and we were like, "Don't worry, we won't land on you." We were twice the size of some of them. But they ended up beating the hell out of us. It was humiliating.
Reenie Baker: Fortunately, that second year Ellen Walsh joined our team.
Ellen Walsh '76, team member: I grew up in Newport, Rhode Island, and I had sixty first cousins and nine siblings. We all played hockey. My dad would freeze our back driveway when it was cold. All the neighborhood kids would come and we would play on the driveway. He made it into an ice rink.
Reenie Baker: Ellen, she just brought up our game, sort of inspired the women to learn more, learn quicker, and do things faster. And we also got Doxie that year.
Doxie McCoy '77, team member: I was on BC's varsity field hockey team, and Snooks Kelley came up to me at practice one day and recruited me for the hockey team. I told him, "I don't know how to skate." He said they'd teach me. They ended up providing me with my own coach. It seemed kind of crazy, in the sense that yeah, I was a black girl out there—I don't know for sure whether I was the only African American on field hockey, but I know I was the only black girl out there for ice hockey. But Snooks asked me to play. I don't want to pump myself up, but maybe it was because I did pretty well as a field hockey goalie, and they were thinking that it would translate into ice hockey.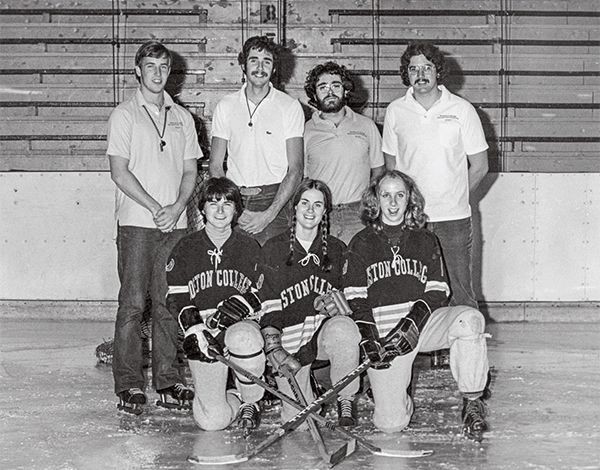 Carol McCarthy: Doxie was so good. I played defense and I loved being out there with her. But I felt really bad for her that time we played Colby. Warming up, I was like, oh my goodness, the size of those girls! What are we going to do? They can really skate. I felt bad for poor Doxie!
Rhett Cahill '79, team member: I remember we played at Colby in Maine and I think we lost 12 to zero.
Reenie Baker: There was a team up in Maine—Colby—and they were seasoned players and they killed us. It was like, 30 to nothing or something.
Doxie McCoy: I don't remember the exact score, but I recall that they were hounding me, and it ended up being something like 30 to 2. But I felt halfway decent about it. It could have been 45 or 50. A lot of them went in, but a lot of them were stopped.
Ellen Walsh: Colby, they were vicious. They were brutal. They had two people on me, so I couldn't score the whole time. They just kept hitting me, doing things to me.
Rhett Cahill: My sister came to that game, and she still tells that story to this day of what we looked like versus these enormous women coming out in full 100 percent varsity uniforms.
Reenie Baker: Someone took a slap shot and hit me right above my eye. I was sent to the hospital for stitches, and it was like, "We're playing against good teams, we have to have some protection here." We needed better equipment.
The Colby game notwithstanding, the team's level of play progressed throughout that second season. Especially helpful was the arrival of a new coach, a senior named Shawn Sheehy.
Shawn Sheehy '75, team coach: Bob Thomas, who was an assistant coach to Eric Pfaff the year before, asked for my help the second season. Bob was a great guy, but he was a figure skater and not a hockey player. I didn't make the team at Boston College, but I was playing in a semipro league and I was playing intramurals. The first thing I did was say to everybody, "Look, you need to have hockey skates. You can't use figure skates if you're going to play here."
Sandy Chevrette: Shawn ran the practices more diligently in the sense that we weren't just messing around. You had to pay attention. And that's when everybody pretty much got hockey skates.
Carol McCarthy: He was a great coach. He spent a lot of time with us, made us do drills. We meshed into this group of women that could play for a regulation hockey team. It was like, "Okay, we are the BC women's ice hockey team!" There was a lot of pride in the ability to say that.
Shawn Sheehy: We taught them how to defend themselves on the ice. If somebody was doing something nasty to them, we taught them how to do something nasty in return. If someone was going to check you, we might show you how to pin your stick against the board so that they would take it in the stomach if they were coming in too fast. And if the other team tries to intimidate you, you chop them across the laces. You could get penalized for it, but hockey is a game of intimidation. All of a sudden, they realize you're not intimidated and then they stop, and they start playing hockey.
Charlene Rose Gottlieb: I had my own cheat moves! I had one that helped our team quite a bit when the play got a little too hot for our goalie. I would fall as if I was tripping and hit our goal post with my hip to knock it out of place. So they would have to blow the whistle and stop play. I did that quite often, and I never got caught because I was the person who was falling all over the ice anyway.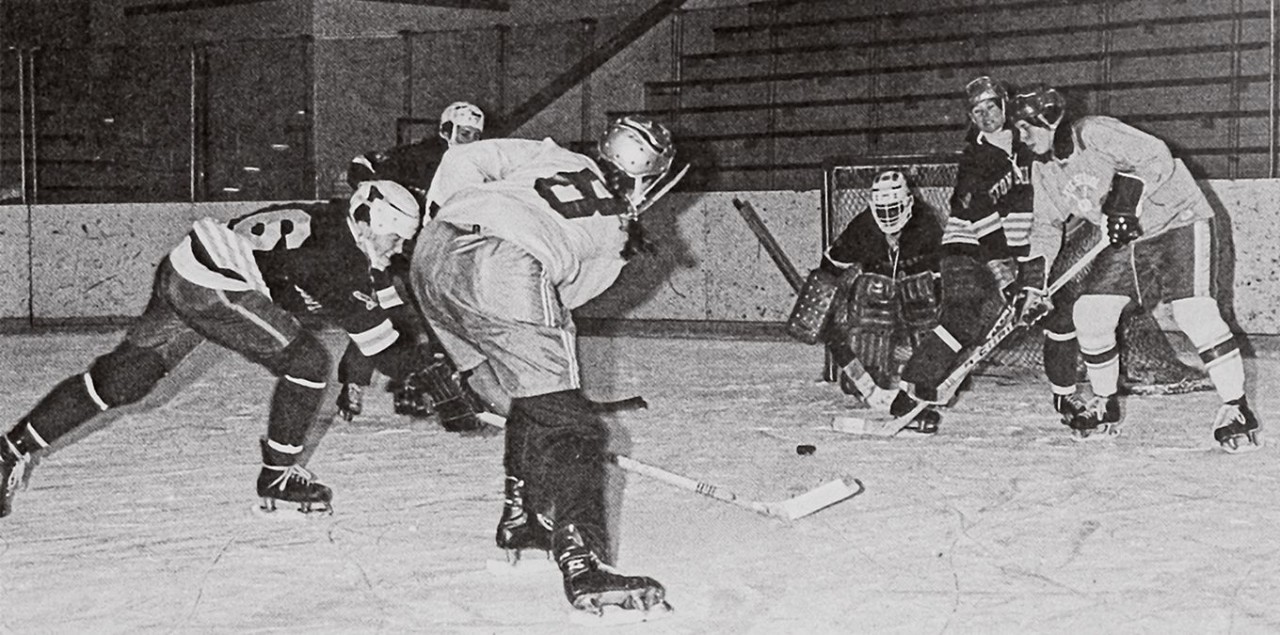 Kathryn O'Leary: Just between you and me, my defense partner, Lynn Wilson, she didn't even attend Boston College. They used to have public skating at McHugh Forum, and she was there one day and had her hockey skates on. I think it was one of our coaches who saw her and said, "You should join the women's team!"
Shawn Sheehy: All of the girls began playing more as a team. And that combined with Doxie McCoy's goaltending talent and her ability to learn how to skate. And Ellen Walsh was our best offensive player.
Ellen Walsh: I was a very fast skater and I was good at using the boards and also face-offs. I would fly up the right wing and bounce it off the boards and get around people. Then my senior year my cousin, Anne Corcoran, was on the team. I would go up the wing and spin it to her and she would score. Anne and I were like the dynamic duo. It was just incredible. She passed away. She never smoked in her life but she got a weird form of lung cancer. Really sad.
Shawn Sheehy: We'd send Ellen back out on the ice, and she'd say, "But I'm hurt." I said, "I don't care if you're hurt. Go get back out there. We need you."
Ellen Walsh: They would just tape me up. They would sneak me back into some locker room and the trainer for the men's team would tape me up. They would tape me up before we would drive to games. I'd feel like a big heap of tape. The coach would say, "We need you. Go out and skate."
Shawn Sheehy: We lost the first twelve games of the year. We won the last six games of the year. I've been telling people that for forty years. All the players made tremendous strides in learning how to skate, learning how to stickhandle, learning the game. By the end of the season, all of the girls were playing more as a team.
Reenie Baker: The team spirit was amazing. When we lost, it wasn't disheartening, and I enjoyed watching my teammates get so much better. To win against some of these teams who thought we were easy to beat, it was such a great feeling.
Reenie Baker kept up her fight to get varsity status. The team eventually received funding for official uniforms and full equipment, but Baker was gone by then. That second season would be her final one with the team. She missed the season in both her junior year, when her family accompanied her father on sabbatical in California, and her senior year, when she broke her ankle while parachuting. The Baker Cup, the trophy that used to be awarded each year to the team's most valuable player, was named in her honor. Women's hockey would not become a varsity sport at Boston College until 1994, nineteen years after Baker started the team.
Charlene Rose Gottlieb: I had no idea how much energy Reenie was putting in behind the scenes to try to get this team together. I didn't realize it took nineteen more years for them to become varsity. I mean, that blew my socks off when I found out later.
Carol McCarthy: I think Reenie was the one that was really frustrated. I think we could have been supported a lot more by the University.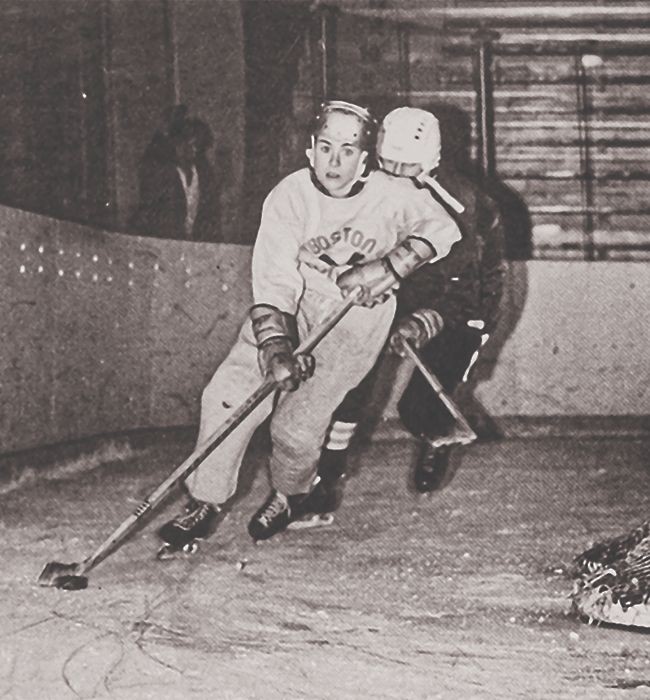 Reenie Baker: After graduating, every few years I would contact the school and ask if the women had varsity status. No, they're still a club team. It made me feel like I never really did anything. I never accomplished anything. This is just...it was just a worthless time on my part. So I stopped trying to get in contact. I mean, everything about it just really discouraged me. Then my brother, who lives in Boston, told me the BC women were pretty good and so I did inquire and found out that they had gotten varsity status. I was overjoyed. About three years ago, I found out they were playing in Syracuse, which is just an hour from where I live. So I went to see him and I've got to tell you, I was overjoyed to see these women who are awesome players come out in these full suits that looked like real hockey players. I mean, I was just beaming with pride to watch the whole game.
Katie Crowley, head coach of the Boston College women's hockey team: We didn't have a lot of information on the origins of the team because there weren't many records kept. But my team and I have now met with Reenie. Our current players really appreciate being able to know the roots of their program. There's a lot of pride in what we came from. We're grateful for what Reenie and all of these pioneering women hockey players did for all of us.
Gail Risti Young: We have five children and they all played hockey. The middle one, Jackie Young, played at BC for Katie Crowley and Courtney Kennedy. She graduated in 2014, and she takes it for granted. But, of course, I was in the background, always telling her that it's come a long way because we didn't have all of this.
Charlene Rose Gottlieb: Gosh, it's a whole different world. We were like the Wright Brothers flying a plane and they're the stealth bombers today. It's a completely different language. They have players going in every Olympics.
Gail Risti Young: I don't think at the time I knew that it was blazing the trail for others. You don't think of it that way. You just are happy to be a part of it.
Ellen Walsh: It was just a whole new wave back then of feminism in all areas. I can't really say we were a marching, prideful team of feminists—but it was really powerful to play in that arena. I remember being very honored to skate out with a group of women.
Charlene Rose Gottlieb: I got a good education at BC, and I had a very successful career as a nurse. But if I think of the most positive thing from my time at BC, it would be the team and the camaraderie and the fun that we had. I am so grateful to Reenie for starting that team!
Reenie Baker: I did love hockey, but I'm going to tell you that these days I would not be considered a good athlete. I think it was the battle that inspired me to start the team more than the sport.
Charlene Rose Gottlieb: I think in my heart—I think Reenie felt she failed, which we never knew because she never shared that. I just feel like she needs to know. I think all of us feel the same toward her, very thankful and appreciative. I have a great deal of respect for her, especially looking back now and seeing how hard it was. Reenie just did it.
---
Jacqueline Tempera | Boston College Magazine
Share your thoughts: bcm@bc.edu