Greek Prime Minister Kyriakos Mitsotakis addresses the graduates. (Photo by Caitlin Cunningham)

Speaking at Boston College's 146th Commencement Exercises on May 23, Greek Prime Minister Kyriakos Mitsotakis gave members of the Class of 2022 an urgent assignment for their post-BC lives: Save democracy from the perils of nationalism, populism, and a pervasive technology that seems to cause as many problems as it has solved.

"Your first responsibility is to radically reimagine democracy in the 21st century by, first of all, not neglecting your civic duties," said Mitsotakis, who received an honorary Doctor of Laws degree. This did not necessarily mean entering public service—although he offered encouragement to those considering it, because "if the best and brightest don't enter the public domain, then you are leaving space for others to do so."

Those choosing other walks of life, Mitsotakis continued, "please remember the lesson of ancient Athens, where democracy flourished for the first time: In order for a democracy to thrive, all its citizens must be involved, in one way or another, in the affairs of the state.

"Reinventing democracy for the 21st century may sound like a tall order. But this is the challenge ahead of you. I urge you, don't leave it to others to ensure the survival of our democratic ideals. If you think you are the best and the brightest—which you should, because you are graduating from this great school—then assume your responsibilities. Because you cannot outsource this responsibility to anyone else."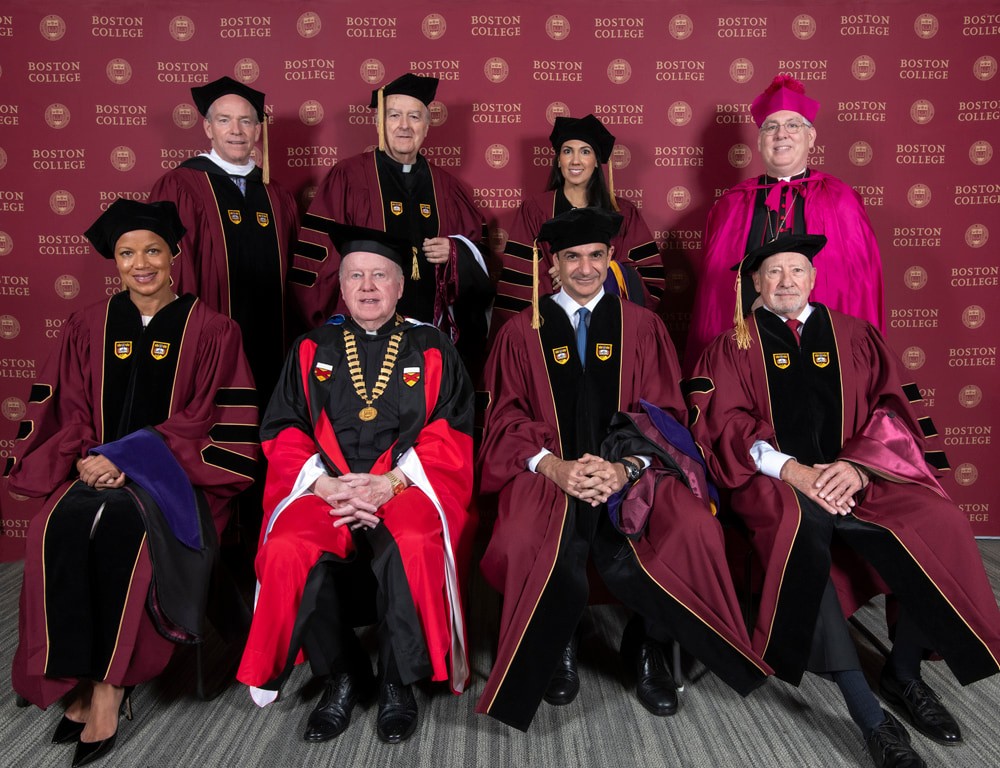 The University also presented honorary degrees to: Yolanda Lyle '94, J.D. '01 (Doctor of Laws), Arivee Vargas Rozier-Byrd '05, J.D. '08 (Doctor of Laws), Rev. Nicholas A. Sannella '67 (Doctor of Humane Letters), and Patrick T. Stokes '64 (Doctor of Business Administration).
Read the honorary degree citations.
Morrissey College of Arts and Sciences student Jenna Mu was honored as this year's recipient of the Edward H. Finnegan, S.J., Award, presented to the graduating senior who best exemplifies the University's motto, "Ever to Excel." Professor and Biology Department Chair Welkin Johnson received the Saint Robert Bellarmine, S.J., Award, which recognizes a distinguished faculty member whose contributions havesignificantly advanced the mission of Boston College.

Referencing classical as well as contemporary Greek literature, from Sophocles to Thucydides to Constantinos Cavafy to Nikos Kazantzakis—and even quoting the Beatles—Mitsotakis sketched a troubling portrait of democracy that stood in marked contrast to that of three decades ago, when his generation celebrated their commencements.

"

Reinventing democracy for the 21st century may sound like a tall order. But this is the challenge ahead of you. I urge you, don't leave it to others to ensure the survival of our democratic ideals. If you think you are the best and the brightest—which you should, because you are graduating from this great school—then assume your responsibilities. Because you cannot outsource this responsibility to anyone else.

"
He recalled "those heady days," when the speaker at his 1990 graduation from Harvard University, West German Chancellor Helmut Kohl, was laying the groundwork for the reunification of his divided country. Eight months before, the Berlin Wall had fallen ("I still remember getting goosebumps watching the events unfold on television"), and within a year the Soviet Union would collapse, as would communist regimes in Eastern Europe, and "the last vestiges of the Cold War would be swept away.

"We believed then that the West's economic triumph over the Soviet Union had irrevocably demonstrated that democracy was the ideal form of government for all time and all people," said Mitsotakis.
But instead of achieving the promise of a free, peaceful, and just world, he said, "my graduating generation and its leaders, I am afraid, took its foot off the gas." Politicians and experts thought that economic liberalism would create more open societies in China and Russia and thwart autocrats' efforts to topple democracy. His generation's leaders, he said, assumed that a rising stock market and other hallmarks of the global economy would create widespread prosperity instead of inequality. This in turn produced "the sirens of populists" offering "easy solutions to complicated problems."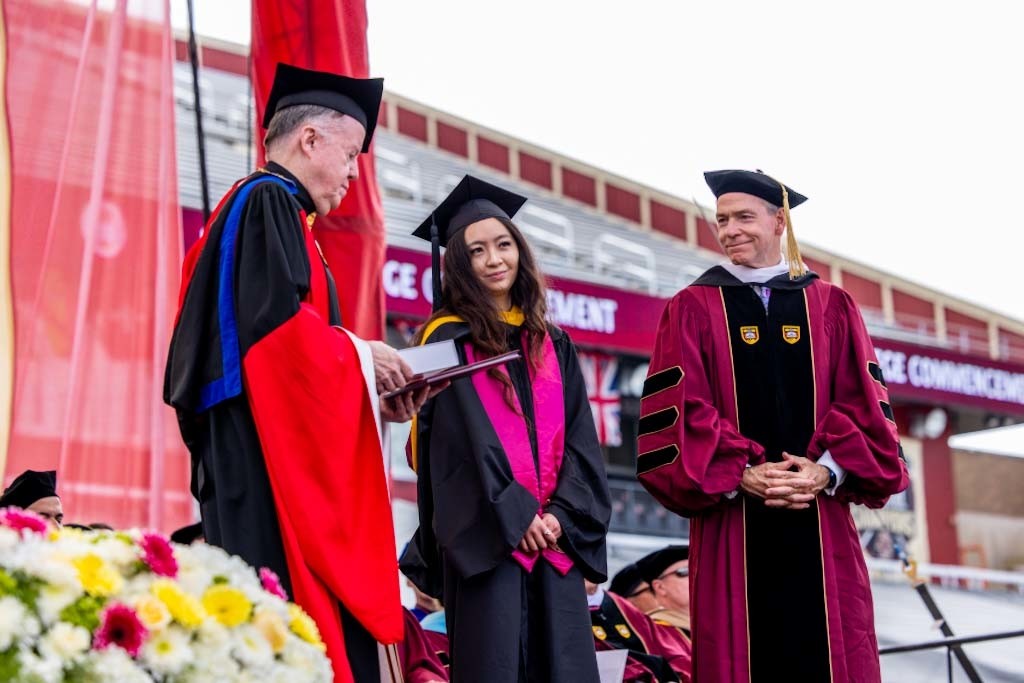 Too much faith was placed in technology as a force for good, without fully understanding its economic, social, and moral implications, he added, turning the public sphere into a modern-day version of the tower of Babel, "where we speak different languages and we only listen to those who share the same views with us."
Yet Mitsotakis proclaimed his "great faith in your generation to not repeat the mistakes of the past." To do so, "in order to fulfill your solemn duty to pass on to your children a better world than the one you inherited, you need to do things differently," he said. This will entail a commitment to democracy, which he called "the most powerful leap of faith in human history," and making good use of the "outstanding education" the graduates had received at BC.

But whatever vocation they might follow, he also urged the graduates to cultivate and maintain fulfilling relationships among family and friends. "As the Beatles, the great philosophers of my youth, put it, 'And in the end, the love you take is equal to the love you make.' Above all, that's what counts the most, and that's where you'll find your greatest satisfaction."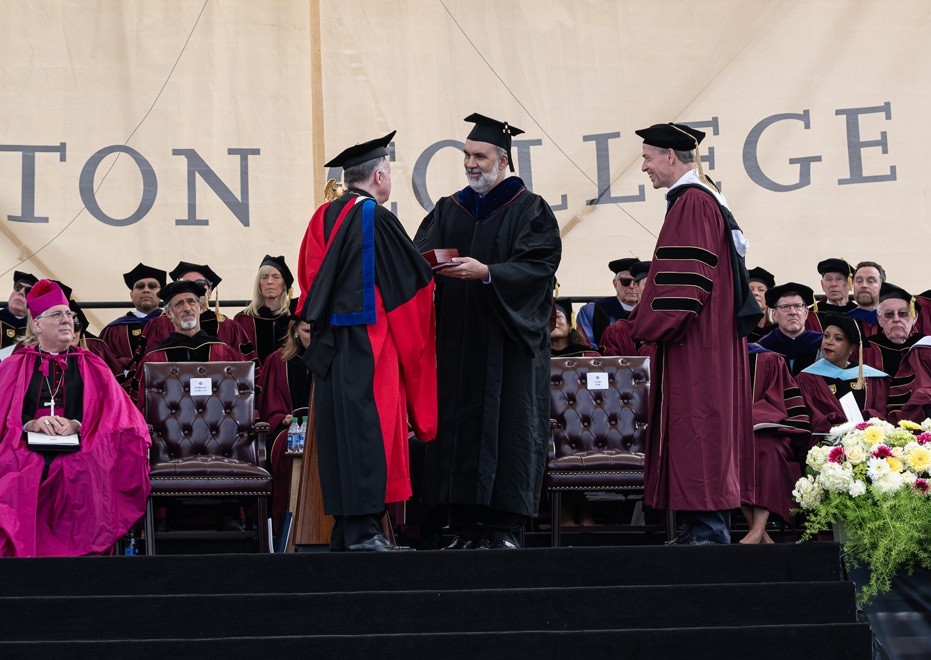 In his Commencement greeting earlier in the ceremony, University President William P. Leahy, S.J., also touched on the imperative of serving a global community. "We live in a world and nation that desperately needs people of intelligence, faith, and commitment to work for the good of society, to help root out racial, social, and economic inequality, and to strive to bring an end to violence, poverty, and illiteracy.

"In addition, aggression and human rights violations, such as those currently occurring in the Ukraine, have to be stopped.  These and other urgent, daunting issues require engagement and just solutions."

The contributions of this year's class members are sorely needed, Fr. Leahy told the graduates, and they possess the skills, talents, and virtues to make a difference. "You have the ability, preparation, and commitment to help make our world better, more at peace. You care, have good will, and benefited from BC's formative educational approach. It draws from the Jesuit, Catholic intellectual and religious heritage, stresses the importance of giving as a gift what has been received as a gift, and fosters living lives marked by faith, hope, and love.

"May you always give to others from the abundance that you have received, remain steadfast in your convictions, and remember the call, challenge, and opportunity of Boston College's motto: 'Ever to Excel.'"
Sean Smith | University Communications | May 2022
Gallery photos by Caitlin Cunningham, Justin Knight, and Lee Pellegrini

---