Actor and singer Christy Coco '17 took her talents beyond the Robsham Theater stage during the 2016 fall semester, making her New York City debut in the off-Broadway production of Fiorello! – the Pulitzer Prize-winning drama based on the life and career of legendary New York mayor Fiorello H. La Guardia – in its first revival since opening in 1959. She also appeared on the silver screen this summer in The Purge: Election Year, the last in a trilogy of popular feature films, which grossed $79 million dollars worldwide. The New Canaan, Conn., native, majoring in theater arts and minoring in art history, has her sights set on a career in the performing arts.
She discussed her experiences and her aspirations in a Q&A with Rosanne Pellegrini of University Communications.

The Berkshire Theatre Group made its NY stage debut with Fiorello! Tell us about your work with the corps.

I started working with the Berkshire Theatre Group two summers ago as an acting apprentice. I performed in one of the company's main stage shows, Bells Are Ringing, which featured a cast of Broadway veterans, took classes in musical theater, and worked with mentors to get a grasp of how the theater industry works. I loved working at BTG and was invited to return as a full-time actress this past summer, playing Belle in Beauty and the Beast in the company's historic, Broadway-sized theater.

The company was also producing Fiorello! I wasn't in [it], but it was a runaway hit of the summer, selling out every performance. Producing friends of BTG took note of the show's success and supported a transfer to New York. Due to the dynamite leadership of BTG's artistic director, BC alumna Kate Maguire ['78], and encouragement from producers, the company secured an off-Broadway theater for a five-week run of the show. I auditioned in August in New York for the transfer and accepted an offer the very next day! [Coco played Sophie, a suffragette and factory striker and several ensemble roles, including a 1920s flapper and the girlfriend of a soldier going off to war.]
What was it like to be in a professional, off-Broadway production? Does any one moment stand out for you?

Performing in Fiorello! was one of the best experiences in my life thus far. We learned the entire show – music, staging, choreography – in roughly four days before doing our first run-through, so the rehearsal process was a rollercoaster of pressure, memorization, and hard work, but it was incredibly rewarding.

A moment that especially stands out for me is waiting in the wings to make my first entrance on stage on opening night. I remember looking at my cast mate – who was a stranger then but is now a dear friend – squeezing her hand with tears in my eyes and realizing I was accomplishing something I have worked for my entire life. In that moment, I felt what it was like to perfectly align my passion for performing with my vocation.
New York theater is electric and fast-paced and addicting. Being in Fiorello! definitely made me realize that performing in that environment is exactly what I want to do with my life.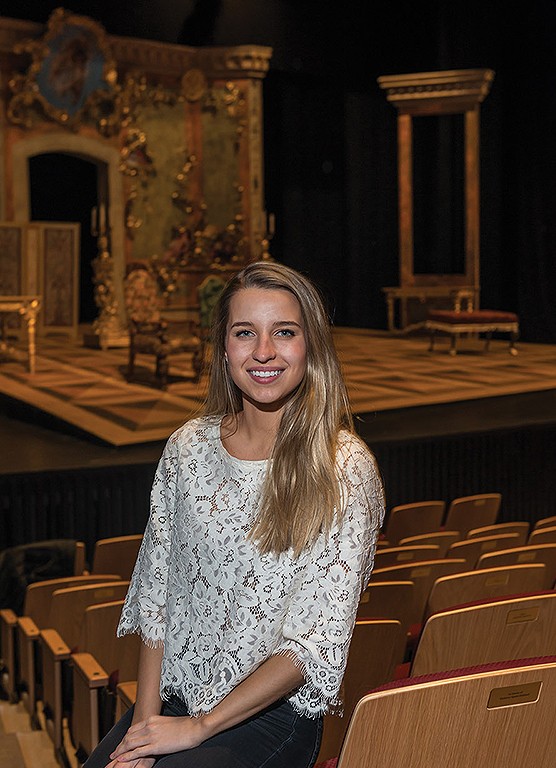 What will it be like to return to the Robsham stage after this professional run? Do you plan to audition for spring productions? 
While I did not act in [BC's fall production of] The Misanthrope, I helped out backstage working the soundboard. I have less of a knack for the technical elements of theater than I do performing, but it is exciting to gain a new perspective and familiarize myself with backstage responsibilities. I am planning on auditioning for BC's spring productions. I'm really excited that next semester we have the opportunity to work with several incredible guest directors, such as [2016-17 Monan Professor in Theatre Arts] Sheri Wilner and [1987 alumnus and SpeakEasy Stage Company founder and producing artistic director] Paul Daigneault. The department has been very generous to bring them to BC. 
How have your BC theater studies and performances prepared you for the professional stage? 
Many of the courses offered in the BC Theatre Department are very academically driven and I think they have had a very significant impact on the way I approach my professional work. They've taught me to think critically about text and character development and given me a strong understanding of language that is vital in crafting well-rounded, dynamic characters. A professor who has really shaped me at BC is [Associate Professor] Dr. John Houchin. I consider him a mentor. My sophomore year, he encouraged me to explore classical text, which culminated in auditioning and performing in his production of The Trojan Women at BC and eventually pushed me to study classical acting in London last spring at the British American Drama Academy. 
You had a brief, but memorable, role in the movie The Purge: Election Year.
[In a flashback, which is the movie's opening scene, Coco plays Young Charlie Roan, the younger version of the lead character, a senator and presidential candidate who vows to eliminate "Purge Night" after her family's brutal murder.]
I was asked by a Boston casting agency to audition for The Purge: Election Year, but I actually didn't know what I was auditioning for at the time. The creatives used a code name for the movie, so when I went in I was given limited information and had to improvise. My audition tape was then sent to the director, James DeMonaco, and I heard a week later that I received the part...but I still didn't know what the movie was.
I had heard whispers that it was The Purge, so I had to ask if that was what I had just booked. It was pretty embarrassing! Being on set for The Purge definitely taught me how film works and how it differs from live theater. While filming, Mr. DeMonaco had us do the scene several different ways so my character's reactions were never set in stone. With this experience, there was no rehearsal or table work. We had to rely on the feedback we were given in the moment and be willing to take acting risks to give the director the product he envisioned. 

Do you feel you've gained a new perspective on acting from these professional experiences?
I am so grateful for having such exciting professional experiences so early in my career. While I do work incredibly hard, I also feel wildly lucky. Working on Fiorello!, The Purge, and other professional regional theater productions has strengthened my perspective on acting as a vital aspect of society and culture. It is an entryway for people to gain new ways of thinking, a point of connection, or reprieve from life's difficulties. My recent experiences have made me realize more than ever that I want to be an actress. Acting makes me feel alive and incredibly fulfilled. 
Which do you prefer: stage or screen?
I definitely prefer the stage, although I am deeply fascinated by film and television. They are wildly different mediums and fun to explore, but there is something about having a live, unpredictable audience in front of you every night. The stage will definitely always be my first love, but I plan to remain open to exploring any acting opportunities that come my way.
Do you plan to pursue an acting career right after graduation?

Yes, I plan to move to New York City after graduation and pursue acting both for the stage and screen. My hope is to sign with a talent agent close to graduation so that I can begin auditioning as soon as I've finished school. I am also very passionate about art history and currently work as a student ambassador at the McMullen Museum of Art. Aside from auditioning, I'd like to work for a museum in New York doing museum management. 
What was it like to take the stage with the Boston Pops at BC's "Pops on the Heights" in September? [Coco performed two songs from the musical Violet, in the debut of a special arrangement by Joseph Joubert, the orchestrator of the Broadway revival.] 
Performing with the Boston Pops was a dream. The first time I met and sang for the conductor, Keith Lockhart, I was so nervous that I forgot the words to the song. And the first time I rehearsed with the full orchestra, I had to force myself not to cry out of sheer joy. So I was a bit of a mess through the rehearsal process. The night of the concert, all of my family and friends were in the audience cheering me on and with the support of them, the Pops, and the BC Alumni Association, I could not have asked for a better experience. It's a memory I will cherish forever. 
-Rosanne Pellegrini / University Communications