Associate Professor of Music Ralf Yusuf Gawlick is the winner of The American Prize in Composition, in the vocal chamber music (professional) division, for his composition "Kollwitz-Konnex" (...im Frieden seiner Hande), or, in English translation, "Kollwitz-Connection...in the Peace of His Hands."

Founded in 2009, the American Prize recognizes and rewards the best performing artists, ensembles, and composers in the United States based on submitted recordings.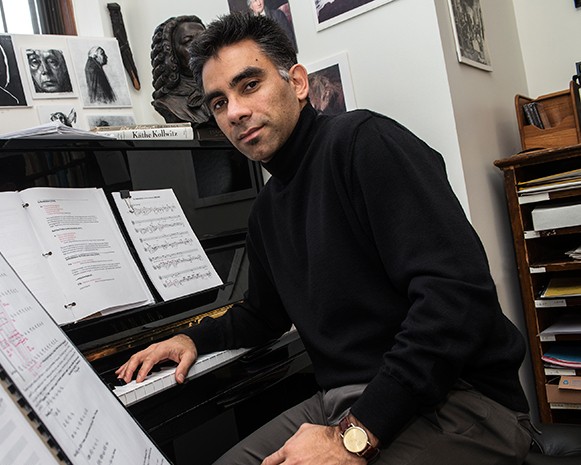 Premiered at Boston College in 2013, "Kollwitz-Konnex" is a song cycle on legendary German graphic artist Käthe Kollwitz, whose steadfastness and determination has been a lifelong inspiration for Gawlick. Kollwitz lived through two world wars and other social upheavals, endured censorship and artistic and professional humiliation, and lost both a son and grandson to war.
"Kollwitz produced over 100 self-portraits throughout her life," said Gawlick. "The textual complement to her self-portraits are her extensive letters, memoirs, and diary. Here we discover her thoughts, hopes, fears, and impressions. These writings, seen as literary unfoldings of the self-portrait, mirror the main themes of her art: life and death, suffering and empathy, brutality, sickness, family, children, old age and growing old, misery, and innocence.
"She champions the vulnerable poor, despairing; she is the artistic patron saint of mother and child, of the outcast and downtrodden, of those who are neglected and whose lives constantly hang in the balance. Her art is an art of social conscience."

Gawlick's other works include a commissioned piece for the 25th anniversary of the visit of Pope John Paul II to Boston and the United States, music for a documentary commemorating the 20th anniversary of the fall of the Berlin Wall, and a cantata written for the 70th anniversary of the outbreak of World War II.

—University Communications | June 2018