Fall 2017 - Spring 2018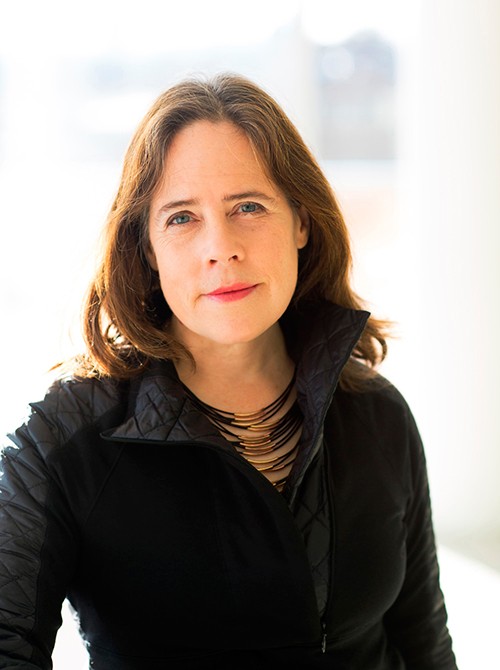 Pagan Kennedy: Inventology: How We Dream Up Things That Change The World
Wednesday, September 27, 2017
7:00 p.m. | Devlin Hall, Room 101
In her latest book, Inventology: How We Dream Up Things That Change The World (2016) award-winning writer Pagan Kennedy explores the science of human imagination as it pertains to innovation and creativity. She has written eleven books and Kennedy's journalism has appeared in dozens of publications including The New York Times Magazine, where she wrote the "Innovation / Who Made That?" column. As a Knight Science Journalism Fellow at MIT, Kennedy studied microbiology and neuroengineering. She has won numerous other awards including an NEA fellowship, a Smithsonian fellowship, and two Massachusetts Cultural Council fellowships. She has taught widely, including at Dartmouth College, Boston College, and Johns Hopkins University.
Resources for students and teachers: Pagan Kennedy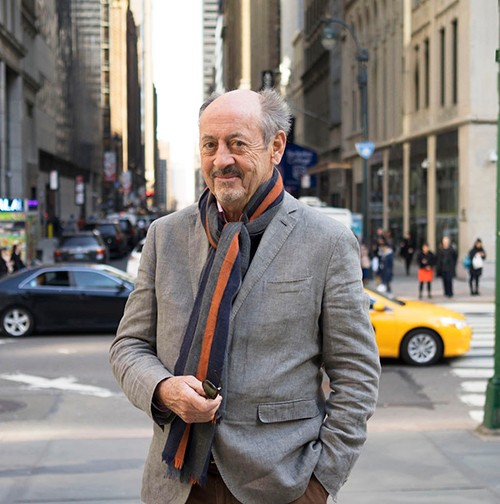 Poetry Days presents Billy Collins
Wednesday, October 4, 2017
7:00 p.m. | Gasson Hall, Room 100
Billy Collins is an American phenomenon. No poet since Robert Frost has managed to combine high critical acclaim with such broad popular appeal. His work has appeared in a variety of periodicals including The New Yorker, The Paris Review, and The American Scholar; he is a Guggenheim fellow and a New York Public Library "Literary Lion." He has published ten collections of poetry, most recently The Rain in Portugal (2016). In June 2001, Billy Collins was appointed United States Poet Laureate for 2001-2003.  In January 2004, he was named New York State Poet Laureate for 2004-06. Billy Collins is a Distinguished Professor of English at Lehman College of the City University of New York, as well as a Senior Distinguished Fellow of the Winter Park Institute at Rollins College. In 2016 he was elected a member of the American Academy of Arts & Letters.
Resources for students and teachers: Billy Collins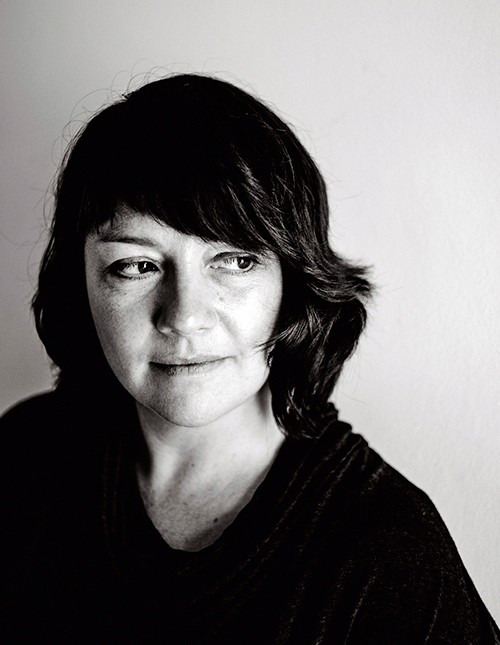 Eimear McBride:
A Girl is a Half-formed Thing
Wednesday, October 18, 2017
7:00 p.m. | Gasson Hall, Room 100
Eimear McBride is an Irish novelist. She wrote her first novel, A Girl is a Half-formed Thing (2013), at age 27 and spent the next nine years trying to have it published. It subsequently received the inaugural Goldsmiths Prize, the Baileys Prize for Women's Fiction (formerly the Orange Prize), Kerry Group Irish Novel of the Year, the Desmond Elliot Prize and the Geoffrey Faber Memorial Prize, as well as numerous shortlistings including the Folio Prize and the L.A. Times First Fiction Award. Hailed by the New York Times Book Review as a "future classic" it has elicited widespread international praise that includes comparisons of McBride to Edna O'Brien, Virginia Woolf, and James Joyce. Her second novel, The Lesser Bohemians, was published in September 2016 and was shortlisted for the Goldsmiths Prize and the James Tait Black Prize for Fiction. Eimear McBride occasionally writes and reviews for the Guardian, the Times Literary Supplement and the New Statesman. She lives in Norwich, UK with her family.
Co-sponsored with the Irish Studies Program
Resources for students and teachers: Eimear McBride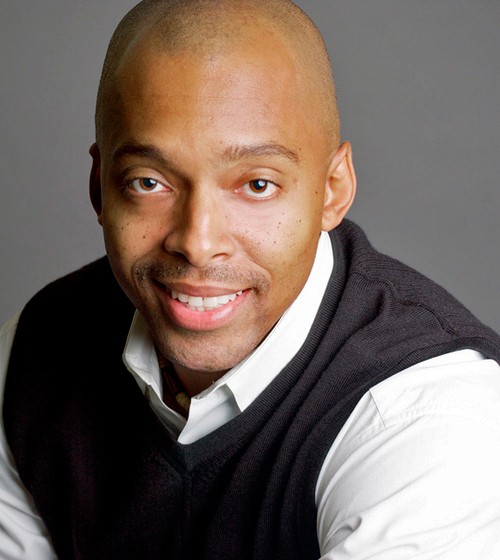 Khalil Gibran Muhammad: Erasure: The Decriminalization of White America
Wednesday, October 25, 2017
7:00 p.m. | Gasson Hall, Room 100
Dr. Khalil Gibran Muhammad is professor of history, race and public policy at Harvard Kennedy School and appointed the Suzanne Young Murray Professor at the Radcliffe Institute for Advanced Study. Previously, he served as the Director of the Schomburg Center for Research in Black Culture, one of the world's leading research facilities dedicated to the history of the African diaspora. His book The Condemnation of Blackness: Race, Crime and the Making of Modern Urban America, explores the roots of the popular conception of black criminality in America. It won the 2011 John Hope Franklin Best Book Award in American Studies. His articles and scholarship have appeared in many publications, including the New York Times, New Yorker, and the Washington Post.  Muhammad is a native of the South Side of Chicago. He graduated with a B.A. in economics from the University of Pennsylvania and received his Ph.D. in American history from Rutgers University, specializing in 20th century United States and African-American history. 
Resources for students and teachers: Khalil Gibran Muhammad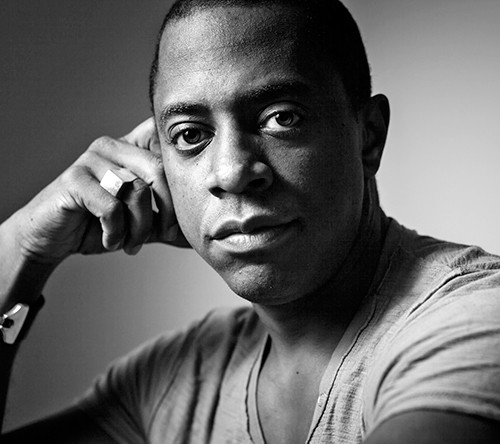 Sanford Biggers: Negerplastic
Wednesday, November 8, 2017
7:00 p.m. | Devlin Hall, Room 101


A Los Angeles native working in New York City, Sanford Biggers creates artworks that integrate film, video, installation, sculpture, drawing, original music and performance. He intentionally complicates issues such as hip hop, Buddhism, politics, identity and art history in order to offer new perspectives and associations for established symbols. Through a multi-disciplinary formal process and a syncretic creative approach he makes works that are as aesthetically pleasing as they are conceptual. Biggers has recently exhibited work at the Brooklyn Museum, Sculpture Center and Mass MoCA. Biggers has won awards including the American Academy in Berlin Prize, Greenfield Prize, and the Lambent Fellowship in the Arts. Biggers is Assistant Professor at Columbia University's Visual Arts program.
Resources for students and teachers: Sanford Biggers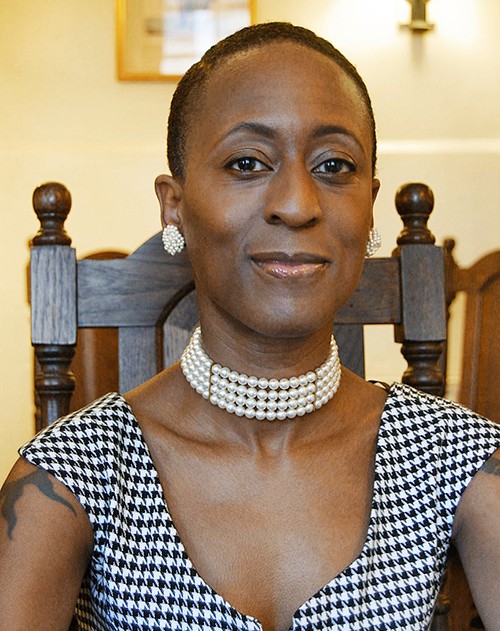 Patience Agbabi: Telling Tales
Wednesday, November 15, 2017
7:00 p.m. | Gasson Hall, Room 100

Patience Agbabi is a poet and performer who has been featured on radio and TV worldwide. The author of four books, her latest, Telling Tales, published in 2014, is a vivid retelling of Chaucer's The Canterbury Tales for the 21st century.  Her other poetry collections include R.A.W. (1995), Transformatrix (2000) and Bloodshot Monochrome (2008). She studied English Language and Literature at Oxford University, and is a former Poet Laureate of Canterbury. In 2004 she was nominated as one of the UK's Next Generation Poets. Patience was a recipient of The Cholmondeley Award and was shortlisted for the Ted Hughes Prize for New Work in Poetry. She has taught Creative Writing at several UK universities including Greenwich, Cardiff and Kent. She is currently a Fellow in Creative Writing at Oxford Brookes University.
Resources for students and teachers: Patience Agbabi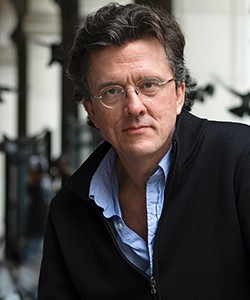 Kurt Andersen: Fantasyland: How America Went Haywire
Wednesday, January 24, 2018
7:00 p.m. | Gasson Hall, Room 100
Kurt Andersen is a brilliant analyst and synthesizer of historical and cultural trends, bestselling novelist, groundbreaking media entrepreneur, and host of public radio's Studio 360. In his latest book, Fantasyland: How America Went Haywire: A 500-Year History (2017), Kurt Andersen shows that what's happening in our country today—this post-factual, "fake news" moment we're all living through—is not something new, but rather the ultimate expression of our national character. America was founded by wishful dreamers, magical thinkers, and true believers, by hucksters and their suckers. Fantasy is deeply embedded in our DNA. Andersen is also the author of the critically acclaimed, bestselling novels True Believers (2012), Heyday (2007) and Turn of the Century (1999). He is host and co-creator of Studio 360, the cultural magazine show produced by Public Radio International broadcast on 217 stations and distributed by podcast to almost 1 million listeners in all each week. The show won Peabody Awards for broadcast excellence in both 2005 and 2013. Andersen's journalism has appeared in The New York Times, Vanity Fair, The New Yorker, and TIME, among others.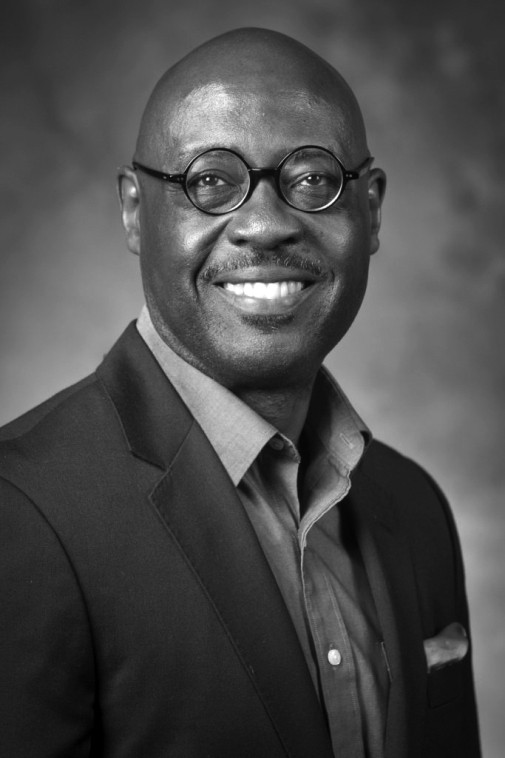 Annual Candlemas Lecture | Willie Jennings: To Hear the World Again: Giving Christians an Actual Doctrine of Creation
Thursday, February 8, 2018
7:00 p.m. | Devlin Hall, Room 101
Willie Jennings is Associate Professor of Systematic Theology and Africana Studies at Yale Divinity School. His book The Christian Imagination: Theology and the Origins of Race (2010) won the American Academy of Religion Award of Excellence in the Study of Religion and the Grawemeyer Award in Religion. Englewood Review of Books called the work a "theological masterpiece." Writing in the areas of liberation theologies, cultural identities, and anthropology, Jennings has authored more than 40 scholarly essays and nearly two-dozen reviews, as well as essays on academic administration and blog posts for Religion Dispatches. Jennings recently completed Acts: A Commentary, The Revolution of the Intimate and is at work on a new project on the doctrine of creation, tentatively titled Reframing the World. Jennings is an ordained Baptist minister and has served as interim pastor for several North Carolina churches.
Co-sponsored with the Theology Department.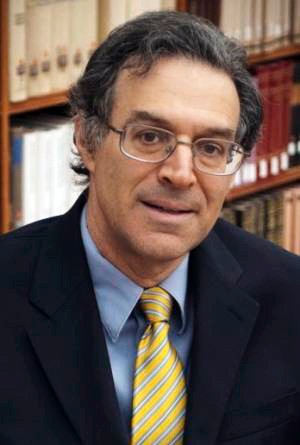 Kenneth Pomeranz: How Did 'China' Get So Big? Redefining the Qing Realm and its Subjects ca. 1750-1900
Wednesday, February 28, 2018
7:00 p.m. | Gasson Hall, Room 100
Kenneth Pomeranz is Professor of Modern Chinese History at the University of Chicago. His work focuses mostly on China, though he is also very interested in comparative and world history. His publications include The Great Divergence: China, Europe, and the Making of the Modern World Economy (2000), which won the John K. Fairbank Prize from the AHA, and shared the World History Association book prize and The Making of a Hinterland: State, Society and Economy in Inland North China, 1853–1937 (1993), which also won the Fairbank Prize. He was one of the founding editors of the Journal of Global History. He is a fellow of the American Academy of Arts and Sciences and has received fellowships from the Guggenheim Foundation, the American Philosophical Society, American Council of Learned Societies, the Institute for Advanced Studies, the National Endowment for the Humanities, and other sources. His current projects include a history of Chinese political economy from the seventeenth century to the present, and a book called Why Is China So Big? which tries to explain how and why contemporary China's huge land mass and population have wound up forming a single political unit.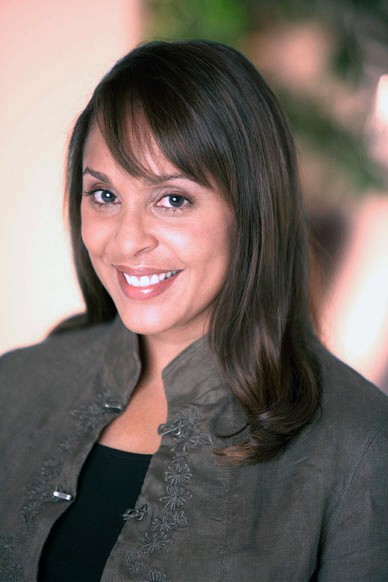 Natasha Trethewey: Beyond Katrina
Wednesday, March 14, 2018
7:00 p.m. | Gasson Hall, Room 100
Natasha Trethewey served two terms as the 19th Poet Laureate of the United States (2012-2014). She is the author of four collections of poetry: Thrall (2012); Native Guard (2006), for which she was awarded the Pulitzer Prize; Bellocq's Ophelia (2002); and Domestic Work (2000), which was selected by Rita Dove as the winner of the inaugural Cave Canem Poetry Prize for the best first book by an African American poet and won both the 2001 Mississippi Institute of Arts and Letters Book Prize and the 2001 Lillian Smith Award for Poetry. Her book of nonfiction, Beyond Katrina: A Meditation on the Mississippi Gulf Coast, appeared in 2010. She is the recipient of fellowships from the National Endowment for the Arts, the Guggenheim Foundation, the Rockefeller Foundation, the Beinecke Library at Yale, and the Bunting Fellowship Program of the Radcliffe Institute for Advanced Study at Harvard. At Northwestern University she is a Board of Trustees Professor of English in the Weinberg College of Arts and Sciences. In 2012, she was named Poet Laureate of the State of Mississippi and in 2013 she was inducted into the American Academy of Arts and Sciences.
Co-sponsored by the Park Street Corporation Speaker Series.
Fiction Days Presents Viet Thanh Nguyen: The Sympathizer
Wednesday, March 21, 2018
7:00 p.m. | Gasson Hall, Room 100
Viet Thanh Nguyen is a Vietnamese American novelist. His novel The Sympathizer (2015)is a New York Times bestseller and won the Pulitzer Prize for Fiction, among other prizes, and made it to over thirty book-of-the-year lists. His other books are Nothing Ever Dies: Vietnam and the Memory of War (a finalist for the National Book Award in nonfiction), Race and Resistance: Literature and Politics in Asian America, and a short story collection, The Refugees (2017). He is the Aerol Arnold Chair of English and Professor of American Studies and Ethnicity at the University of Southern California. He is a critic at large for the Los Angeles Times and has written for the New York Times, Time, The Guardian, The Atlantic, and other venues.
Co-sponsored by Asian American Studies, the English Department, and the Institute for the Liberal Arts.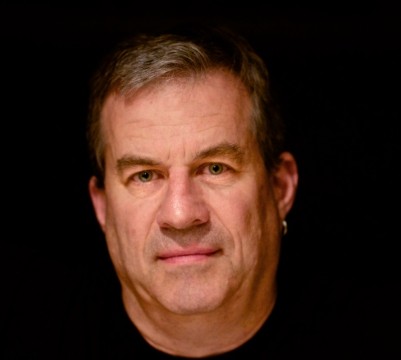 Sam Quinones: Dreamland: The True Story of America's Opiate Epidemic
Wednesday, April 4, 2018
7:00 p.m. | Gasson Hall, Room 100
Sam Quinones is a journalist, storyteller, former L.A. Times reporter, and author of three acclaimed books of narrative nonfiction. His most recent book is Dreamland: The True Tale of America's Opiate Epidemic. His career as a journalist has spanned almost 30 years. He lived for 10 years as a freelance writer in Mexico, where he wrote his first two books. In 2004, he returned to the United States to work for the L.A. Times, covering immigration, drug trafficking, neighborhood stories, and gangs. In 2014, he resigned from the paper to return to freelancing, working for National Geographic, Pacific Standard Magazine, the New York Times, Los Angeles Magazine, and other publications. Columbia Journalism School selected him as a 2008 recipient of the Maria Moors Cabot prize, for a career of excellence in covering Latin America. He is also a 1998 recipient of an Alicia Patterson Fellowship, one of the most prestigious fellowships given to print journalists.
Sam Quinones' visit to BC is made possible by the Gerson Family Lecture Fund, established by John A. and Jean N. Gerson, P'14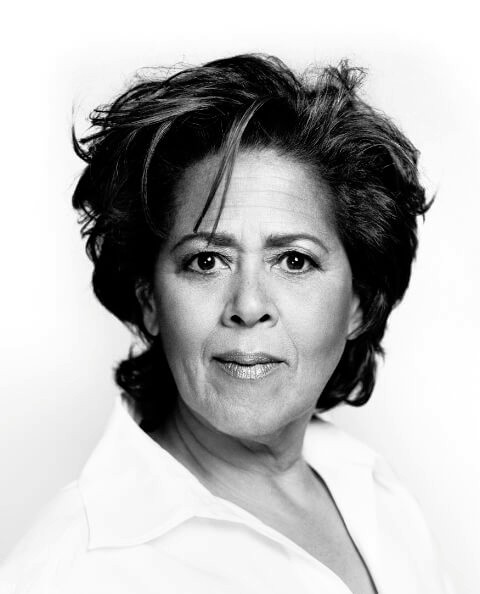 Anna Deavere Smith: Notes from the Field

Wednesday, April 11, 2018
7:00 p.m. | Robsham Theater
Playwright, actor, and professor Anna Deavere Smith uses her singular brand of theatre to highlight issues of community, character, and diversity in America. Best known for crafting one-woman shows based on conversations with real people from all walks of life, Smith turns her interviews into scripts, transforming herself into an astonishing number of characters. Smith has been awarded the Dorothy and Lillian Gish Prize, one of the largest and most prestigious awards in the arts, as well as the National Humanities Medal. In 2016, she was awarded a Guggenheim Fellowship for theatre arts. Smith's plays include Fires in the Mirror, the Tony-nominated Twilight: Los Angeles, and Notes from the Field: Doing Time in Education, which explores the cycle of suspension from school to incarceration prevalent in low-income communities. Smith's television credits include The West Wing, Black-ish, and Madame Secretary. A University Professor at NYU's Tisch School of the Arts and an affiliate with the NYU School of Law, Smith delivered the 2015 NEH Jefferson Lecture in the Humanities.
Resources for students and teachers: Anna Deavere Smith

There will be first-come, first-served tickets available on the evening of April 11 for the Boston College community and the public. If you would like to attend the event, please queue at the Robsham Theater Box Office the evening of April 11. Tickets will be handed out beginning at 6:30pm until no tickets remain. The doors will close at 6:50.
We anticipate that we will not be able to accommodate everyone who would like to attend. Please know that we appreciate your cooperation, and your support of the Lowell Humanities Series.