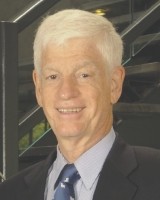 Mario Gabelli
The Boston College Presidential Scholars Program was founded in 1991 through the philanthropy of donors to BC's Wall Street Council. Those generous men and women shared a vision of a program that would offer a formative education to students of extraordinary potential, firmly based in the University's Jesuit, Catholic mission. Among those exceptional visionaries was Mario Gabelli, who for nearly three decades has been one of the Program's greatest champions and leading supporters.
In recognition of Mario's outstanding generosity, the Program was renamed the Gabelli Presidential Scholars Program in a ceremony on September 25, 2014. This represents a signal moment for us; one that will help us enhance its reputation in higher education.
Mario J. Gabelli is Chairman and Chief Executive Office of GAMCO Investors, Inc., and Chairman of the Gabelli Foundation, Inc. He is a leading proponent of the Graham & Dodd school of securities analysis. His proprietary Private Market Value with a Catalyst™ methodology is now an analytical standard in the value investing community.
Mr. Gabelli is a summa cum laude graduate of Fordham University and holds an MBA degree from Columbia University Graduate School of Business, and an Honorary Doctorate Degree from Roger Williams University in Rhode Island and Fordham University.
Mr. Gabelli is also a member of: The Board of Trustees of Boston College; The Board of Overseers of Columbia University Graduate School of Business; The Board of Trustees of Roger Williams University.
He is a member of the Board of Directors of: The American-Italian Cancer Foundation; The Foundation for Italian Art & Culture. A Trustee of: The Winston Churchill Foundation of the United States; E.L. Wiegand Foundation. A member of The Economic Club of New York.
Mr. Gabelli was Morningstar's Portfolio Manager of the Year in 1997. He was named Money Manager of the Year by Institutional Investor for 2011, and is a member of Barron's Financial Magazine's All Star Century Team.