Testimonials come from around the world, their theme consistent: high praise for Camera Mouse— the free, innovative software invented at Boston College that helps individuals with disabilities to use computers.
A valuable resource enabling children with severe special needs to communicate, in some cases for the first time. (Northern Ireland, Minister for Education)
I would like to sincerely thank you for Camera Mouse with which we are able to help many children with cerebral palsy, and adults with spinal cord [injuries], to practice computers operations. (India)

Congratulations about [the] development [of] an easy platform that can be helpful to so many people around the world. (Brazil)
Through Camera Mouse, users who are unable to use computers because they cannot reliably control their hands can use head movements to control a mouse pointer on a Windows computer screen. Since the program became available in 2007, Camera Mouse has been downloaded more than three million times. Currently, it's downloaded between 500 and 1,000 times a day.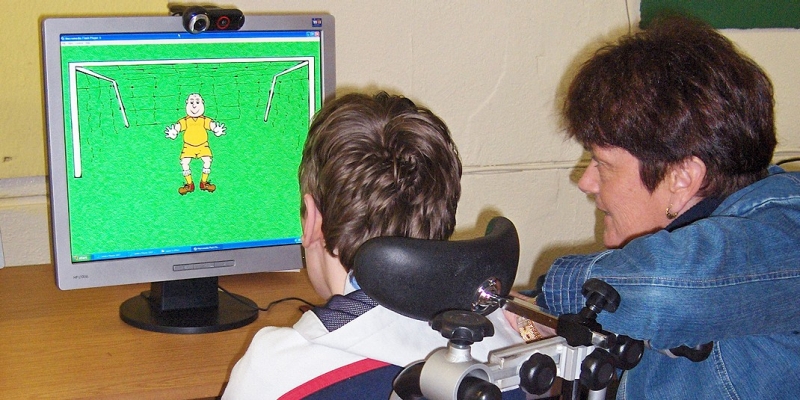 Patrick, a student at the School of the Divine Child in Cork, Ireland, learns to use Camera Mouse with Maureen Gates, a teacher recently retired from the Campus School at Boston College.

The program is available for free, "with no gimmicks or advertisements or registration," according to the Camera Mouse website, "because we want to help as many people as possible."
Personal accounts of how the technology has vastly improved users' lives, shared through email and website postings from around the world, "are enormously gratifying," said Carroll School of Management Egan Professor of Computer Science James Gips, who developed the original idea with then-BC faculty colleague Margrit Betke.
 "We are helping people who are complete strangers, people who are in difficult life circumstances, people who have cerebral palsy or ALS or have suffered a stroke. To hear from these people and their wonderful, dedicated caregivers that Camera Mouse is helping them, even changing their lives, is gratifying beyond words," said Gips.
"People seem surprised and uplifted by the fact that Camera Mouse works and helps people with disabilities, and that Boston College is providing it for free as a service," he added.
Camera Mouse is truly wonderful and the fact that there are no costs involved is hugely beneficial to so many. (South Africa)

Thank you for making this software available at no cost. It is a godsend for those with disabilities with limited funding. (United States)
I am [a] teacher in a disabilities school, I am glad for Camera Mouse. I have [a] child without [a] hand and leg. I get this software for free; it's really help[ed] me to teach him how to use [the] computer. (Indonesia)

I tried Camera Mouse with a 12-year-old girl with cerebral palsy, who can't use keyboard nor regular mouse. Everything worked excellent from the very beginning! Thank you so much in the name of all the kids you're helping with this valuable piece of software! Thumbs up! (Croatia)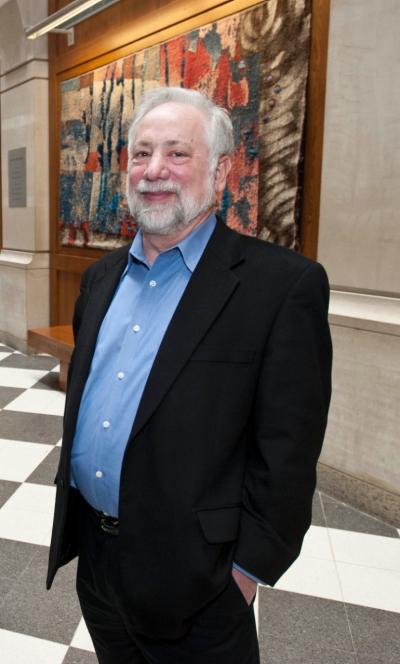 Egan Professor James Gips
Camera Mouse is also in use, with great success, closer to home—by students of the Campus School at Boston College, a special education day school for students ages 3-21 with complex learning and health-care needs.

"I strive for Camera Mouse to embody Boston College's motto 'Ever to Excel' and mission of 'men and women for others,'" said Gips, whose research interests lie in human-computer interactions.
The technology was developed as an outgrowth of the Boston College EagleEyes Project, which uses strategically placed electrodes to communicate eye movement to a computer, which interprets the input as it would the movement of a mouse. While EagleEyes is directed "to people who are completely locked in except for voluntary eye movement," said Gips, Camera Mouse benefits a broader population and is easy for people to understand, download, install and use.
Nonetheless, Gips never imagined that it would achieve such a wide audience. The program was first posted for free in June 2007; that year, he said, he was happy to see 3,000 downloads. The following year, he was delighted when that number climbed to 30,000. But more than three million and counting? "That was beyond my dreams," he said.

For more information visit the Camera Mouse website.
—Rosanne Pellegrini | News & Public Affairs