More than 150 people, including Massachusetts Secretary of Elder Affairs Elizabeth Chen, gathered at Boston College on March 22 to hear Jennie Chin Hansen '70, H'08, a nationally recognized advocate and thought leader regarding the health care needs of older adults, give the Connell School of Nursing's Spring Pinnacle Lecture.
As CSON Dean Katherine Gregory noted in her introduction, Hansen is "a distinguished nurse leader whose career has been deeply committed to health equity, care for the aging, and public health policy."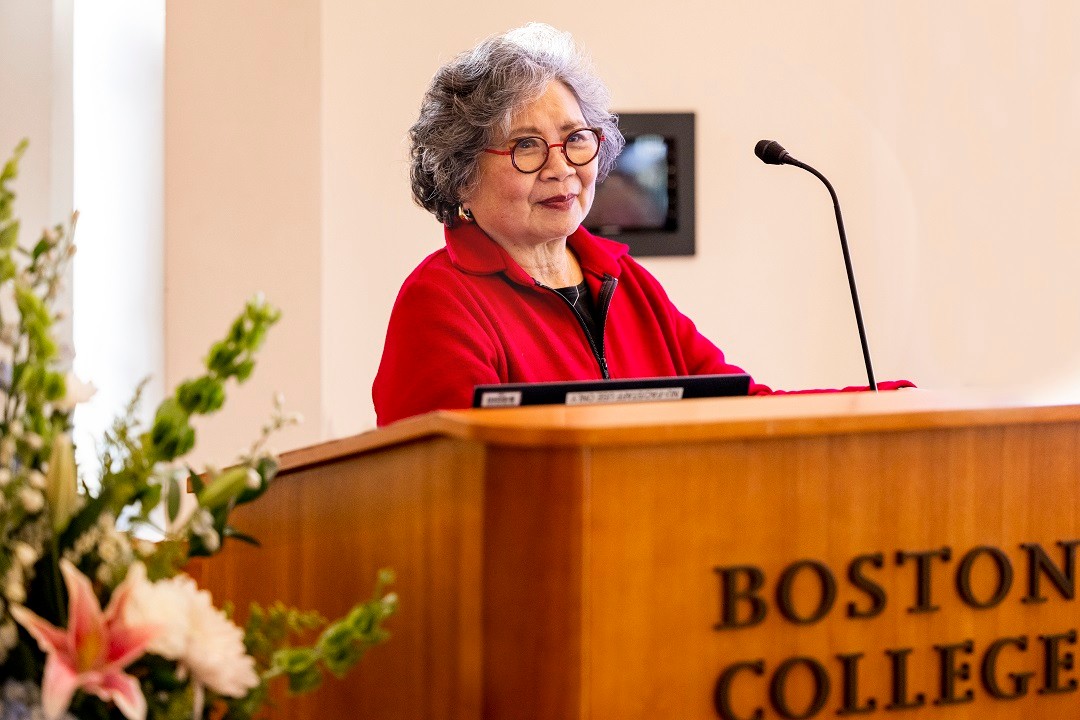 A former CEO for the American Geriatrics Society, Hansen served as president of AARP during the development of and negotiations for the Affordable Care Act.
She has received an honorary doctorate from Boston College as well as the University of California-San Francisco Medal, UCSF's highest honor.
In 2022, she was presented with American Academy of Nursing's Health Care Leader Award. She also has received the American Society on Aging's Hall of Fame Award and the National Council on Aging's Lifetime Achievement Award.
As the Dr. Maureen P. McCausland Pinnacle Keynote Speaker, Hansen presented "Reflections and Projections: My Career at the Vanguard of Public Health Policy."
Hansen is a change agent and trailblazer. She was born and raised in Boston, the child of immigrants from China. She attended Boston College in the late 1960s, a tumultuous period marked by the assassination of Martin Luther King, Jr. and the protests against the Vietnam War. At that time, she recalled, she was also the only Chinese female student on campus.
Hansen first made her professional mark in San Francisco at On Lok where she led an integrated, comprehensive program for older adults to receive medical and social services in the community rather than in a nursing home. That innovative initiative, Program of All-Inclusive Care to the Elderly, PACE, became national law and has been replicated in 32 states.
In her remarks at BC, she encouraged nursing students, faculty, and practitioners to have a "beginner's mind," to question the traditional ways of doing things and be open to learn.
"We are educated and trained to do things right. But let's not have that be the only end," she said. "I would advocate that we advance our education to include doing the right thing. Is there a better way to do [something] that's better for the patient, better for outcomes, better for accountability? Sometimes procedures are outdated. I think doing the right thing is important so that we can meet greater societal need."
Citing data from the University of Wisconsin Population Health Institute, she noted that clinical care accounts for only 20 percent of the factors that determine health outcomes such as length and quality of life. She is currently focusing her energies on the factors outside of clinical care that affect health and well-being at the individual level and community level.
"I want to elevate conversations about the critical social factors that help people live healthily or not healthily," she said, noting that these factors—physical environment, education, income, community safety, and family/social support—combine to have a larger impact than clinical care on health outcomes.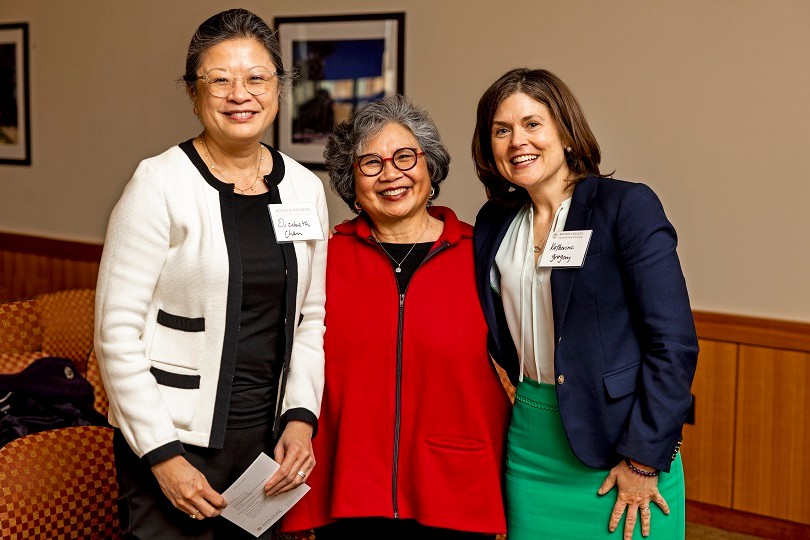 Another area of focus for Hansen is workforce and health care spending. "We spend more [on health care] than any other country in the world, but we don't rank that high [in terms of outcomes]. We're not spending our money wisely. Almost 30 percent of the money we spend on healthcare in the U.S. is wasted. There is abuse and fraud, but most of it is for unnecessary care. The fact that we do all this unnecessary care is a big issue."
She added that there needs to be a reconsideration of talent and resources in the workforce. "I am very concerned about our workforces, both the professional or direct care workforce and unpaid family caregivers. We need to think about how to deliver care of high quality, but differently, and hopefully less expensively and with a broader workforce." She cited workforce examples from abroad, as well as within the U.S. healthcare system, where some 27 states—including Massachusetts—allow nurse practitioners to work without physician supervision.

Hansen also talked about the burdens placed on unpaid family caregivers. According to data from AARP, one in four workers age 25 or older are family caregivers and nearly half provide medical/nursing tasks, often without adequate training. She reviewed recommendations for helping family caregivers, including offering tax credits, strengthening paid family leave and paid sick leave, and supporting caregivers when a family member transitions from hospital to home through the CARE Act.
Prior to her lecture, Hansen met with CSON faculty members whose clinical/research focus is palliative care, gerontology, and policy. She also spoke to a class of D.N.P. students.
To watch Hansen's lecture, visit the Pinnacle webpage.
Kathleen Sullivan | University Communications | April 2023